---
Jessica Cejnar Andrews / Monday, Jan. 23 @ 3 p.m. / Community, Homelessness
With Help From 'Ambassadors,' DN Mission Possible Founder Hopes To Build on Last Year's PIT Count Success
---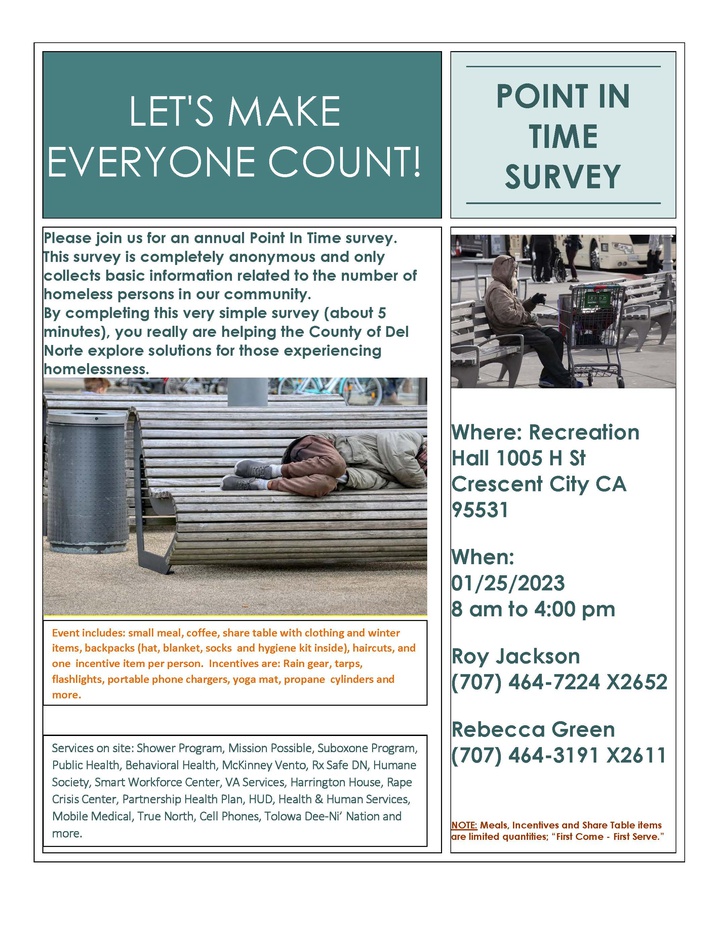 Hoping to build on last year's success, Del Norte Mission Possible's founder says roughly 10 ambassadors will venture into the area's homeless encampments to gather data for the annual Point-in-Time survey this week.
These ambassadors are Del Norters who have gotten out of the camps, Daphne Cortese-Lambert told the Wild Rivers Outpost on Monday. They're also women who have gone through the organization's Mission Possible Home program and have found permanent housing, she said.
"They were chronically homeless, so they know everybody in the camps," Cortese-Lambert said of her volunteers. "I'm using people that I know came from those specific camps, so they know everybody and they're pretty welcome."
Del Norte County's Rec Center at 1005 H Street in Crescent City will be the hub for the Point-in-Time survey from 8 a.m.-4 p.m. Wednesday. Those who visit will be able to complete a short survey, share a small meal and coffee and comb through a share table with clothing and winter items and receive a backpack that contains a hat, blanket, socks and a hygiene kit.
There are also haircuts available and an "incentive item" that could include rain gear, tarps, flashlights, portable phone chargers, propane cylinders and more. These items are available in limited quantities on a first-come, first-served basis.
It's also a chance for those who are unhoused to connect with services provided through the Del Norte public health and behavioral health branches. Other organizations on site will include the SMART Workforce Center, Partnership Health Plan, Rx Safe Del Norte, the shower program, the Humane Society of Del Norte and Del Norte Mission Possible.
Required by the U.S. Department of Housing and Urban Development, the Point-in-Time survey is a count of sheltered and unsheltered people experiencing homelessness on a single night in January. Those experiencing homelessness could be couch surfing, they could be people in an emergency shelter, transitional housing or who are camping.
The data will be compiled by the NorCalContinuum of Care — a seven-county consortium that includes Del Norte, Shasta, Siskiyou, Sierra, Lassen, Plumas and Modoc counties.
It will be released in the spring after HUD has certified it, according to Roy Jackson, Del Norte's housing services manager.
Though the Point-in-Time event will be held on Wednesday, Lambert said her ambassadors will be gathering information through Thursday and Friday.
Last year's Point-in-Time survey determined that 462 people in Del Norte County considered themselves homeless. This included families, people living with a disability and senior citizens. The bulk of those counted had also lived in Del Norte County for years, Cortese-Lambert said.
"People think homeless people are swooping into Crescent City when in fact these are people who have lived here all their lives or 10 years or longer," she said.
In addition to visiting "the swamps" near Elk Valley, Cortese-Lambert said Del Norte Mission Possible ambassadors will be reaching out to people living in an encampment near Dead Lake as well as Fort Dick to the north of Crescent City.
They'll also be conducting outreach in Klamath "which we've never really been able to do," she said.
"We're going to be participating using an app this time," Cortese-Lambert said. "Whenever people are using the app, it will identify right where you're doing the survey at. For people that don't have phones that are working, (ambassadors) are going to take paper surveys and you have to identify where you're doing the survey at, not necessarily where they are camped at."
Cortese-Lambert credits her ambassadors for gathering what she said was a more accurate PIT count for Del Norte County last year than in previous years.
In 2020, for example, the last time a full survey of sheltered and unsheltered individuals were counted before the COVID-19 pandemic, 248 individuals reported experiencing homelessness, Jackson told the Outpost in June 2022 when the 2022 Point-in-Time report was released.
On Monday, Cortese-Lambert said she hoped this year's results would be as accurate.
"It helps us target how many people are disabled, how many people have mental health or physical disabilities and are not signed up for social security," she said. "It helps us target where there are gaps in services and it's totally anonymous."
For more information about the Point-in-Time Survey, call Jackson at (707) 464-7224 extension 2652 or call Rebecca Green at (707) 464-3191 extension 2611.
---
SHARE →