---
Jessica Cejnar Andrews / Tuesday, Sept. 6 @ 11:25 a.m. / Weather
Heat Advisories, Air Quality Alerts, Red Flag Warnings for Curry, Josephine and Jackson Counties; Expect Temps in the 90s in Del Norte Interior
---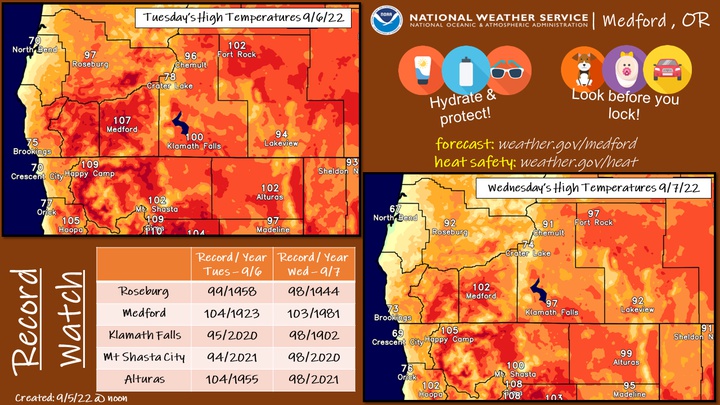 National Weather Service forecasters have issued heat advisories, air quality alerts and red flag warnings for parts of Southern Oregon, including Curry, Josephine and Jackson counties.
NWS's Eureka office has also issued a heat advisory for inland Del Norte County through 11 p.m. this evening, stating residents can expect temperatures up to 98 degrees.
Wildfires in the region, particularly the Rum Creek Fire near Merlin in Southern Oregon, has prompted air quality alerts in Curry, Josephine and Jackson counties. Forecasters warn residents to stay inside if possible, keeping windows and doors closed. They recommend to run the air conditioner on recirculate or move to a cooler location.
A heat advisory for the interior is in effect with temperatures in the 90s in mountainous areas such as Cave Junction and between 100-108 in the valleys. The hottest temperatures are expected Tuesday with warm overnight low temperatures as well. Forecasters recommend drinking fluids, staying in an air conditioned room and staying out of the sun. Young children and pets should not be left unattended in vehicles.
Forecasters are also expecting isolated to scattered dry thunderstorms on Wednesday and have issued a red flag warning for the Illinois Valley, Siskiyou Mountains and eastern Rogue Valley. Avoid tossing burning cigarettes on the ground and using equipment that may spark, according to the warning. They also advise following all fire restrictions.
The red flag warning will be in effect from 1-8 p.m. Tuesday with forecasters expecting northwest winds of 10-20 mph with gusts as high as 30 mph and humidity at 6-13 percent.
---
SHARE →