---
Jessica Cejnar Andrews / Wednesday, Sept. 21, 2022 @ 12:47 p.m.
RV Park Developer Says He'll Make His First Lease Payment to the Crescent City Harbor District Next Week
---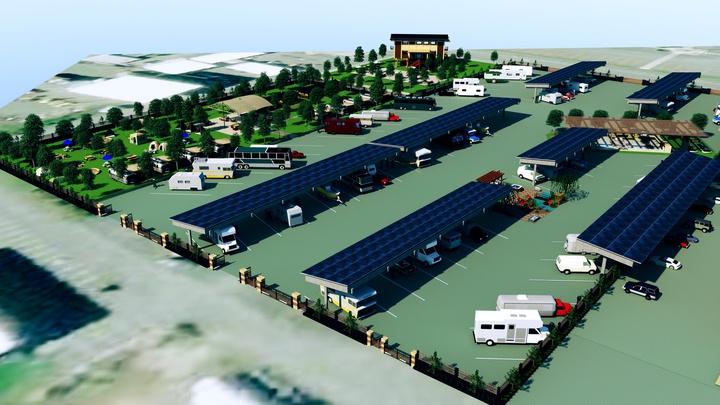 Previously:
• As He Prepares Relocation Plans for the Harbor's RV Park Residents, Lemus Hopes to Open a Third Park Facing South Beach This Summer
###
Developer Alex Lemus says he'll make his first lease payment early next week as an act of good faith to the Crescent City Harbor District on the "overflow lot" he plans to turn into South Beach RV Park.
Lemus and staff at Renewable Energy Capital also continue to meet with residents at the two other RV parks he's entered into potential lease agreement with the Harbor District over.
He said his staff is focusing on finding alternative housing for those residents on a long-term basis so he can move forward with a project to redevelop the parks as well as meet California Coastal Commission and zoning requirements.
"We're comfortable with about 85-90 percent of the people (there) and the other 10-15 percent we'll work through," Lemus told Harbor District commissioners on Tuesday. "We have a good sense of what we're going to have to do to work with people that are still there and the assistance we'll need to find alternate housing on a long-term basis."
Lemus entered into lease agreements with the Crescent City Harbor District for the overflow lot in September 2021, and then into agreements for Redwood Harbor and Bayside RV parks in April 2022. Though the agreements were executed, the leases won't take effect until Lemus completed a "due diligence process."
Lemus said he hopes to finalize REC's takeover of Bayside and Redwood Harbor RV parks at the beginning of 2023. He has promised not to evict or raise rents on the tenants who are in good standing for 12 months once the lease takes effect.
"I'm really thinking by then we'll know what is involved and we can start doing some of the work and go full guns by the spring of next year," he said.
At the future South Beach RV Park — previously the overflow lot to Redwood Harbor RV Park — REC's due diligence included asbestos testing and removal as well as demolishing bathrooms, a fish cleaning area and the old Crescent City Crab Shack, Lemus said.
Over the summer, REC struggled with hiring the professionals needed to do that work, Lemus said. Now that a report is in the works on that asbestos removal, Lemus said he's comfortable enough with how much it'll cost to submit the first year pre-payment on the lease to the Harbor District.
Lemus, who proposed redeveloping the port's two RV parks in 2021 as a way of drawing more short-term visitors to the harbor, had planned to conduct a beta test by opening a third park with 24 spaces facing South Beach.
Lemus wanted to fence the lot, bring in his own units, including an Airstream travel trailer or a tiny house, in the hopes visitors will want to stay.
"We're going to have a nice higher-end lot there where people can come in and stay," he told the Wild Rivers Outpost in April. "We'll have a nice fence all the way around it so it has some security. The idea is to take advantage of the million dollar views."
On Tuesday, Lemus said after he submits his first lease payment to the Harbor District he'll work through details of what needs to be done at the overflow lot.
As for Redwood Harbor Village and Bayside RV parks, Lemus said he's still working to get his permit to operate from the California Department of Housing and Community Development.
"It's been a long time since HCD has been out to inspect the parks," he said. "We want to make sure third-party reports are in place. Our real concerns are the electrical, water and sewer."
Lemus said once REC's takeover of the two RV parks is finished, they hope to attract more people, but the existing infrastructure may not support that.
According to Harbormaster Tim Petrick, once Lemus and REC takes over the two RV parks, he'll be the landlord for the tenants who are living there. Pacific Power, Spectrum Business and the paper products for the bathrooms there will also be Lemus's responsibilities, Petrick told commissioners during an accounts receivable presentation.
Petrick said he's continuing to work through the eviction process for about six tenants at the two RV parks for non-payment of rent. These tenants owe a total of $5,255 in back rent for Bayside RV Park and $3,030 for Redwood Harbor Village, he said.
Petrick said the Crescent City Harbor District is willing to work with tenants, offering payment plans "as long as they stick to it."
"The hard part is getting people to come talk to us," he said. "If you ignore your bill, it doesn't go away."
---
SHARE →