---
Jessica Cejnar Andrews / Wednesday, Sept. 21 @ 10:54 a.m. / Community, Crime
CCPD Chief Credits Citizens, Officers For Arrest of Subject Allegedly Selling Marijuana to High School Students
---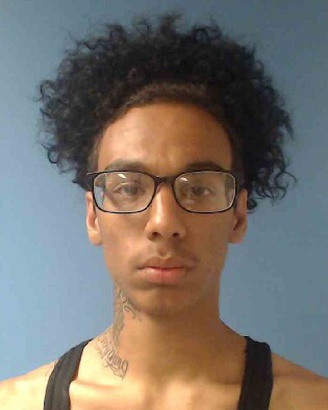 Crescent City Police Chief Richard Griffin gave the credit he received from Councilors on Monday to his officers and residents around the 300 block of Harding Avenue for helping catch a man they said was selling marijuana to high school students.
Griffin and his officers arrested 18-year-old Xavier Rodriguez at about 3 p.m. on Sept. 14, finding marijuana, drug paraphernalia with alleged heroin residue and a replica Glock BB gun in his vehicle and on him. Residents also allegedly witnessed drug sales, Griffin told the Wild Rivers Outpost on Wednesday.
Rodriguez was booked into and released from the Del Norte County Jail on Sept. 14, according to the Del Norte County Sheriff's online information page.
However, Griffin said, the car Rodriguez was allegedly driving during the incident was reported stolen from Stockton. Griffin said Rodriguez will be facing additional charges for possessing a stolen vehicle.
"When the community calls us and is willing to report these types of things that enhances our ability to respond quickly and deal with them," Griffin told the Outpost. "I'm impressed with the citizens stepping up and wanting to make their community better."
According to Griffin, the call came from a neighbor of Councilor Beau Smith, who asked his colleagues to recognize the chief and his officers' response to the incident. Griffin said they received information that Rodriguez had parked his car on the road and was walking down to the Shell gas station at the corner of Northcrest Drive and Harding Avenue, allegedly selling marijuana to high school students on their break. Rodriguez then walked back to his car and moved it.
"They were concerned 'cause they didn't want that in their neighborhood," Griffin told City Councilors. "Luckily for us, we actually had a witness who was willing to go forward and put their name down and testify to what they saw at the Shell gas station."
Griffin said he responded to the call and made contact with Rodriguez who fled on foot through the senior apartment complex at Harding and Marshall Street. Officers Magnolia Valero and Ethan Miller set up a perimeter around the apartment complex while Griffin waited at the suspect's car.
Sgt. Anthony Lopez and K9 officer, Lt. Kai, also showed up, though Lopez was off duty, according to Griffin. Valero and Miller brought Rodriguez back to his vehicle in handcuffs and Lt. Kai alerted officers to odor of narcotics, Griffin said.
Rodriguez was charged with obstructing or resisting a peace officer; possession of marijuana for sale and possessing controlled substance paraphernalia. According to Griffin, Rodriguez also faces a probation violation charge out of Sacramento County.
Griffin said it was because residents informed police of their concerns that they were able to arrest Rodriguez.
"I'm proud of citizens that stepped up and said we'll put our names in the report," Griffin told Councilors. "We don't get that very often at all."
---
SHARE →