---
Jessica Cejnar Andrews / Monday, April 25, 2022 @ 3:39 p.m. / Community, Our Culture
As He Prepares Relocation Plans for the Harbor's RV Park Residents, Lemus Hopes to Open a Third Park Facing South Beach This Summer
---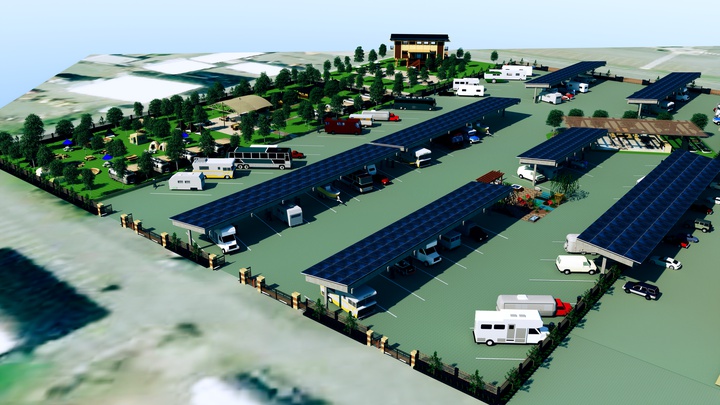 Previously:
• 'This is Not My Harbor, This is Not My Vision,'; Developer to Meet With Crescent City Harbor Commissioners, RV Park Residents
###
The developer behind a project to revitalize two RV parks at the Crescent City Harbor hopes to conduct a beta test this summer by opening a third park with 24 spaces — "maybe an Airstream or two" — facing South Beach.
Alex Lemus, CEO of Renewable Energy Capital, plans to fence the old overflow lot to Redwood Harbor Village RV Park, bringing in his own units, including possibly an Airstream travel trailer or a tiny house.
Construction crews will demolish the former Del Norte Yacht & Rowing Club and Crescent City Crab Shack buildings along with the old restrooms, Lemus said. Hemmingsen Contracting Co. will grade the parking lot and, Lemus said, he would bring in temporary mobile bathrooms and showers for park guests.
"We're going to have a nice higher-end lot there where people can come in and stay," he told the Wild Rivers Outpost on Monday. "We'll have a nice fence all the way around it so it has some security. The idea is to take advantage of the million dollar views. That view, to me, is looking right down South Beach and the redwood mountain behind it is spectacular."
Meanwhile, Lemus reiterated a promise he made last week not to raise rents or evict the long-term tenants of Bayside and Redwood Harbor Village RV parks for 12 months once his lease with the Harbor District goes into effect.
He said he's working with Crescent City Housing Authority and Del Norte County to try to come up with alternative housing for those tenants who want it, but he didn't realize the magnitude of the housing problem in Del Norte County until "these things came up."
Lemus said he'd like to work with the Housing Authority to invest in housing infrastructure, possibly helping a developer fund a multi-family housing unit. But, he said, that could take up to two years.
"Which is why I think the only thing we can do on our side is give people breathing room not to be thrown out," he said.
Lemus, who answered a request for proposals two years ago to redevelop the port's on-land properties, entered into lease agreements with the Harbor District earlier this month for its two RV parks. He plans to revitalize both parks, upgrading the electrical systems, the laundry, restroom and shower facilities and the landscaping.
Lemus has also proposed purchasing Airstream travel trailers and cabins in an effort to boost overnight visitors. He's also open to offering yurts and tiny homes for guests visiting the harbor.
Lemus says the first thing he wants to do is install an efficient WiFi system that can provide high-speed internet to RV park residents and can also power much-needed security cameras at the parks.
According to Lemus, residents have complained of crime at the two RV parks.
Harbormaster Tim Petrick last week said the RV parks has seen a lot of violent crime over the past year, including an overdose that resulted in a death and a potential homicide. Theft is a constant problem, he said, along with vandalism from a few tenants the Harbor District is trying to evict.
The Crescent City Harbor District currently has 17 for-cause evictions working their way through the court process, according to Petrick.
Lemus said it's a small percentage of people who are committing these crimes, but it stops people from wanting to stay at the RV parks.
Now that the Crescent City Harbor District has approved lease agreements with Lemus for the two RV parks, the developer has a 180-day due diligence period that can end as soon as he presents a relocation plan for the tenants that harbor commissioners can accept.
According to Lemus, this includes figuring out if those RVs are operational and can be moved from one space to another during the revitalization project. He compared it to a tenant in an apartment complex moving from one unit to another during a renovation project.
"For example, we want to start, I think for obvious reasons, on Redwood Harbor along the water," he said. "Those are the premium spots tourists want to take so that's what we want to fix, but we need those individuals to be willing to move, and are they able to move? If you're in an RV it has to be able to move."
Once Lemus signs the lease with the Harbor District, he said he wants to sit down with Crescent City Housing Authority Director Megan Miller, Crescent City Manager Eric Wier and a representative from the county to discuss how to find suitable housing for the residents that indicate they do want to leave the RV parks.
Lemus said he's willing to put in some money, but it would be up to all the major government agencies to help.
Lemus was also put in touch with True North Organizing Network, which was working with some of the RV park residents and helped facilitate some of the meetings with the tenants and the developer. Lemus said he would meet with residents in person when he next visits Crescent City.
Lemus said he will also set up Zoom calls to put together a list of the desires and wants for each resident.
"You can be certain that some people won't want to leave no matter what. Then other people will say, 'I'll leave if…,'" he told the Outpost. "Other people told me when we met with them that they are saving up money. Some of them I met with have jobs and are working on saving their down payment to buy a house, which I understand. That's what I told them — 'this is right in my wheelhouse. These are things I can help you with.'"
While he's meeting with Bayside and Redwood Harbor Village RV park tenants and putting together 50-80 individual transition plans, Lemus said he's open to suggestions for how to market the Harbor, particularly in light of the new RV park at Starfish Way and Anchor Way he hopes to get up and running this summer.
Lemus, who is from the San Diego area, said he was surprised when Petrick suggested holding a surfing competition. Lemus was further surprised when he found out that Crescent City's South Beach is a famous surfing spot — and the former venue for the Noll Longboard Classic surf competition. He said surfers have an average income of $80,000 per year and sure roughly 80 times a year.
"Our thinking was if we start to promote this once again, it would help people come to the area," Lemus told the Outpost. "They could fly in, stay for a few days — stay at the harbor — and leave. That's what's so appealing to me and why we made this investment."
---
SHARE →