---
Jessica Cejnar Andrews / Tuesday, April 26 @ 10:32 p.m. / Jail, Local Government
Photos Show Horrific Condition of One Del Norte County Jail Cell; DNSO Lt. Daniel Schneck Says Inmate Was Mentally Incompetent and Awaiting Transfer to State Mental Hospital
---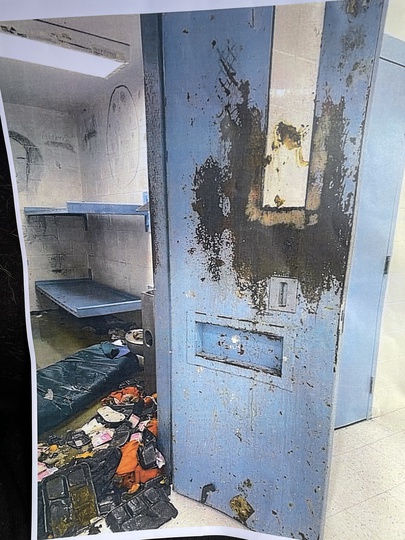 Del Norte County supervisors on Tuesday unanimously agreed to allow jail staff to provide medication to inmates who are awaiting transfer to a state mental health hospital because they have been found incompetent to assist in their own defense.
This decision came after Del Norte County resident Linda Sutter brandished a poster board with pictures taken of a jail cell littered with trash, feces-smeared walls and whose toilet was plugged with more trash and debris and overflowing.
"These are pictures of one cell," she said. "We have no idea what the rest of the cells look like."
Sutter told the Wild Rivers Outpost on Monday that she obtained the photos from an attorney, though she wouldn't say who the attorney was.
Sutter said the inmate had been left in that jail cell for 15 days.
However, according to Del Norte County Sheriff's Lt. Daniel Schneck, the jail cell photos were taken while the inmate was moved to another cell so it could be decontaminated.
"It's a cycle that keeps occurring," Schneck told the Outpost, though he wasn't specific about how long the inmate had been in that jail cell. "It's not like he was sitting in that filth for a week or two weeks or three weeks, or that he's been housed that way for his entire duration of his stay."
Schneck declined to name the inmate — citing patient privacy concerns — but said he is one of about 12 who are awaiting transfer to a state mental hospital because they have been found incompetent to assist in their own defense.
The inmate has been in the sheriff's custody since November and has been awaiting transfer for about five months, Schneck said.
Though it's not uncommon for someone housed at the jail to "do stuff like this," the inmate in question is the only person who habitually contaminates his cell.
Schneck said he didn't have an exact timeframe for how long it took to move the inmate to a clean jail cell.
"Basically I had to wait for adequate staff since he does have violent tendencies so we could move him into a different cell," Schneck said.
At Tuesday's Board of Supervisors meeting, District 3 Supervisor Chris Howard asked County Counsel Joel Campbell-Blair to explain what "designating the jail as a 'treatment facility'" meant.
According to Campbell-Blair, if a defendant has been found mentally incompetent to assist in his or her own defense, they are often ordered to be transferred to a state mental hospital. He points out that these facilities are far from Del Norte County and "can be very selective of the patients they admit."
The Board of Supervisors' approval of a resolution to allow jail staff to provide medication to inmates authorizes the jail to provide medication to those inmates involuntarily.
"Jail is not designed to be a mental institution," Campbell-Blair said.
"When realignment happened a lot of these types of mentally ill people are in jail for longer periods of time because state hospitals are getting more impacted. While we do have a contract for medical services and county mental health provides and county mental health provides services and rely heavily on a tele-psychiatrist, the jail is not a mental hospital. It's not equipped to plug the hole the state created."
Del Norte County is also contracted with Wellpath to provide medical services at the jail, according to Schneck.
There are 1,400 inmates statewide who have been found mentally incompetent to stand trial who are on a waiting list to get admitted to a state mental hospital, said District 2 Supervisor Valerie Starkey, who, along with her colleagues attended the California State Association of Counties' Legislative Conference last week.
During an Administrative of Justice Policy Meeting at the conference, Starkey said she learned that most of those inmates are unhoused and 47 percent had not had mental health services provided in the six months before they were arrested.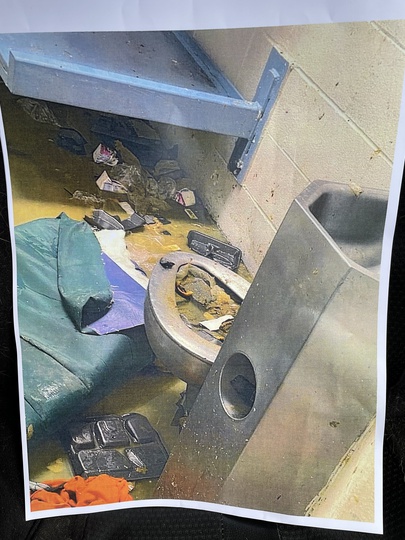 "We need to start making sure providing behavioral health and mental health services in the community before they get to the point that they commit a crime, get put in jail and are declared incompetent," Starkey said.
Though the Board of Supervisors unanimously approving the resolution that allows jail staff to administer medication to mentally incompetent inmates involuntarily, a request from its newest member to create a committee addressing the need for wraparound services and whether the jail itself can house the severely mentally ill fell flat.
District 5 Supervisor Susan Masten said she wanted to look at developing adequate enough services at the jail and to figure out where gaps exist so "we don't keep seeing repeat offenders." Her colleagues pointed out that they already sit on committees that address these issues, but Masten said they're "departmentalized."
"I'm thinking of a bigger thing where we're bringing people who play a key role for being successful in addressing issues with law enforcement and mental health and wraparound services," she told the Outpost. "If you don't have everyone focused on that, you don't find solutions. And so to me, we get caught up in some bureaucracy. I'm looking on a bigger scale where, here's the need and how do we develop things so we don't keep seeing repeat offenders."
Masten also referred to a promise from U.S. Senator Dianne Feinstein to include $3 million to renovate the jail in the 2022 appropriations bill for the U.S. Department of Agriculture and the Food and Drug Administration. But, Masten said, unless the county works with the entities that provide mental health services to the inmates that $3 million appropriation is a bandaid.
According to Schneck, the Del Norte County Jail was built in the 1960s and was added onto and renovated in the 1990s. Along with not being equipped to house those who are severely mentally ill, the jail has some archaic plumbing issues, which led to a recent sewage leak, he said.
"Routinely inmates on the old side (of the jail) will wad up t-shirts or whatever and flush that stuff to the point where it backs up and then when it backs up it floods the downstairs area of the sheriff's department," Schneck said, adding that ground floor of the sheriff's office houses its patrol and operations center.
At Tuesday's meeting, Howard said the problems at the jail have been "well articulated for over a decade."
"Not only well identified, it comes down to a decision on where to spend limited resources," Howard said. "If there's no limited resources to spend, you have constituents or agencies coming to you saying, 'We need this to do our job of public service.' Where are those funds going to come from?"
Howard referred to Measure R, the city's 1 percent sales tax — which is expected to generate $1.8 million in revenue this fiscal year with $748,700 earmarked for law enforcement, including the jail — as a "clear statement on how the community wanted to address public safety." However, he said, he didn't want to duplicate services since "we already know how those funds should be allocated."
Starkey said the discussions Masten referred to — the need for behavioral health services at the jail — are happening. She said she has met with the Del Norte County District Attorney, the sheriff's office, the Crescent City Police Department and Del Norte County probation.
"The local Behavioral Health Board is an avenue in which this occurs as well," Starkey said.
Schneck said the most recent jail renovation 30 years ago was before public safety realignment, which brought housed non-violent offenders in local facilities rather than state prison. Officials weren't expecting the opioid epidemic, the housing shortages or a mental health crisis, he said.
The DNSO wasn't anticipating having to provide mental health services to severely mentally ill inmates like the one who was housed in the jail cell shown to county supervisors, Schneck said.
"These people committed crimes, but they need help and they need help to restore competency," he said. "That's why we need to be sending them to Napa, the state mental hospital. Our facility is not designed for this."
Documents:
• Jail as a "treatment facility" resolution
---
SHARE →