---
Jessica Cejnar Andrews / Tuesday, Oct. 4, 2022 @ 6 a.m. / Education, Health
To Tackle Shortage of Rural Physicians, Sutter Coast Will Become A Teaching Hospital
---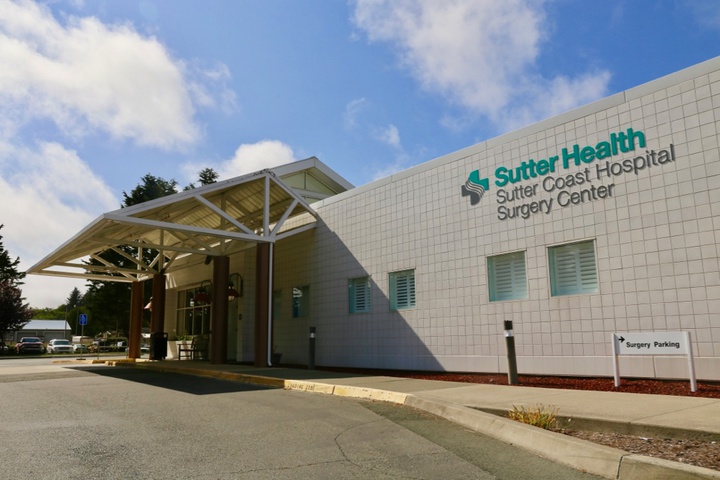 (Updated at 3:24 p.m. to correct inaccuracies regarding the schedules of some of the specialists at Sutter Coast Hospital.)
More than two years after tackling a nursing shortage by partnering with the local community college, Sutter Coast Hospital will become a teaching hospital in an effort to bring more primary-care physicians to Del Norte County.
Using a $750,000 grant from the U.S. Health Resources and Services Administration (HRSA), Sutter Health will introduce a Family Medicine Rural Residency Training Track at Sutter Coast Hospital. The program will partner with the Family Medicine Residency Program at Sutter Santa Rosa Regional Hospital.
Residents in the program will spend their first year training at an urban medical center in Santa Rosa. Their final two years of training will take place at Sutter Coast Hospital in rural Del Norte County, Sutter Health announced Tuesday.
"That (grant) basically helps subsidize some costs associated with the program," Sutter Coast Hospital CEO Mitch Hanna told the Wild Rivers Outpost. "We'll probably have six in the program in any one year — four in Crescent City and two in Santa Rosa — but we're hoping to have the first two residents in 2025."
Now that the grant has been approved, Sutter Health will develop a curriculum and find physicians at both hospitals that are willing to work with new doctors. Sutter also has to develop an application process for the residency program.
According to Hanna, Sutter Coast Hospital physicians will need to sit down with the chief of the residency program in Santa Rosa to determine how to structure the rural program.
"Even if they don't stay in Crescent City, it'll help bring more physicians into rural America," Hanna said. "Our hope is they'll fall in love with the area and stay here, but even if they don't, we hope they'll go to another rural area. We're helping serve people who live in rural communities."
Sutter Health's grant is part of a $21 million HRSA initiative to develop new, sustainable residency programs in family medicine, internal medicine and psychiatry in rural areas. The healthcare network aims to expand its rural residency education program to increase the number of primary-care doctors in Del Norte.
According to the County Health Rankings and Roadmaps website, in Del Norte County the ratio of patients to one primary-care physicians is 1,740-to-1. Statewide, that ratio is 1,280-to-1, according to Sutter's news release.
Sutter Coast Hospital is always recruiting physicians and have been successful in hiring both primary-care doctors and specialty care, Hanna said. The hospital's first-ever neurologist works on a part-time basis, about five days a month, and its first ear, nose and throat doctor in about 30 years works full-time.
"We have a fully-staffed orthopedics and general surgery and hematology-oncology, which we hadn't had for a long time," Hanna told the Outpost. "And then on the hospital side, we've partnered with College of the Redwoods to try to put more RNs into the community.
In January 2020, the first cohort of students started the new Licensed Vocational Nurse to Registered Nurse program at CR's Del Norte Education Center. This program coincided with Cal Poly Humboldt's new RN to BSN program, both of which were designed to grow enough nurses from within to address a shortage in both Humboldt and Del Norte counties.
CR's LVN to RN program has been very successful, Hanna said. Since it started, 28 students have graduated the program. Sutter hired about 18 of those graduates and 15 still work at the hospital, he said.
In a rural community like Del Norte, however, one of the main differences between working in a place like Santa Rosa is the lack of healthcare resources, Hanna said. A rural doctor has to be "all things to all people," he said.
Though it has been successful in recruiting specialty physicians to the area, there are others Sutter Coast is working to get, Hanna said. Del Norte doesn't have an endocrinologist or an infectious disease specialist, he said. Sutter Coast is trying to recruit a nephrologist, but might have to introduce that field to the community through telemedicine, Hanna said.
"What you tend to find in people in a rural residency program are people who are comfort doing a lot of research on their own and vetting out the answers to questions," he said. "In an urban community, they might be able to pick up a phone and get somebody to consult on your patient."
Yet another challenge for Sutter Coast Hospital in recruiting physicians is housing, though Hanna said that's a hurdle his counterparts at Mad River Community Hospital and Providence St. Joseph's in Eureka deal with too.
At Sutter Coast, people have accepted job offers and turned them down because they couldn't find a place to live, Hanna said. New-hires are renting rooms in private homes and some staff have stepped up to offer space in their houses, he said.
"I recognize that Sutter Health is a healthcare company, not a housing company. We'd rather not get into the housing business," he said. "I really would like to see our local government become a little more active in that effort."
According to Sutter Health, though becoming a teaching hospital is a first for Sutter Coast, it received another federal grant to start a rural residency physician program at Sutter Amador County about three years ago. Two resident physicians began training this year.
---
SHARE →