---
Jessica Cejnar Andrews / Friday, Oct. 21, 2022 @ 4:38 p.m. / Community, Emergencies, Local Government
Crescent Fire & Rescue Begins Recruiting For Fire Captain Positions
---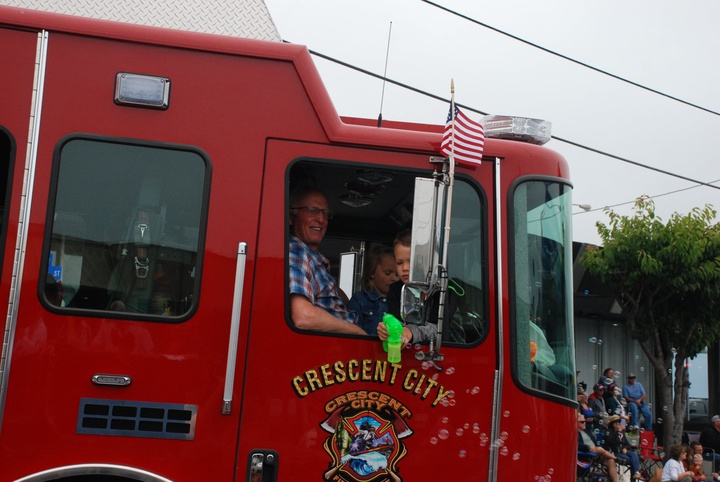 Crescent City Fire & Rescue began recruiting for three fire captains this week, fulfilling a goal City Councilors said wouldn't be possible without Measure S — the 1 percent sales tax that's up for repeal on the Nov. 8 ballot.
The department aims to hire three captains who would work two-days on and four-days off, rotating every two days, Fire Chief Kevin Carey told Councilors on Monday. Once hired, those captains will be the only paid employees at Crescent City Fire and Rescue apart from the fire chief. The fire captains will respond to everything from medical and fire emergencies to assisting in inspections, community education programs like CPR training, and even reinstating the department's Explorer Program, Carey said.
"As we know, the staffing is long overdue. We do not have a sustainable fire department as it stands now," he told Councilors. "We just can't continue (dealing with) the increase in call load with purely volunteers, so this is really a historical and exciting moment for this city and this department."
Councilors voted 4-0-1 in favor of a resolution setting the base salaries, benefits and other terms of employment for the career fire captain positions. Since this is a new employee classification within the city, it's up to the Council to establish those parameters, City Attorney Martha Rice said.
Councilor Beau Smith recused himself. Earlier this year, during a Measure S Oversight Committee meeting, Smith said he planned to apply for one of the fire captain positions.
Until they organize their employee association to engage in labor negotiations, the career fire captain position is currently unrepresented, Rice said. Their annual salary will range from $65,631 to $79,744 and they will receive retirement, health insurance and life insurance benefits through the CalPERS system.
The Crescent Fire Protection District on Oct. 13 also unanimously approved the salaries, benefits and employment terms for the three career fire captain positions. Hiring the fire captains also wouldn't have been possible without the district's benefit assessment that was successful last year, Crescent City Mayor Jason Greenough said.
Former fire chief, Steve Wakefield, who was forced to retire following a stroke and died in 2019, saw the need to combine the Crescent City Fire Department and Crescent Fire Protection District back in 2005. That merger became official about 10 years later with both jurisdictions establishing Crescent City Fire & Rescue.
Following Wakefield's retirement, the city and fire district began working on a masterplan that laid out long-term strategies for sustaining the department whose volunteers were responding to roughly 2,000 calls for service a year, City Manager Eric Wier said. Both jurisdictions adopted the masterplan in November 2019.
Crescent City Fire & Rescue began advertising the career fire captain positions on Tuesday with the application period closing on Nov. 21, Carey said. Applicant interviews will take place in early December — Carey said his department will be gathering teams of interview panels. He said CCF&R hopes to make conditional offers around mid-December.
Though the captains will be paid, Carey said the name of the position had changed from "Captain II" to "Career Fire Captain" to better blend them into a department that will still be predominantly staffed with volunteers.
"What we want them is to be on equal ground with our volunteer captains," Carey said, adding that the department's battalion chiefs had input into the process of creating the new captain positions. "Organizationally, they're going to be trained the same. They're going to be organizationally the same."
Carey said he hopes the addition of the fire captains will mean real impacts right away.
"The community is going to see real changes with this," he said. "We can offer community training attached to these positions such as school education programs — CPR teaching, fire safe classes, the Explorer program that we can get up and running regularly again."
Captains can offer fire extinguisher training to businesses and can assist in conducting inspections, bringing back necessary information to their colleagues for responding to a fire in a particular structure, Carey said.

Greenough and Councilor Blake Inscore applauded the resolution, with Inscore calling the milestone historic. They both acknowledged Measure S and the benefit assessment.
Greenough, specifically called out Measure T, which, if approved on Nov. 8, would eliminate Measure S.
"I really hope in the near future we don't have to make those hard decisions on what we have to fund or what we have to cut," he said. "I hope the public thinks about these issues and makes the right decision when it comes to what kind of a community they want to live in and what kind of service they want to see."
---
SHARE →