---
Jessica Cejnar Andrews / Tuesday, Nov. 22 @ 9:30 a.m. / Ocean
Poor Meat Quality Delays Northern California's Commercial Dungeness Season
---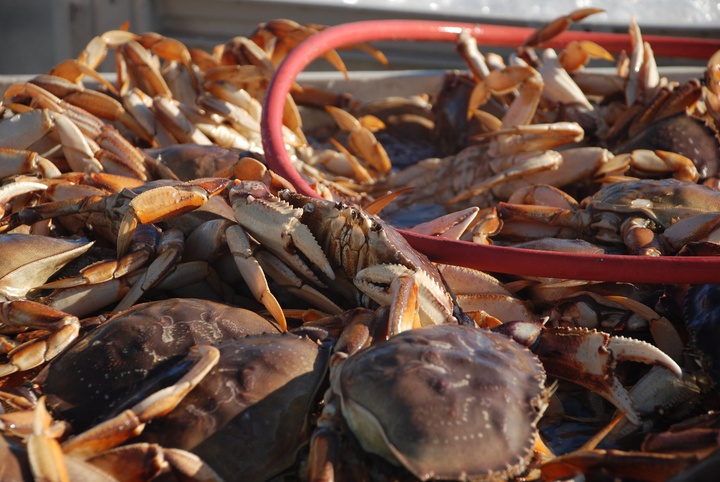 Poor crab meat quality is delaying Del Norte County's commercial Dungeness season until at least Dec. 16.
The California Department of Fish and Wildlife announced the delay for Mendocino, Humboldt and Del Norte counties on Monday, about three days after the Oregon Department of Fish and Wildlife stated its commercial Dungeness season won't start before Dec. 16 due to low meat yield in some areas. An on-time start to the fishery would be Dec. 1 for Northern California and Oregon.
Elevated levels of domoic acid was also detected in some crab viscera in Oregon, according to ODFW.
In Del Norte County, though unsafe levels of domoic acid were detected in razor clams, crab tested in early October were safe for human consumption, the Wild Rivers Outpost reported on Nov. 4.
Oregon, California and Washington have a tri-state agreement to delay the commercial season between Point Arena to the U.S.-Canada border until at least Dec. 16, ODFW stated.
In Northern California, the commercial Dungeness fishery is delayed until 12:01 a.m. Dec. 16 pending another round of meat quality testing. If results indicate good quality, the fishery will be preceded by a gear setting period starting at 8:01 a.m. Dec. 13.
Further south, the commercial Dungeness fishery remains delayed from Point Arena to the US-Mexico border due to the presence of humpback whales and the potential for entanglement in crab gear.
A recreational crab trap restriction is also in place in those areas due to the presence of whales.
Following another risk assessment on or before Dec. 7, CDFW Director Charlton Bonham will re-evaluate the commercial fishery delay and recreational crab trap restriction.
For more information about the Dungeness crab fishery, visit wildlife.ca.gov/crab.
---
SHARE →