---
John Ross Ferrara / Monday, May 9 @ 12:45 p.m. / Celebrity, Film, Oregon
Crescent City Farm, Gold Beach Featured In Guy Fieri's New Food Network Series 'Guy's All-American Road Trip'
---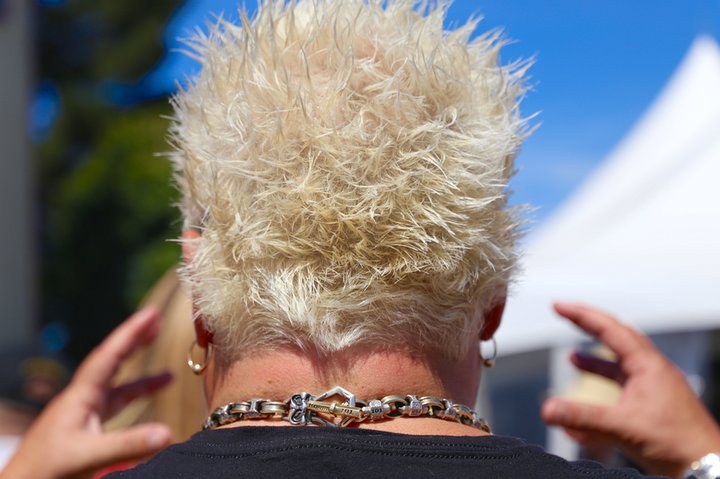 Del Norte and Curry Counties will serve as the backdrop for celebrity chef Guy Fieri's new TV series "Guy's All-American Road Trip," which premieres on the Food Network next month.
The show stars the Fieri family and friends as they embark on a camping trip through the Pacific Northwest. According to the Food Network, the road trip begins in Crescent City, where Guy meets the owners of Alexandre Family Farm and competes in the first of many family-versus-family competitions held throughout the trip.
"First up is Alexandre Family Farms, an organic, regenerative farm in Crescent City, CA, where they learn firsthand how to milk cows, and one family creams the others with the most amount of milk," the Food Network announced last week. "The farm fun doesn't stop there, as they head over to the chicken coop for a dizzying egg relay race."
Fieri's caravan of RVs then heads into Gold Beach, where they take a 64-mile jet-boat tour up the Rogue River before setting up camp for the night — presumably at one of Curry County's many campgrounds.
"After working up an appetite on the water, the Fieris and friends go back to the campsite to enjoy a real deal, homemade Mexican feast with Al Pastor, Carne Asada and Achiote Chicken Fajitas," the Food Network said.
The first episode is set to air on Friday, June 3 at 9 p.m. on the Food Network.
"I'm stoked to hit the open road with my friends and family for an unforgettable trip where we'll experience all the flavors, people, and places that make the West Coast so special," Fieri was quoted as saying in a Food Network press release. "And of course, I'm throwin' in a little bit of competition to keep them all on their toes!"
---
SHARE →