---
Jessica Cejnar Andrews / Monday, May 9 @ 10:24 a.m. / Elections
Get Your Questions In for Del Norte District 5 Candidates Forum
---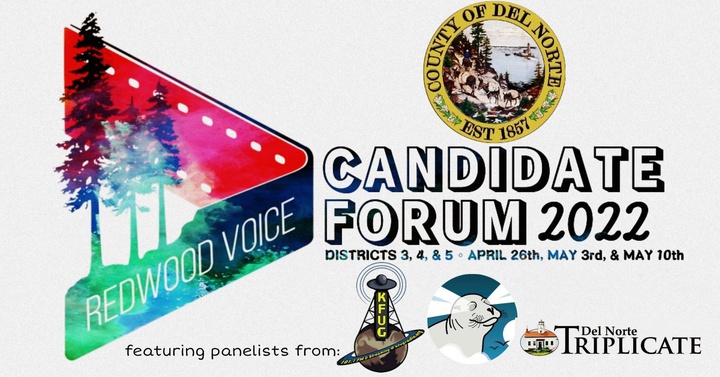 There's still time to submit questions for candidates vying for the District 5 seat on the Del Norte County Board of Supervisors.
Hosted by Redwood Voice and KFUG Community Radio, Tuesday's forum will feature candidates Dean Wilson, Susan Masten, David Jones, Terri Colton and David Markel. Panelists will include representatives from KFUG Community News, the Wild Rivers Outpost and the Del Norte Triplicate.
Candidates for Del Norte County District 5 will replace former supervisor Bob Berkowitz, who died on March 2. Masten was appointed by California Governor Gavin Newsom on March 30 to fill the vacant seat.
The public can submit questions by noon by posting them to the Facebook event page or emailing operator@kfugradio.org or redwoodvoicedn@gmail.com.
Tuesday's forum will be streamed live from 6-8 p.m. on the Redwood Voice Facebook page and will be broadcast at KFUG Community Radio 101.1 FM in Crescent City and online at kfugradio.org.
---
SHARE →