---
Jessica Cejnar Andrews / Thursday, May 26 @ 3:07 p.m. / COVID-19, Community
After Latest COVID Death, Del Norte's Public Health Officer Says Community's 'Fairly Well Protected' Against Future Potential Surge
---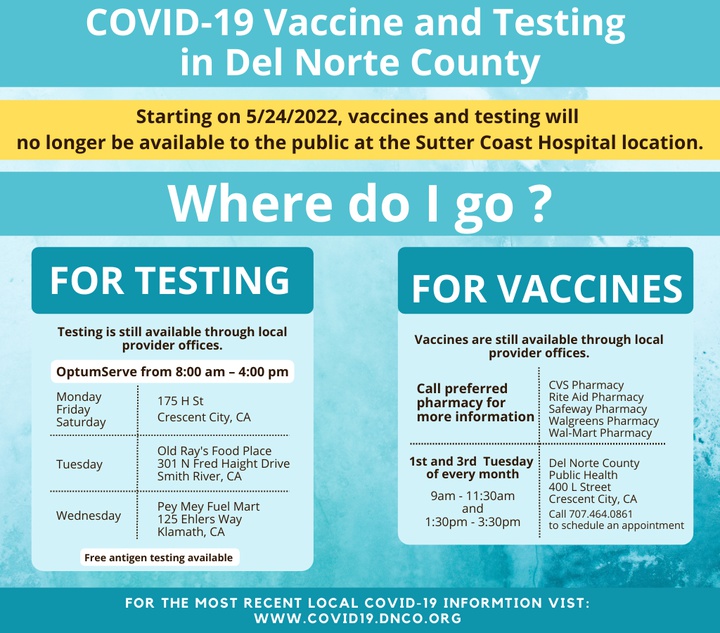 Del Norte County's public health officer says that while he's worried there will be another COVID-19 surge, given the number of residents who are vaccinated or who have had a COVID infection, the community's "fairly well protected."
Dr. Aaron Stutz said he expects seasonal spikes of the novel coronavirus along with a system of yearly inoculations that will target the latest variants.
"It will be important to get a yearly vaccine if you want an easy and safe way to protect yourself from dying of a preventable disease," Stutz told the Wild Rivers Outpost via email Thursday.
The Outpost reached out to Stutz two days after the Del Norte Public Health Branch reported that a 49th person had died of COVID-19 and two people were hospitalized with the disease.
On Thursday, there was only one person hospitalized with COVID-19 in Del Norte County, according to Public Health. Thirty new cases were reported as of Thursday, including 14 among the county's incarcerated population.
There were 78 active COVID cases in Del Norte County as of Thursday.
There are currently 103 active COVID-19 cases among Pelican Bay State Prison's inmate population, according to the California Department of Corrections and Rehabilitation' COVID-19 tracker.
According to the California Department of Public Health, 52.7 percent of Del Norte County's population has received primary COVID-19 vaccine series. Of those who are eligible, about 51.5 percent have received a booster.
Stutz said he didn't have further information about the most recent COVID-19 death.
He said that while it's possible a new variant could result in renewing the previous restrictions, such as indoor masking, he doesn't anticipate seeing the same impact to the local hospital that the community did previously.
As of Tuesday, COVID-19 vaccines are no longer available at Sutter Coast Hospital. To get the shot, visit a local pharmacy or provider.
Del Norte County Public Health is also offering vaccines from 9 a.m.-11:30 a.m. and from 1:30 p.m.-3:30 p.m. every first and third Tuesday of the month at 400 L Street in Crescent City. To schedule an appointment, call (707) 464-0861.
Testing is available through local healthcare providers or from 8 a.m.-4 p.m. at OptumServe sites at 175 H Street on Mondays, Fridays and Saturdays; on Tuesdays at the old Ray's Food Place in Smith River; and on Wednesdays at Pey Mey Fuel Mart in Klamath.
---
SHARE →