---
Jessica Cejnar Andrews / Saturday, June 4 @ 6 a.m. / Community
Crescent City-DN Chamber Releases Hometown Heroes Lineup Ahead of Independence Day Festivities
---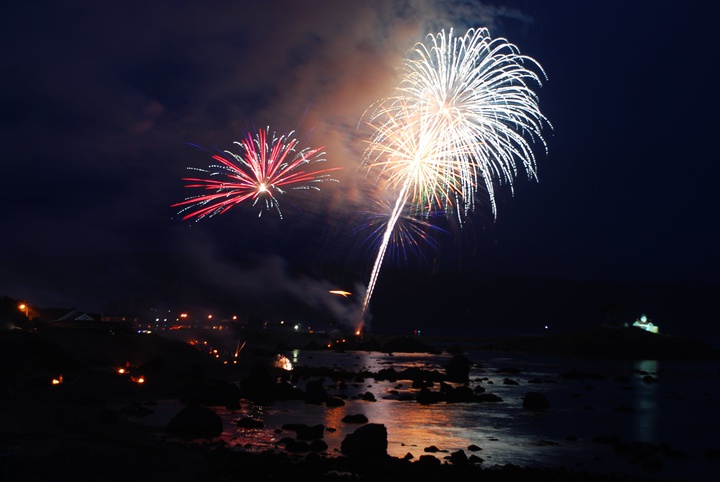 The Crescent City-Del Norte County Chamber of Commerce has released its 2022 list of Hometown Heroes — Del Norters who made a difference in their community and who have shown courage and strength through adversity.
From a news release Friday:
The Crescent City/Del Norte Chamber of Commerce 4th of July Committee is pleased to announce the 12 Hometown Heroes for 2022. Nominated by the community, these Hometown Heroes are a reflection of the outstanding caliber of our citizens.

Please join us in congratulating the following individuals and look for their customized banners on the light poles lining Front Street during the 4th of July, Independence Day festivities.

Del Norte County Supervisor Valerie Starkey was pleased to fund the purchase of light pole banners and posters highlighting our community heroes for the last three years. She says it is her honor to be part of a community such as Del Norte County and believes in showcasing the good that everyday people do. For more information please contact Del Norte County Supervisor Valerie Starkey at 707-490-9177 or vstarkey@sonic.net

2022 HOMETOWN HEROES


Beverly (Bev) Noll
Bev is a hometown hero because she devotes so much time to our community. She has been a marine safety instructor where she trained many local fishermen for cold water survival skills. She was instrumental in forming the local Coast Guard Auxiliary Flotilla and she later became a Flotilla Commander. Bev has helped organize the Noll Longboard Classic Surf Contest, which brought hundreds of people to our beautiful community. She is loving, kind, and inspirational to those who know her.



Blake Inscore
Blake is a perfect example of a "Hometown" Hero. He is always positive and has a sensible, calm solution in today's crazy world. He has been past Mayor, current City Councilman, and is a Pastor. All of these require a strong will, professionalism, and a kind heart. Blake is a strong family man and cares about the community and area.

Dan Barnts
Dan Barnts, owner of Del Norte Tire, remained open throughout the Covid-19 pandemic, assisting the community with the services they needed. He was always willing to provide these services and he worked out payment plans with customers, as he knew many were struggling financially. Dan is such a blessing to our community and he should be commended along with his staff for the work they have done.

Ginneen Thompson


Ginneen is an outstanding member of this community. Ginneen has been in customer service from the very beginning with Glen's Bakery and has always provided outstanding service. Mrs. Thompson has great pride in Del Norte county and always goes above and beyond to show it. She has volunteered for multiple functions and services and enjoys every minute of it.

Khou Vue


Khou Vue is a Hometown Hero. He is an educator, a father, and a cultural leader in the Hmong community. Khou was instrumental in establishing the Hmong Cultural Center of Del Norte County and he helps with outreach so members of the Hmong community are receiving needed information.This was especially essential during the pandemic when food distribution and vaccination details were important. Khou has limitless energy as he educates and leads in our county. For this, and many other reasons, I believe that he is a Hometown Hero.

Cindy Vosburg


Cindy kept our community connected during the height of Covid and in the years that have followed. Cindy was often in the front of the information coming from the state, CAL-Osha, and the federal government, and she was remarkable in getting this ever-changing information to the public. Cindy continues to bring ideas and revenue to our region. She works hard and she continually makes sure Del Norte County and, all its beauty, is highlighted.

Dottie Nuszkiewicz
Dottie is a hometown hero due to her dedication to our local gem, Battery Point Lighthouse. She has lovingly cared for the lighthouse by ensuring the visitors have a wonderful experience. Dottie has always kept the lantern bright for our local fishermen and citizens as lighthouse keeper.

Jagger Fruth
Despite Jagger having Spina Bifida, he loves to volunteer. He assisted with a local Earth Day cleanup, a parks cleanup and with beach and road cleanups within the Redwood Coast Conservation Corps. In the future, he would love to volunteer more and become someone other kids look up to.

Wade Mayes
Wade is a local hero. He has served our country in the US Army and has since returned to our community where he is active in the VFW and other local events. Wade is a caring, kind-hearted man who always gives of himself to try to better the community. You can often find Wade, soft spoken, but standing up for the rights of those who need a voice. Wade exemplifies character and honor.

Daphne Cortese-Lambert
Daphne brings a smile to all who know her. She has pioneered Del Norte Mission Possible into a success. Her progress in helping the unhoused, sick and disabled get housing and services needed is amazing. Feeding those less fortunate, helping them with lifesaving supplies, getting the unhoused each week to help with garbage cleanup, her relation with those underprivileged bridges a gap.

Eileen Bennett
Eileen has been instrumental in the start of Prison Paw Partnership (PPP). PPP places homeless dogs from our local pound with selected inmates at PBSP. She has had a nearly perfect success rate of adopting these prison trained pups into loving homes. Also, Eileen is the Humane Society cat shelter manager. She is an extremely giving person, always making time for others and still finds time to bottle feed orphaned kittens.

Lisa McKeown
Lisa has a history of being in service to her community and exemplifies all the qualities as a hometown hero. Lisa is a founding board member for Mission Possible, where she has dedicated numerous hours helping our most vulnerable population. She has accomplished so much, all the while taking care of her ailing husband for the past 10 years. For three years, she was a State Farm agent by day and a dialysis nurse by night. These feats she accomplished, while in service to this community, shows her huge heart!






---
SHARE →