---
Jessica Cejnar Andrews / Friday, June 3 @ 3:04 p.m. / Crime, Environment, Roads
Driver of Overturned Trailer That Dumped Asphalt in the Smith River Is A No-Show At Court
---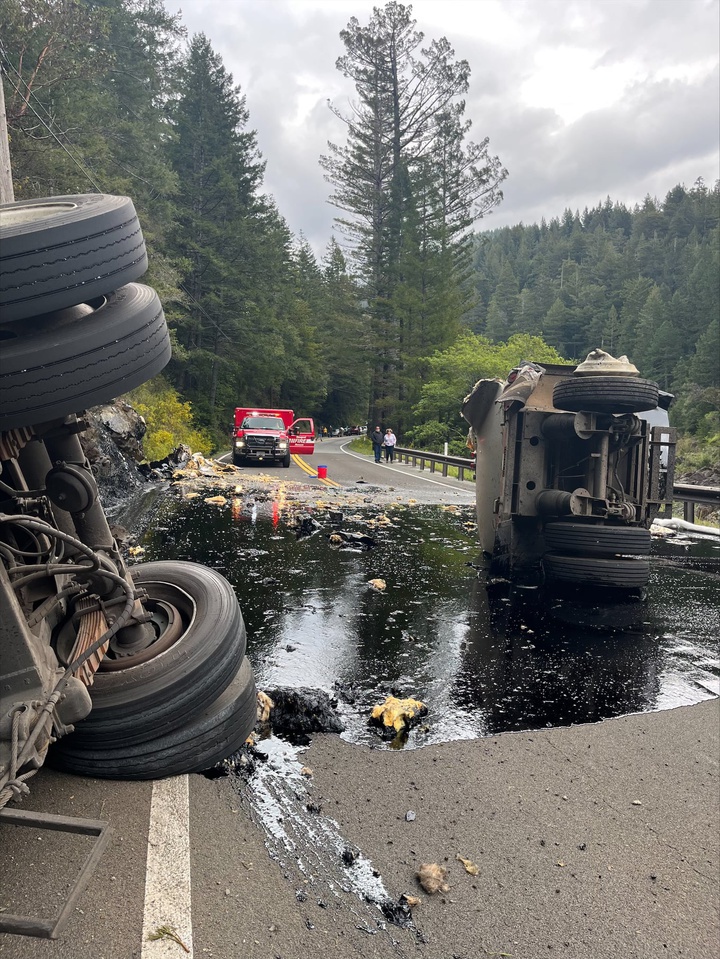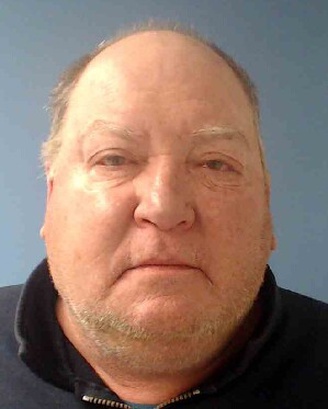 Previously:
• Tar Is Still Leaking Into the Smith River After Last Month's Suspected DUI Crash, Officials Confirm
• Klamath Falls Man in Custody On Suspicion of Hit and Run Following Yesterday's Tar Spill on U.S. 199
###
The driver of the tractor trailer that overturned on U.S. 199 and spilled its load of asphalt binder into the Smith River in April failed to appear in court on Friday.
A $50,000 bench warrant has been issued for Raoul Payette Jr., 58, of Klamath Falls, Ore., Del Norte County District Attorney Katherine Micks told the Wild Rivers Outpost. She said her office can file an additional felony charge against Payette for failure to appear if he doesn't show up within a "reasonable period of time."
"Typically people will turn themselves in or, in the future, he could be contacted by law enforcement and would be arrested at that time and brought here," Micks said.
On April 28, Payette was traveling southbound on U.S. 199 in a 2001 Freightliner that had a damaged tire when his rear trailer struck a power pole, sending lines onto the roadway at about 10:43 a.m. Payette's trailer then continued south, where his semi detached and overturned, spilling about 2,000 gallons of the asphalt material onto the highway near milepost marker 10.65 between Hiouchi and Gasquet.
California Highway Patrol officers arrested Payette in Hiouchi at about 11:02 a.m., CHP Officer Brandy Gonzalez told the Outpost.
Payette had been booked into the Del Norte County Jail and released on April 28 with a citation requiring him to appear in court on Friday.
Payette faces the following charges: Four counts of felony assault with a deadly weapon; two counts of misdemeanor hit and run; depositing hazardous substances into the waters of the state; carrying a loaded firearm in a vehicle on a public street; possessing an unregistered concealed firearm in a vehicle; driving under the influence and driving under the influence with a blood alcohol content level above 0.08.
Payette's blood alcohol concentration was allegedly 0.15 percent by weight and more, according to the District Attorney's complaint.
The collision shut down U.S. 199 for several hours while the California Department of Fish and Wildlife, the Six Rivers National Forest, Caltrans, CHP, CalOES and the Del Norte Office of Emergency Services assessed the spill.
Alcon Services, a cleanup contractor, has been spearheading the cleanup of the asphalt-binder from the banks of the Smith River near the crash site, CDFW spokesman Eric Laughlin told the Outpost last week. Tarballs were also reported as far south as Jedediah Smith Redwoods State Park, but have since been removed, he said.
The Office of Spill Prevention and Response also responded to the spill site to investigate impacts to wildlife and the Oiled Wildlife Care Network has been on standby, Laughlin said. Four dead snakes had been recovered, species yet to be determined, he said. No other wildlife or birds have been observed to have been impacted by the spill.
On Friday, Laughlin said spilling petroleum products of any kind into statewaters is a violation of the California Fish and Game code.
"CDFW is conducting a full investigation of the incident and any potential FC code violations will be pending the completion of our investigation," Laughlin told the Outpost via email.
According to a video posted on the California Office of Prevention Spill and Response Facebook page on Friday, cleanup crews made significant progress in removing the material from the banks of the Smith River last week. Crews are re-surveying the area to see if any more product has reaccumulated since last week.
Documents:
• District Attorney's complaint
---
SHARE →