---
Jessica Cejnar Andrews / Friday, June 3, 2022 @ 10:07 a.m. / Local Government
Crescent City Preparing for Measure S Repeal As Councilors Add $1.9 Million in Tax Measure Expenditures to 2022-23 Budget
---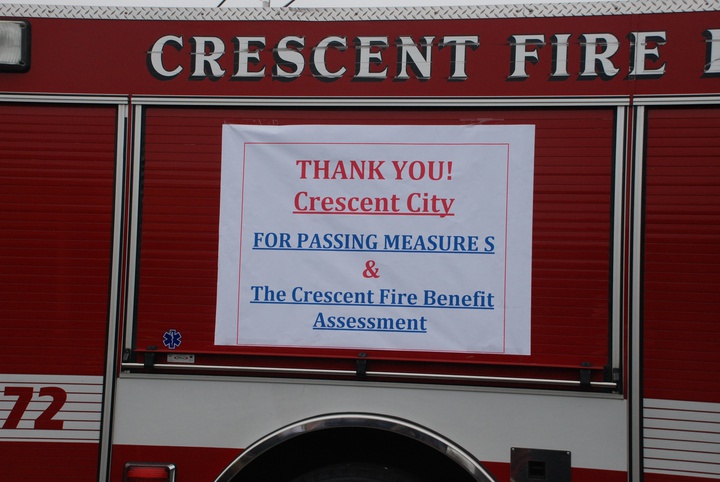 Previously:
• Crescent City Proposes Using Surplus Measure S, Bed and Sales Tax Dollars for Front Street Reconstruction, Will Ask Transportation Commission for $400k
• Del Norte Supervisors Delay Measure R Repeal, Ask Staff to Outline Initiative's Impacts to Law Enforcement, Code Enforcement, Probation
###
Though they accepted recommendations calling for, among other things, hiring three paid captains to staff the volunteer fire department in October, Crescent City Manager Eric Wier told Councilors to brace for a repeal attempt against Measure S.
During a budget workshop Tuesday, Wier told Councilors that the proposed repeal of the city's 1 percent sales tax measure will likely go before them June 20. At that meeting, Councilors could direct staff to bring a report back of how a repeal would affect the departments and programs relying on those dollars. Councilors could also direct staff to place the repeal on the November general election ballot, Wier said.
"This is always a reality with a tax measure like this," he said, adding that 5 percent of Crescent City voters had to have signed the petition for the repeal attempt to move toward a vote. "It could be repealed at any time and it only takes 49 signatures to get something like this on the ballot."
Crescent City resident Jeff McCaddon authored the Measure S repeal petition, according to Donna Westfall, president of the Crescent City-Del Norte County Taxpayers Association. Westfall said she helped McCaddon write the petition.
The taxpayers association is also spearheading a repeal effort against Measure R, the county's 1 percent sales tax measure voters approved in 2020. After county officials informed the public in April that the petition for that repeal wouldn't do away with the tax, Measure R opponents are working on a new petition, community activist Linda Sutter told the Outpost.
"Wes Nunn is the person who is heading that one and I believe my name may be on it as well," she told the Outpost.
On Tuesday, Wier told Councilors that more than $1 million in Measure S dollars were available. This included $332,467 in unallocated monies from the 2020-21 fiscal year and a $700,000 increase in tax revenue projected for this fiscal year.
After hearing a presentation from Measure S Oversight Committee chair Kelly Schellong, four Councilors directed staff to include the committee's recommended expenditures, which total $1.9 million, in the city's 2022-23 budget. Councilor Beau Smith recused himself, saying he plans to apply for one of the paid fire captain positions.
According to Schellong, the Measure S Oversight Committee recommended allocating $366,072 in tax measure funds to Crescent City Fire & Rescue.
Among the expenditures is the hiring of three paid captains to oversee a volunteer crew covering 24-hour shifts, which is part of a masterplan the city and the Crescent Fire Protection District adopted in 2019.
On Tuesday, Schellong, a former Crescent City councilwoman, said the Oversight Committee recommends using about $144,000 in tax measure dollars to hire those captains all at once, potentially in October.
"In the beginning we talked about bringing those on one at a time and phasing them in," she said. "It turns out that maybe hiring all three of them at once is the better choice. This is the first time in my history that we're going to have any paid staff other than the fire chief."
Other recommended Measure S expenditures for the fire department include continuing the stipend program and implementing a volunteer station staffing program. The Measure S Oversight Committee also called for increased training, establishing a vehicle replacement fund and a small equipment replacement fund and training for new volunteers.
The Measure S Oversight Committee also recommends purchasing 12 new self-contained breathing apparatus packs as well as a compressor for the fire station within city limits. The self-contained breathing apparatus compressor is expected to cost $60,000, while the 12 new packs is budgeted at $48,000, which includes a rollover of $12,500 from the previous fiscal year, according to Schellong.
Moving over to the Crescent City Police Department, the Measure S Oversight Committee recommended allocating a total of $510,739 in tax measure dollars. Recommended expenditures included allocating $167,816 toward the hiring of two new police officers; $14,312 to promote and existing officer to a lieutenant; and $9,200 for a second K9 officer.
The Measure S Oversight Committee also recommends establishing a detective assignment within the police department, though since that isn't expected to take effect until June 2023, only $411 in tax measure funding from the 2022-23 budget has been suggested, according to Wier.
Other proposed Measure S allocations for CCPD include replacing two patrol vehicles, which is expected to cost $120,000, as well as purchasing additional firearms and personal protective equipment, according to Schellong.
Continuing to go down the list, Schellong noted that street projects were one of the most important areas for constituents. Recommended Measure S expenditures included allocating $100,000 to fill in potholes, seal cracks and do other minor repairs. Another $100,000 was recommended for sidewalk repairs, while $50,000 was allocated toward striping.
The Measure S Oversight Committee also recommends using $250,000 toward a street preservation project targeting Harding Avenue, H Street and 9th Street.
Public Works Director Jon Olson introduced the Measure S-funded Collector Streets Rehabilitation project to City Councilors on May 16. The Council approved the plan and specifications and authorized staff to seek bids.
On Tuesday, Schellong said it might be difficult for constituents to understand the importance of this proposed project.
"But we have to keep those streets that are in somewhat good shape in good shape so they don't all become full of potholes," she said.
Schellong then turned to the Fred Endert Municipal Pool. The Measure S Oversight Committee is recommending spending a total of $511,701 on the pool. This includes $331,701 in staff, electricity and propane costs, according to Schellong, and $130,000 to replace the flooring in the locker room.
The sudden need for repairs to the pool's ceiling was also paid for using $50,000 in Measure S dollars. At a City Council meeting on May 16, Wier said the committee decided that it would split $100,000 that had been earmarked for the design and specifications of an updated police department, allocating half those dollars this fiscal year to the pool repairs.
Going back to discussions about the fire department, Councilor Blake Inscore applauded the idea of bringing on all three fire captains at once.
"I know we can save some money by parsing it out a little bit at a time," he said, adding that the city would likely save money by training the captains all at once. "But the value of doing it all at once far exceeds any dollars we might save and the reality is we might actually (spend) more by doing that."
Westfall, also a former city councilwoman, said her biggest concern is the "notion that government employees are more important than the public that supports them with their tax dollars."
Westfall also criticized citizens oversight committees, referring to a committee overseeing a $25 million bond voters approved in 2008 that benefitted Del Norte Unified School District, calling it inept.
"Not only did they not understand they were there to protect taxpayers' money, they fought with the members who would bring allegations of fraud and misuse of the funds to light," Westfall told the Outpost. "Conclusion: COCs are there to rubber stamp."
Though 2/3rds of Crescent City voters approved Measure S in 2020, the reality is it could be repealed at any time, Wier told the Outpost. It only takes 49 signatures for a repeal to get on the ballot, he said, but the city is still moving forward with its budget using Measure S dollars.
"If you look at our budget, Measure S is funding a lot of critical things for the community," Wier said. "If it's not there, the Council is going to have to evaluate how do we fund these critical elements."
---
SHARE →