---
Jessica Cejnar Andrews / Friday, June 17 @ 5:29 p.m. / Community, Homelessness, Local Government
Sen. McGuire Endorses CARE Court Mental Health Framework, While Acknowledging Challenging Lift for Del Norte County
---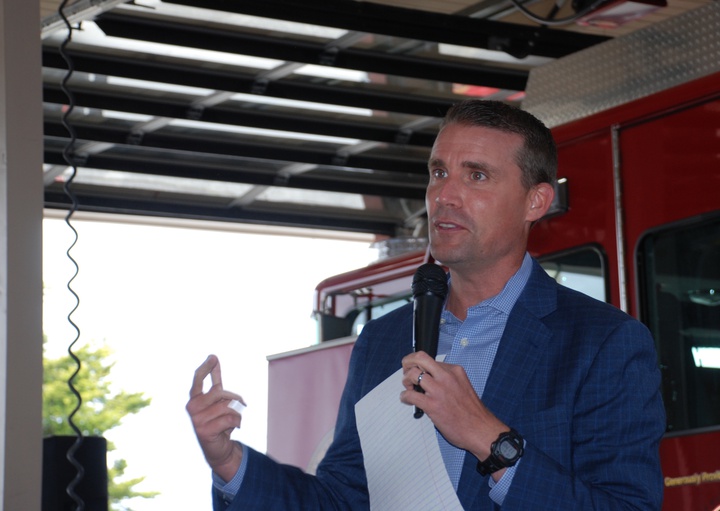 Previously:
• Del Norte Supervisors: State's Proposed CARE Court Mental Health Framework Onerous for Rural Communities
###
Del Norte County's state senator announced a plan to establish a crisis residential facility in the community and promised to help Del Norte successfully launch CARE Court, a proposed mental health system county supervisors said Tuesday would be onerous for rural California.
State Sen. Mike McGuire acknowledged that implementing the framework outlined in California Senate Bill 1338 — the Community Assistance, Recovery and Empowerment (CARE) Act — would be difficult for Del Norte and other rural counties. But, he said, the details are being discussed "even as we speak."
"The California State Association of Counties have submitted a letter to the governor's office and into the budget committee talking about their concerns," McGuire told the Wild Rivers Outpost. "What their concerns are, No. 1, is ongoing funding. So, right now we're going to place a column with a guaranteed three years. The other issue is housing — where are we going to house folks who may come out of a 12-24 month hold? All that is being discussed even as we speak."
At a town hall meeting at Crescent City Fire and Rescue's city station on Friday, McGuire discussed transportation, the STAA 199/197 project, Last Chance Grade, healthcare and wildfires. But it was his focus on homelessness and mental health that drew the most questions and comments from the public, including Lisa Freitas, association executive at the Del Norte Association of Realtors.
Freitas told the state senator that her son is currently in acute psychiatric care and getting him into conservatorship has been difficult. She asked McGuire how soon a CARE Court-type framework could be implemented.
"He needs to be able to be put into a long-term care facility for at least six to 12 months so that his trajectory of his life could change," she said. "This kid graduated high school and he has a future and I'm tired of having to keep him out of jail, and it seems like the only thing that's going to happen is he's going to have to literally be arrested in order for him to get the type of mental health that he needs."
McGuire referenced the dismantling of state hospitals in the 1980s, pointing out that there has been a massive decrease in funding for housing at the state and federal levels despite massive economic growth in California. The Golden State is about 2 million units short of "where we need to be," he said.
McGuire said the state has allocated a total of $14 billion toward 55,000 permanent supportive housing units with mental health and addiction support services. Counties that apply for these dollars will receive three years of funding minimum, he said, and will be able to provide emergency housing for those living in unstable environments.
However, noting that conservatorship laws in California have been lax, McGuire said there will be between 15,000-30,000 people who will not accept those services. This, he said, is why CARE Court is needed.
"My family is just like millions of others who have a brother or sister or aunt and uncle who struggle with this," he said. "And there are some that may need some additional help to be able to get over the hurdle of being able to help themselves."
Under the CARE Court framework, judges would be able to compel those with serious mental illness and substance use disorders into treatment while providing them with supportive housing and wraparound services.
Participants in the program could be those who are involuntarily hospitalized under a 5150 charge; be referred to CARE Court through the criminal justice system or be referred at the recommendation of family members, mental health providers or first responders. In addition to a clinical team, participants would be offered the services of a public defender and an advocate who could help them make medical decisions.
Participation in CARE Court would be limited to at least one year with the possibility of an additional one-year extension, according to a CalMatters article. All California counties would be required to participate in the program and could face penalties of up to $1,000 per day if they're unable to provide those services.
On Tuesday, in a letter to the bill's authors, state senators Tom Umberg and Susan Talamantes Eggman, county supervisors said Del Norte County lacks the capacity to implement much of what's outlined in the CARE Court framework. Citing CSAC and Rural Counties Representatives of California, Del Norte supervisors urged state lawmakers to allow CARE Court to be an opt-in pilot project.
On Friday, McGuire said he envisions CARE Court to be phased in over the next 24-36 months, but added that it would probably be five years to roll it out across the state. He anticipates CARE Court to be legally challenged, but said there's judicial precedent for conservatorships in the state.
"That's why we're basically in the court system and not within law enforcement or within county mental health," McGuire said.
McGuire speculated that the CARE Court framework, including the wraparound services and housing, would be implemented through a nonprofit provider or through a county-level Department of Health and Human Services.
As for a crisis residential center, the development of such a facility in Del Norte County is in its infancy stages, according to McGuire. However, in Humboldt County, development of a 10-12 bed facility is already underway and the Department of Public Health has gone through an RFP process and selected a nonprofit facility that gets reimbursed through MediCal and MediCaid.
McGuire said he also helped secure $2.2 million for the county to buy a facility that the nonprofit could then upgrade or for the nonprofit to buy a facility.
"It would be a locked facility," he said. "It would be a 30, potentially 60-day hold and during those 30-60 days, (they would be) stabilized, get them into a CARE plan and connect them with a nonprofit or a Department of Public Health depending on how the county runs their system, and get them into housing."
McGuire said he's hoping to secure funding to launch a similar facility in Del Norte County.
"There's facilities in San Francisco, in Sacramento, in San Jose, in Los Angeles and in Anaheim," he said. "There's one in San Diego. We would have the first two in rural California, Humboldt as well as Del Norte County."
McGuire also spoke about the STAA 197/199 project, which is fully funded and seeks to widen three curves on U.S. 199 and replace a 96-year-old bridge. The project also includes widening two curves on State Route 197 near Ruby Van Deventer County Park.
Caltrans' goal is to make the project safer for trucks meeting the 1982 Surface Transportation Assistance Act (STAA) standard. However, it's been tied up in litigation for about six years.
"I'm a big believer that we need to bring that highway up to federal guidelines and we need to move forward on the highway project," McGuire said. "But this spill that we saw with the asphalt chemicals that went into the Smith River, that is an alarm and the alarm couldn't be louder. I believe that we can accomplish moving forward with expanding 199 in an environmentally-sound way, but we have to move on that."
McGuire also told Del Norte County residents to stay tuned for a July 12 community meeting focusing on Last Chance Grade.
Assemblyman Jim Wood and Congressman Jared Huffman will be in town and the meeting will provide a comprehensive update on the two proposed scenarios for a bypass around the landslide 10 miles south of Crescent City.
---
SHARE →