---
Jessica Cejnar Andrews / Wednesday, June 15 @ 11:33 a.m. / COVID-19
Del Norte Publishes Its Final Set of COVID Stats, Directs Locals to State Dashboard
---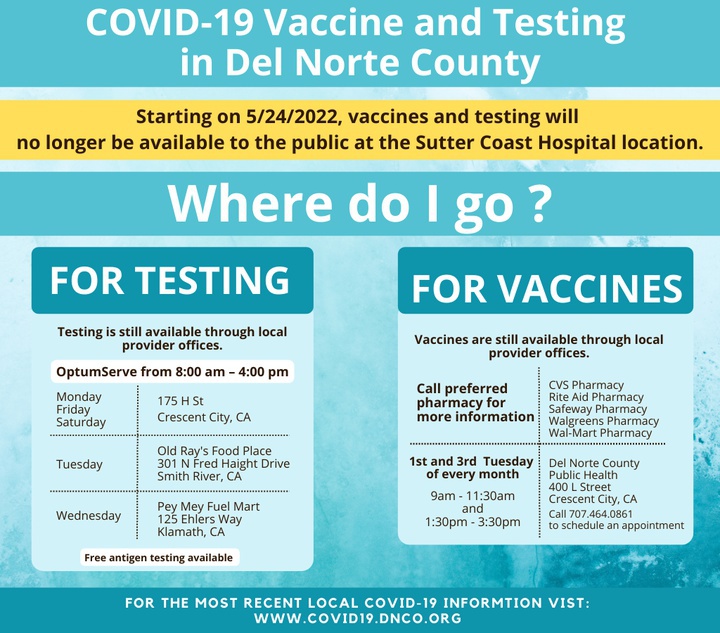 Del Norte County released its final set of COVID-19 statistics on Tuesday.
It's a decision that Public Health Officer Dr. Aaron Stutz says is in line with actions other counties have taken in response to the coronavirus. Instead of publishing updated numbers on the county's COVID-19 Information Hub, Del Norters are being directed to the state's COVID-19 Cases Dashboard, which is updated Tuesdays and Fridays.
"It's time consuming for our little department to keep this information posted daily," Stutz told the Wild Rivers Outpost via email Wednesday. "We have been planning on taking this information down for some months now. It can be reinstated if necessary."
According to the county's information hub, 61 new cases were reported to the Public Health Branch as of Tuesday, including three among the county's incarcerated population. Two people are in the hospital and there are a total of 109 active cases in Del Norte County, an increase from Thursday's count of 86.
There have been 50 COVID-related deaths since the pandemic began in 2020, according to the county's information hub.
According to the state's COVID-19 Cases Dashboard, there have been 52 deaths in Del Norte County related to the coronavirus. However, Stutz said while the coroner listed COVID as their cause of death, local public health officials don't believe the deaths were COVID-related.
The Public Health Branch will still release local COVID news and information about vaccines, testing, quarantine and business resources via an updated COVID-19 section on the county's website.
---
SHARE →