---
Jessica Cejnar Andrews / Friday, July 8 @ 5:31 p.m. / Roads
Huffman, McGuire, Wood to Hold Virtual Last Chance Grade Town Hall
---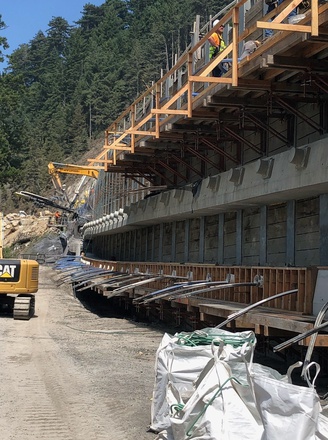 Del Norte County's state, national and local representatives will give an update on efforts to permanently fix Last Chance Grade at a virtual meeting Tuesday.
Congressman Jared Huffman, State Sen. Mike McGuire and Assemblyman Jim Wood will be joined by county supervisors Gerry Hemmingsen and Susan Masten. Representatives from Caltrans and California State Parks will also provide input.
The meeting will be held at 6:30 p.m. RSVP by clicking here.
Caltrans is in the process of determining the feasibility of two options for permanently fixing the slide-prone area of U.S. 101 south of Crescent City. One option — Alternative F — involves re-routing the highway and bypassing the landslide via a tunnel.
The tunnel is estimated to cost $1.3 billion for the construction contract plus additional costs of labor and mitigation. The existing highway would be decommissioned.
Alternative X involves an "end-to-end re-engineering" of U.S. 101. The road would be moved inland by about 130 feet while retaining walls and better drainage would serve to divert water away from the hill.
In addition to conducting geotechnical studies for permanently fixing the highway at Last Chance Grade, Caltrans crews continue working on retaining walls necessary to maintain the road's resilience. Caltrans representatives estimate reopening U.S. 101 at Last Chance Grade to two-way traffic this fall.
For more information about the Last Chance Grade project, click here.
---
SHARE →