---
Jessica Cejnar Andrews / Monday, July 25, 2022 @ 9:10 a.m. / Emergencies
Joint Rescue Brings Four to Safety After Boat Capsized Near Mouth of the Klamath
---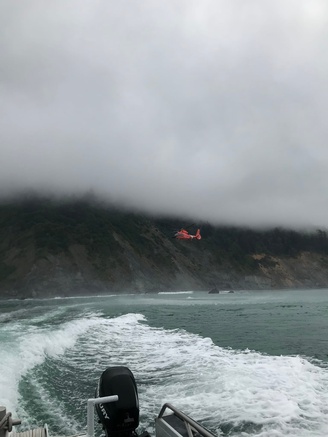 From the Del Norte County Sheriff's Office:
On July 21st at approximately 1030 AM, a capsized vessel with 4 victims aboard was reported in the ocean waters just outside of the mouth of the Klamath River.

A team of rescuers responded in a DNSO ocean rescue vessel that included California Highway Patrol, California Fish and Wildlife and the DNSO.

The vessel and victims were located and a joint rescue with a helicopter from the Coast Guatd took place.

Two victims were transported by helicopter to the Crescent City airport and the other two transported by the DNSO rescue vessel to the harbor in Crescent City. All victims were met and evaluated by Emergency responders upon their arrival to land. All injuries sustained were mild and moderate.

A message from Sheriff Scott: This rescue operation was a great success and a true example of dedicated law enforcement, Coast Guard and Emergency Responders working together to conduct a rescue mission and save lives.

A huge thank you to California Highway Patrol lieutenant, Larry Depee, DNSO sergeant, Enrique Ortega and California Fish and Wildlife Warden, Aaron Burger. Absolutely impressive work!
---
SHARE →