---
Jessica Cejnar Andrews / Wednesday, Dec. 28, 2022 @ 10:50 a.m.
Another Atmospheric River Expected to Drench Del Norte, Crescent City; Wind Advisory Issued for Thursday Morning
---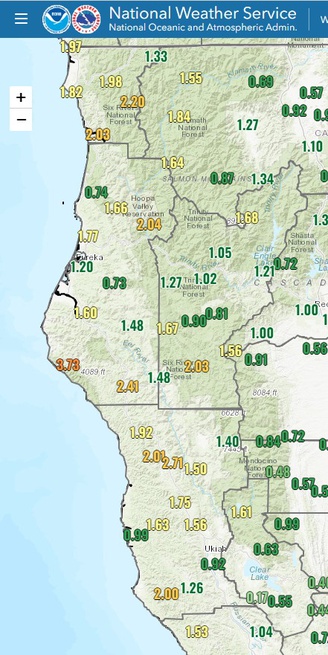 The atmospheric river that impacted much of the West Coast brought 1.5 to 3 inches of rain to Del Norte County's lowest elevations and about 5 inches near Gasquet, according to a National Weather Service meteorologist.
A second atmospheric river is expected to move in starting early Thursday morning, bringing another 3 inches of rain to the Crescent City area and a further 4 to 5 inches in the mountains, NWS meteorologist James White told the Wild Rivers Outpost.
The NWS has issued a wind advisory for coastal Del Norte from 1 a.m. to 7 a.m. Thursday stating that south winds from 15-25 mph are expected with gusts up to 50 mph.
Though the National Weather Service's website shows local rivers below the flooding stage, White said the Smith River at the Dr. Fine Bridge had reached monitor stage prompting them to keep an eye on it as the region heads into the weekend.
"This upcoming event will (also) be another windy one, but it won't be as windy. We'll see gusts up to 50 mph in Crescent City," White told the Outpost. "This pattern, as far as we can tell, looks like it will continue through next week. Just more rain is on the way."
An atmospheric river is a narrow channel of wind that transports water vapor from the tropics to the West Coast often bringing heavy rain and flooding.
Over the past 48 hours, from Monday afternoon through Tuesday, Crescent City received 2.5 inches of rain, White said. Ship Mountain in Del Norte's interior received 4.6 inches of rain and the Gasquet area had about 5 inches.
For more information about the weather forecast, click here.
---
SHARE →