---
Jessica Cejnar Andrews / Friday, Dec. 23, 2022 @ 2:08 p.m.
Del Norte's Crab Season Set to Open New Year's Eve; Quality Test Results Keep Oregon Fishermen From Water
---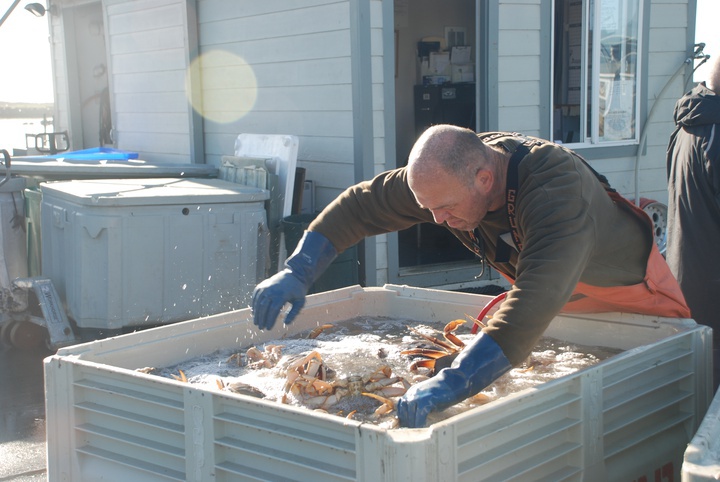 Del Norte County commercial Dungeness crab fishermen can join others statewide and ply their trade on New Year's Eve, state officials announced Thursday.
But the price they'll receive from seafood processors has yet to be determined, Rick Shepherd, president of the Crescent City Commercial Fisherman's Association, told the Wild Rivers Outpost on Friday.
Shepherd said he has heard that larger processors have an inventory of frozen crab and crab meat they need to clear out before they buy more.
There is also a question regarding the meat yield in crab from Pelican Bay — the shallow stretch of water between Crescent City and the Oregon border. According to Shepherd, because the California Department of Fish and Wildlife doesn't conduct quality tests in that area, seafood buyers have concerns.
Shepherd said he wrote a letter to CDFW urging them to test for meat yield in Pelican Bay, saying he felt not testing in that area was flawed.
"It just brings some questions to the buyers," he said. "When a buyer buys millions of pounds of crab, if it's 20 percent that are light or whatever, that can make a big difference in their profit."
According to Ryan Bartling, environmental scientist for CDFW's Marine Fisheries Division, there hasn't been a change in crab quality testing procedures. Meat yields vary throughout Washington, Oregon and California, he said, pointing out that Brookings' most recent test results were below the 24 percent threshold that opens the Dungeness season.
"I think the question folks are concerned about is because Oregon is getting differing results," he told the Outpost. "Ultimately our statutes drive the testing procedure and once those quality yields are met, the director cannot delay the fishery any longer."
Commercial Dungeness fishermen in Mendocino, Humboldt and Del Norte counties will be able to set their gear at 8:01 a.m. Wednesday. The fishery will open at 12:01 a.m. Dec. 31, CDFW announced.
In Oregon, the Dungeness season statewide will be closed until at least Jan. 15 due to low meat yield in crab tested on the northern and southern coasts, the Oregon Department of Fish and Wildlife reported Thursday. Unsafe levels of the biotoxin domoic acid was detected in the guts of some crab, according to ODFW.
The Washington, Oregon and California departments of fish and wildlife operate under a memorandum of understanding to test crab caught from Point Arena north to Canada. The meat yield results fuel recommendations from each state regarding when the commercial Dungeness season can open.
In California, CDFW conducts quality testing in Crescent City, Trinidad and Eureka. According to Bartling, Pelican Bay isn't within CDFW's testing zone.
The commercial season can open once test results in crab caught south of Cascade Head in Tillamook County, Oregon produce a meat yield of 24 percent with no rounding, according to the MOU.
The Crescent City Commercial Fisherman's Association and other commercial fishermen representatives will likely start negotiating a price some time next week, Shepherd said.
Part of the uncertainty for buyers and fishermen is the third round of quality testing showed the meat yield for crab caught near Brookings at 22.6 percent, according to 2022 Preseason Coastal Dungeness crab test results for Washington, Oregon and California.
The meat yield for crab caught near Crescent City is at 24.9 percent, according to the test results. Shepherd said there's no rounding up or down when it comes meat percentages.
When asked if the missing crab quality test results will deter fishermen from fishing in Pelican Bay, Shepherd said buyers' concerns won't keep them away.
"I heard yesterday they're talking about testing out of Pelican Bay some time around the first of the year," he said. "Then it'll be open to harvest crab. They'll let a boat go get crab and test them and let the buyers know what would be buying."
The commercial Dungeness season will also open on New Year's Eve for areas south of the Sonoma-Mendocino county line. However, there is a 50 percent trap reduction to reduce the risk of humpback whale entanglement, according to the CDFW.
All vessels in that area must have at least half of their valid buoy tags onboard and available for inspection until the reduction is lifted, according to CDFW.
---
SHARE →