---
Jessica Cejnar Andrews / Friday, Dec. 16, 2022 @ 12:11 p.m. / Environment, Parks
EPIC Cries Foul At Caltrans' Removal of 'Hazardous' Old-Growth Redwoods in Jed Smith
---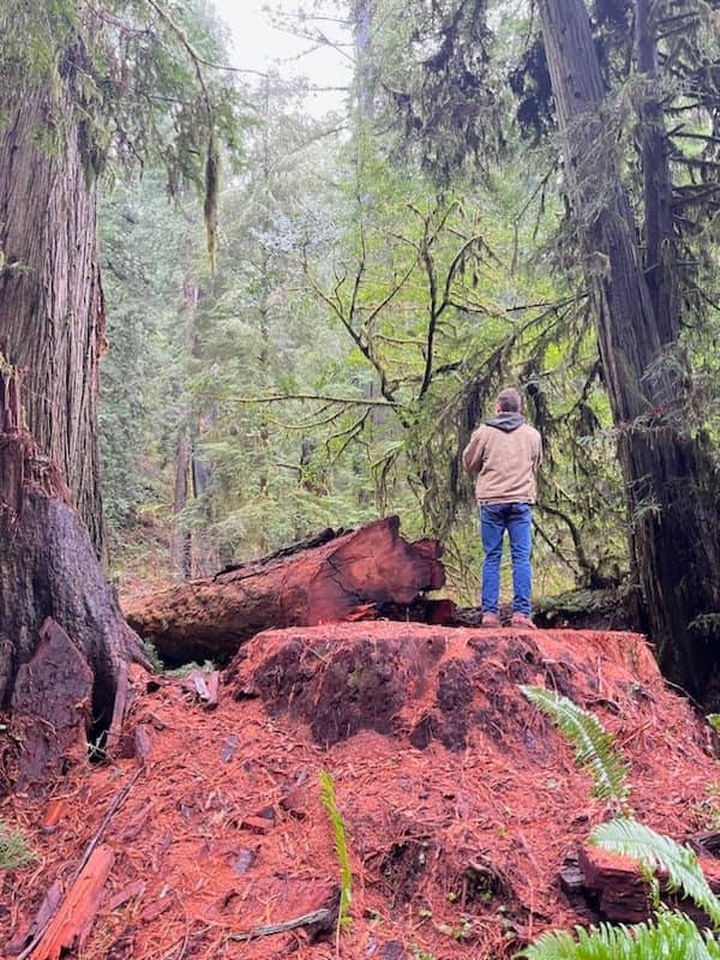 A project to remove trees Caltrans deems hazardous on U.S. 199 has sparked outcry -- particularly from the Environmental Protection Information Center, whose representatives are calling on people to send emails to the agency "and lots of them."
The trees slated for removal on U.S. 199 near Walker Road in Jedediah Smith Redwoods State Park are either dead, leaning, damaged by lightning or have dead tops, Caltrans spokesman Myles Cochrane told the Wild Rivers Outpost on Monday. Caltrans arborists considers them hazardous and California State Parks concurs with that assessment, he said.
"It is Caltrans' No. 1 priority to one day reach zero fatalities along state highways," Cochrane said. "And we initiate routine work year-round in order to enhance safety during inclement weather conditions."
But Tom Wheeler, the Environmental Protection Information Center's executive director and staff attorney, criticized the "dark-of-night" process he said Caltrans used to conduct this and other roadside tree removal projects. He said he and EPIC want a more transparent and objective rubric that complies with the California Environmental Quality Act for the public to understand what trees need to be removed and why.
"I would like to have it be a transparent project that has avenues for public participation that has a formal impact analysis and that has appropriate mitigation and minimization measures," Wheeler told the Outpost on Thursday. "These are highly important trees culturally and ecologically and this project is kind of unfortunate."
EPIC issued an Action Alert on Thursday, stating that while the conservation organization is sensitive to needing to make sure trees don't pose a risk to the road, the public process to determine their fate needs to be better.
In the alert, EPIC criticizes Caltrans' "innocuous" labeling of the project as tree work, with no contextual information about the kinds of trees that will be removed. EPIC representatives worry that without blowback, similar tree removal project with a minimum of public review could become a "repeating problem across state and national parks."
"With many miles of Caltrans roads through state and national parks, and with the towering height of redwoods allowing for trees to be deemed a 'hazard' far from the roadway, loose and permissive tree removal could result in significant loss of old-growth redwoods," EPIC states.
Wheeler said while he doesn't know for sure if the trees that were felled are old growth, he's received reports from people who say the stumps left behind have a diameter of more than 6 feet. Some stumps surpass 8 feet in diameter, he said, though he acknowledged that he wasn't able to verify those reports.
"Looking at some of the images we've seen, these are trees that are very big and are consistent, I think, with what people would consider old growth," Wheeler said.
According to Cochrane, six dead trees were felled, one severely leaning redwood was felled and four trees were either limbed or topped.
"The felled wood will remain in the forest to provide habitat for wildlife and a small portion of the wood was given to local Native American tribes by California State Parks," Cochrane told the Outpost on Friday. "No wood generated from the project belongs to Caltrans or is being sold in any way. Caltrans' only goal for this work is to reduce collisions, injuries and fatalities on the roadway."
Erin Gates, superintendent for California State Parks' North Coast Redwoods District, said a similar Caltrans roadside tree removal project sparked the same public outcry last year.
"We were waiting for Caltrans to let the public know what was going on because it's their work — it's in their right of way," she said. "We were waiting for them to get in front of it and they never did and we were experiencing basically the public reaching out to us and saying, 'What are you guys doing? You're asleep at the wheel.'"
According to Gates, Caltrans provides "batches" of trees throughout the North Coast Redwood District that they consider dangerous to State Parks for their foresters to review. If foresters disagree and the tree falls and injures someone or damages property, it's State Parks' responsibility and liability, Gates told the Outpost.
Gates, referring to Cochrane's statement about zero fatalities from fallen trees, mentioned the Yreka couple, Jake and Jessica Woodruff, who died when a redwood fell on their car as they were driving on the highway in March 2021.
"As (Caltrans) said in their public statement, the goal for them is to make it so there will be a zero occurrence of trees falling along the highway," Gates said, pointing out that the Woodruffs were killed "in that exact location. It's tragic."
When Caltrans falls a tree during its roadside projects, if it's within a state park, the wood stays, Gates said. These trees will become nurse logs, providing habitat for ferns, banana slugs and other life. But, for now, they look out of place.
"They don't look like they fit into that tapestry that come to a redwood forest to experience," Gates said, adding that it might take a couple of years for the freshly fallen trees to resemble the other nurse logs visitors encounter on park trails. "Within a short amount of time those redwoods are going to become home to other plants and animals that are found in the understory of a redwood forest environment."
While Wheeler conceded that Caltrans may be justified in bypassing the ordinary project process if it was an emergency, he said the agency had learned lessons following the Richardson Grove project it was applying at its Last Chance Grade project.
The Richardson Grove project was a proposal to smooth out a curvy 1.1 mile stretch of U.S. 101 through Richardson Grove State Park at Humboldt County's southern end. The project would have accommodated extra-long semi trucks and, according to Caltrans officials, would not have harmed old-growth redwoods. 

EPIC, the Center for Biological Diversity and Californians for Alternatives to Toxics argued that the state's environmental review was insufficient and the project could impact the roots of those trees, the Lost Coast Outpost reported in August 2021.
In 2021, a federal judge issued a summary judgment against EPIC and the other plaintiffs in the case.
As for the Last Chance Grade project, which seeks to ensure the safety of U.S. 101 through a slide-prone area south of Crescent City, Wheeler praised Caltrans. EPIC is part of a stakeholder group initiated by Congressman Jared Huffman that seeks to further the project while minimizing the harm to the old growth trees in Del Norte Coast Redwoods State Park.
"They're really gone out of their way to study the impacts of that project and mitigate risks to old growth redwoods," Wheeler said. "(Caltrans) has learned a lot of lessons since Richardson Grove they're trying to apply on other projects."
In the case of the Last Chance Grade project, they're walking the public through its development, Wheeler said. He called the agency's actions in the case of its tree-removal work weird.
"We've seen Caltrans really improve their behavior, and for this sort of thing to happen is somewhat unfortunate," he said.
---
SHARE →