---
Jessica Cejnar Andrews / Thursday, Aug. 25 @ 3:32 p.m.
Del Norte Animal Division Begins Transition to Sheriff's Office; CAO Says Staffing Changes, Budget Adjustments Will Be Necessary
---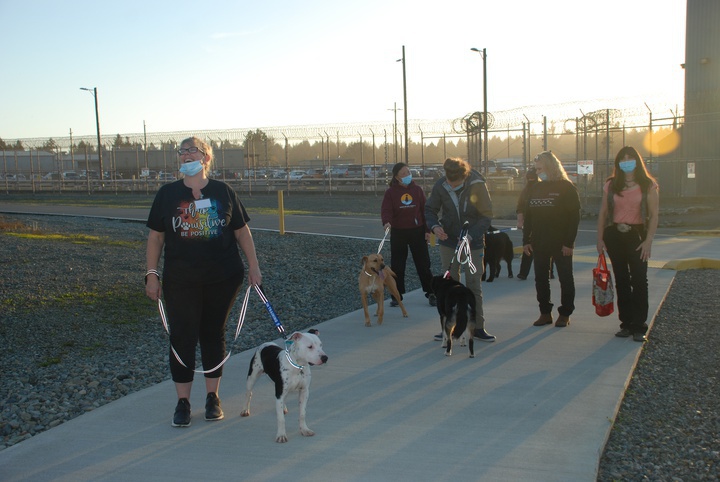 Previously:
• Del Norte Sheriff's Office Recommended as Potential New Home for Animal Services
• Del Norte County Looks to Restructure Its Animal Services Department
###
Del Norte County's Animal Services Division will be under the auspices of the Sheriff's Office moving forward.
It's a step animal services director and agricultural commissioner, Justin Riggs, said could help improve working conditions in the Agricultural Division. And it's one Sheriff Garrett Scott said his department could make work.
But the situation is still fluid, District 2 Supervisor Valerie Starkey told the Wild Rivers Outpost on Friday. She said she's open to suggestions from anyone who has them.
"What I'd like to really make sure of since we're here is that we look at the needs for Animal Services," she said. "We haven't done that. We'e been kind of piecemealing this together for the past probably 15 years. We can't just keep doing things status quo."
Del Norte County supervisors unanimously directed county staff Tuesday to begin transitioning the Animal Services Division from the Department of Agriculture to the Sheriff's Office.
County Administrative Officer Neal Lopez said his goal is to complete that transition in November. But, he said, that depends on the final budget as well as contract negotiations between bargaining groups representing county employees.
On Friday, Lopez said he met with Scott, who requested staffing changes and adjustments needed to facilitate a new division within the DNSO. It will be up to the Board of Supervisors to vet and approve those changes, Lopez told the Wild Rivers Outpost.
Up until Tuesday, Del Norte County had been one of four in California whose Animal Services Division operated under the Department of Agriculture. According to Lopez, who spoke with representatives of the California Animal Welfare Association, in rural counties it's often up to the sheriff's office to oversee Animal Control.
This is the case with Humboldt County, Lopez told the Outpost.
"Our intent is to use them as a guideline," he said. "We've talked to the sheriff a number of times. Talked about structure, talked about positions needed on his side as far as oversight dn administration of the department. They operate independently as it is."
In Del Norte, all three animal control positions were filled as of Monday — a first for the county, according to Lopez. Staff are working on hiring a third part-time kennel attendant, he said.
"We're trying to fill some gaps over there as far as being able to provide services and handle all of the duties required for an operation that's seven-days a week," he said.
According to Lopez, staff had also considered the Public Health Branch or the Community Development Department's Code Enforcement Division as potential homes for Animal Services.
The DNSO seemed the more natural fit, according to Lopez's staff report.
On Tuesday, Animal Services Supervisor Brittany Pratt told supervisors that the 30 dogs housed at the shelter currently are each legally required to receive a minimum of 15 minutes of basic maintenance each day. This doesn't include sanitizing indoor and outdoor enclosures, moving the dogs to and from their kennels, taking them for veterinarian appointments, administering medical treatment, enriching and socializing them or exercising them, she said.
Doing all of this takes about 40 minutes of staff time per animal per day and is necessary to enhancing the quality of the animals' life and ensuring they find a new home, Pratt said.
"Roughly 28 hours of daily staffing is needed for the overall care of shelter animals," she told supervisors, adding that the shelter is always at or near capacity. "Two part-timers cannot handle this amount of workload. Shelter staff work incredibly hard and at times responsibilities get displaced on the volunteers because current staff just doesn't have the time."
The Del Norte County Animal Shelter has impounded 239 dogs since Jan. 1 with strays accounting for about 150 of the animals impounded, Pratt told supervisors. Only 114 dogs were reunited with their owners since then, she said.
Since the previous year, Pratt has seized 66 dogs and 25 livestock animals for neglect or abuse. She pointed out that with the rise in mental health issues and homelessness in the community she and her fellow Animal Control Officers are often first-responders.
"We would like to be provided the same protections and viewed in the community we serve as such," Pratt told supervisors.
According to Riggs, more than 2,000 hours that had been budgeted for the Agricultural Department has been spent in Animal Services. This has compromised agricultural programs and is endangering employee retention, he said, noting that these are professionals with science degrees and licenses and are recruited by counties statewide.
"We handle many important tasks such as testing over 1,000 commercial weighing and measuring devices registered in Del Norte County, conducting pesticide use enforcement, weed management, excluding new pests from the county, providing pest control to residents, ag inspections, nursery inspections and issuing certificates allowing our lily bulb growers to ship," Riggs said. "We have a dedicated team of staff who are skilled in these activities. We're in danger of losing them and they can't be easily replaced."
For the reorganization of Animal Services to succeed it needs to be given the resources needed to stand on its own, Riggs said. Both he and Pratt said Measure R is necessary toward the continued operation of the Animal Services Division.
About $78,805 in Measure R funding went toward the creation of the animal services supervisor position and to increase salaries for the division's animal control officers.
Tax measure dollars are also being used to upgrade the Del Norte County Animal Shelter, Riggs told the Measure R Oversight Committee in March.
These facility improvements are necessary, volunteer Janet Kasbohm told supervisors Tuesday.
"The building is old, the noise is deafening and there is no air filtration system so the stench in the morning is overpowering," she said. "The pound runs essentially on the labor of dedicated volunteers. In the past seven months, volunteer hours have equalled the equivalent to four full-time positions. This year, our incoming contribution will be at least $300,000 — that's a 10 percent match for a $3 million grant."
Kasbohm said it's the Humane Society of Del Norte and the Dogs of Del Norte that accomplishes government mandate that dogs up for adoption be spayed or neutered, raising and spending $10,000. She said an industrial washer and dryer and "functioning water spigots" would improve work efficiency as well.
Angelina Davis, another volunteer at the pound, said livestock conditions need to improve substantially. The existing fencing is inadequate and hazardous and consists of rotted wood posts, corroded T posts with no anti-impaling safety measures as well as rusted hog wire, chicken wire and twisted chainlink fence.
The facility's corrals consist of buttercup, which, Davis said, is toxic to livestock. And there are no proper covers to shelter them from the elements.
"The county also needs to acknowledge that livestock such as horses, goats, sheep, pigs, cattle, rabbits and chicken are all prey animals," she said. "Dogs are predatory pack animals by nature and by all accounts your prey and predator animals should not inhabit the same facility, especially with the conditions the pound is in at this moment."
On Tuesday, though she acknowledged that government moves slow, Starkey said the county is beginning to rectify the concerns they have received.
"In the last six to eight months, we've done more out at that dog pound than you guys have seen in years. We are trying and government moves slow," Starkey said. "It's small little things like you mentioned. You wanted a washer and a dryer. We got you the sink you wanted. We've improved different things. While it is slow and while it doesn't satisfy the complaints we've heard here today, we have been working on it."
Starkey did request more information from staff about the minimum standard of care the Del Norte County Animal Services Division is required to provide when it seizes a dog.
Her colleague, District 5 representative Susan Masten, said she also wanted to ensure that adequate fencing is provided for at the animal shelter as well.
On Friday, Starkey said she hopes the reorganization of the Animal Services Division identifies what's lacking in the department. That may include having a line item for spaying and neutering the dogs that are at the shelter as well as looking into whether euthanizing an animal that can't be adopted out is necessary, she said.
Volunteer input also needs to be considered, Starkey said.
"Clearly we've got upset volunteers. Volunteering should be something they enjoy doing not something they have to do," she said. "The public needs to be involved in this."
---
SHARE →