---
Jessica Cejnar Andrews / Monday, Aug. 1, 2022 @ 1:10 p.m.
Two Found Dead in McKinney Fire; Del Norte County Sends Search & Rescue, Deputies to Help
---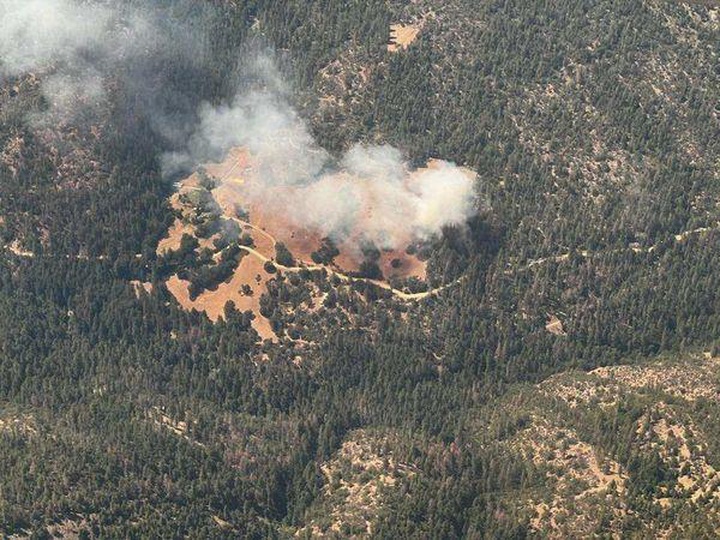 Two people died inside a vehicle that was in the path of the McKinney Fire, the Siskiyou County Sheriff's Office reported Sunday.
Firefighters found the vehicle in the driveway of a home along Dogged Creek Road off State Route 96 west of Klamath River, Calif. at about 9:57 a.m. Sunday. Next of kin had not yet been notified as of Sunday, according to the sheriff's office.
A total of 849 personnel are battling the McKinney Fire, which is currently at 55,493 acres, according to InciWeb.gov. A community meeting will be held at 5 p.m. this evening at the Siskiyou Golden Fairgrounds. It will be live-streamed here.
Meanwhile, Del Norte Search & Rescue has answered a call for assistance from CalOES to help with the McKinney Fire response, Maia Mello, Del Norte's emergency services manager, told the Wild Rivers Outpost. A few members of the local chapter of the American Red Cross have also traveled to Siskiyou County to help, Mello said.
"It's our neighboring county and that's a pretty crazy thing that's happening over there," she said.
Del Norte County Sheriff Garrett Scott said he sent two deputies to help with the initial evacuation in Yreka.
"It's just difficult. You just want to help as much as you possibly can," Scott said. "I wish we can help more, but we're extreme short staffing here."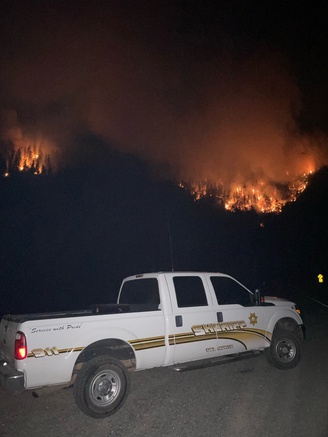 At about 2:20 p.m. Scott said the two deputies arrived back in Del Norte County safely.
According to officials, fire growth was minimal due to rainfall overnight Monday. The blaze continues to back toward structures in the Walker Creek area and night crews protected structures in that community. The southern and eastern edge of the fire closest to Fort Jones and Yreka showed little growth, according to the McKinney and China 2 Fire Updates on Inciweb.
High humidity contributed to moderate growth of the China 2 Fire west of Seiad Valley and south of State Route 96 while the Alex Fire received heavy rain, according to InciWeb.
Vegetation in the area continues to be extremely dry and the threat of thunderstorms and strong erratic winds could increase fire behavior. Firefighters will use the moderated conditions to construct containment lines.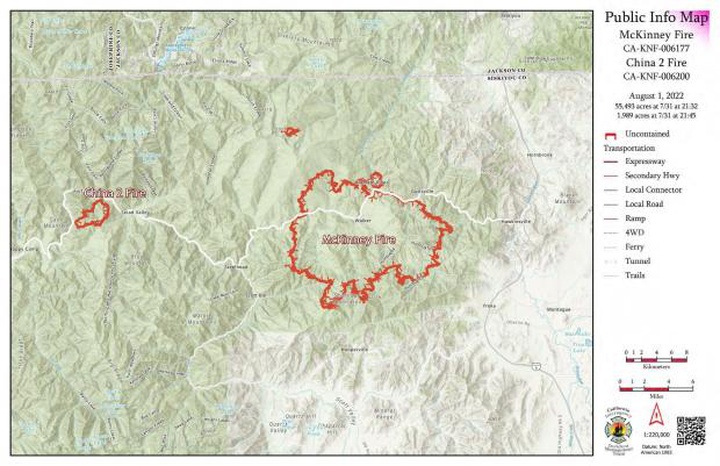 Firefighters are also suppressing at least 12 lightning-caused "holdover fires" in the Klamath National Forest.
Mello said she and her colleagues with the Six Rivers National Forest's Gasquet Ranger District along with Gasquet Fire Department representatives are keeping an eye on that Seiad Valley fire. About two years ago, the Slater Fire started in Happy Camp and made its way to Del Norte County.
Mello said the National Forest Service is doing 24-hour patrols in Del Norte County to watch out for lightning-caused blazes.
"We're definitely keeping an eye on that fire outside of Happy Camp," she said. "We expect potentially more lightning for the next couple days and even after that, it's difficult to tell when those little fires get lit. They don't even get picked up on any of the equipment."
Six Rivers National Forest Service spokeswoman Betsy Totten confirmed that rangers are conducting 24-hour patrol to respond to lightning-caused fires early. At least one engine is on call in each ranger district to respond, according to a Facebook post.
A Red Flag Warning from the National Weather Service is in effect until 8 p.m. Monday.
The McKinney Fire started Friday afternoon and the cause is still under investigation.
---
SHARE →