---
Jessica Cejnar Andrews / Monday, Aug. 1 @ 4:42 p.m.
Local American Red Cross Volunteers Help With McKinney Fire; Here's How You Can Help
---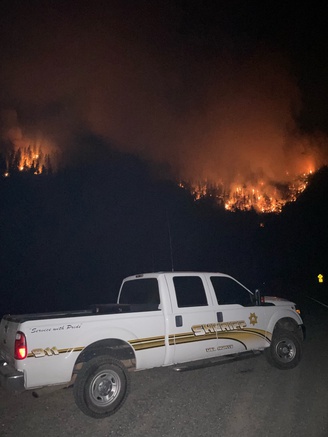 Two Red Cross volunteers from Del Norte County, three from Humboldt and one from Trinity are assigned to the McKinney Fire disaster response.
One is a shelter supervisor, two nurses are deployed and another is conducting volunteer operations, acting as a liaison between county and city agencies and other volunteer organizations like the Salvation Army, said Mary Dorman, Del Norte's community volunteer leader for the American Red Cross.
The shelter volunteer was deployed Saturday and is working in Weed, Dorman told the Outpost on Monday.
"As of this morning they had about 90 originally going to that shelter and more have been arriving," she said.
The American Red Cross has established a second shelter in Ashland, Dorman said, noting that the situation is fluid.
Firefighters responded to the McKinney Fire at the Oak Knoll Ranger District of the Klamath National Forest near Yreka at about 2:15 p.m. Friday. The cause of the fire is under investigation. The McKinney Fire has since grown to 55,493 acres as of Monday morning, according to InciWeb. A total of 849 firefighters are tackling the blaze.
A second wildfire, the China 2 blaze, is burning roughly 300 acres in Seiad Valley. According to the U.S. Forest Service, lightning is responsible for that fire.
A third fire was reported Monday. The 40-acre Meamber Fire is burning near Meamber Creek Road and Scott River Road northwest of Fort Jones in Siskiyou County. It's 5 percent contained, according to CalFire.
Firefighters are continuing to protect and preserve structures along the Highway 96 corridor, which is closed throughout the fire area.
The fires have forced the evacuation of nearly 2,000 residents as of Saturday. The McKinney Fire is being blamed for the death of at least two people.
In addition to the Red Cross sending volunteers from Del Norte County to help in the McKinney response, two sheriff's deputies went to help with the evacuations, according to Sheriff Garrett Scott. A few Del Norte County Search and Rescue volunteers were also deployed, Scott told the Wild Rivers Outpost.
Scott said the deputies were there to assist for the initial 48 hours. They returned to Del Norte County at about 2:20 p.m., Scott said.
"It's just difficult you just want to help as much as you possibly can," he said. "I wish we can help even more we're extreme short staffing here."
According to Dorman, Del Norters can help those affected by the McKinney Fire by making a financial donation through RedCross.org or another established reputable nonprofit organization. Donating clothes and other items, she said, takes volunteers away from whatever task they're being asked to do because they have to sort the items and make sure they're clean.
"We appreciate the generosity of the American people — they're amazing, they always come up when you need them," Dorman said. "But part of the recovery for these folks is putting power in their hands."
The American Red Cross often issues debit cards that has money on it based on the family's size once it's confirmed that they were victims of a disaster, Dorman said. This enables them to go out and purchase the items they need and want rather than receiving someone's hand-me-downs, she said.
"They have no idea if their house is OK. They may or may not have a job they can go to. They've lost all control," Dorman said. "But by handing them a card, and different organizations help in different ways, they can go out and pick out the shoes they want, the diapers they need, that kind of stuff."
---
SHARE →