---
Jessica Cejnar / Wednesday, Sept. 8, 2021 @ 3:32 p.m.
Crescent City to Mandate Weekly COVID Testing for Employees As Long As Current Surge Lasts
---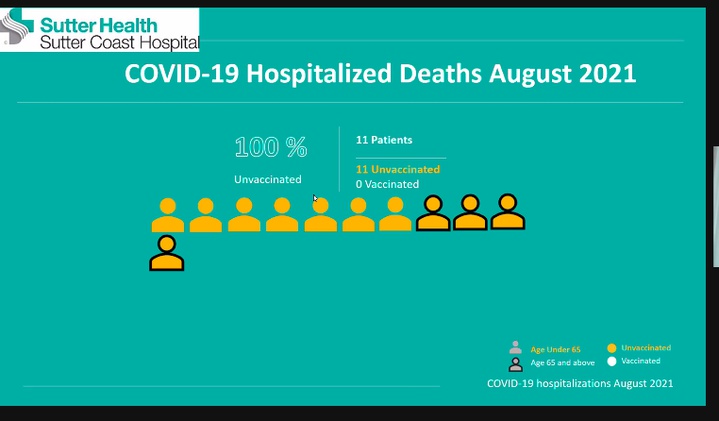 Though the Crescent City mayor expressed his distaste for mandates, he and other Councilors agreed to a weekly COVID-19 testing program for employees that would be concluded when the current surge in cases is through.
Del Norte County Public Health Officer Dr. Aaron Stutz supported this conclusion, noting Tuesday that he wouldn't have been in favor of indiscriminate testing for a long period of time.
"Del Norte is the worst county in California, as of the data this morning, so any action you take to help people realize they're at risk for COVID — and get diagnosed with COVID — and do something about that, even if it's just within your own sphere of work, now would be the time to do it to make the most impact on those numbers," he said. "If we were living in a county where the numbers would go, indiscriminate testing of individuals is not something I would recommend ever."
By the time Stutz made his presentation to the City Council, the Del Norte County Public Health Branch confirmed roughly 111 new COVID-19 cases over the Labor Day weekend. At about 30-40 cases per day, the numbers place Del Norte County among the highest, if not the highest in the state per 100,000 individuals, Stutz told Councilors.
As of Tuesday evening, a total of 18 Del Norte County residents were in the hospital with the novel coronavirus, Stutz said. This includes about 13 at Sutter Coast Hospital and five others who were hospitalized outside Del Norte County, he said.
Seven people at Sutter Coast Hospital are in its intensive care unit, Stutz said, and two are on ventilators.
Three people died over the weekend from COVID, according to Stutz.
Meanwhile, the number of people fully vaccinated against COVID-19 continues to creep up. According to Stutz, about 44 percent of Del Norte County residents are fully vaccinated — a few percentage points higher than last week.
"We still have state workers here and their work has been extended to at least the end of the month," he said. "So, we'll have them until at least the end of September."
The recent surge in cases, roughly 90 percent of which were the Delta variant, according to Stutz, has also impacted city operations.
On Tuesday, Councilor Isaiah Wright logged off about 40 minutes into the meeting, telling his colleagues via City Manager Eric Wier that he was one of two people in his home who tested positive for COVID-19 and his symptoms were making it impossible to focus.
"We're waiting for results for the other four, but two have symptoms worse than mine," Wright said in his message to his colleagues. "I wanted to say this out loud, but my coughing prevented it."
During the argument over whether weekly testing was necessary, Wier said an employee was a close contact to an individual who tested positive for COVID. When they found out Wednesday, they went home and quarantined from their coworkers at the city and began showing symptoms on Friday.
"They would have been around other city workers for the remainder of the day Wednesday, Thursday and Friday and would have infected or had multiple people have to be quarantined," Wier said. "As it was, there was one close contact, but it saved many others that would have had to quarantine now."
Before bringing the proposed testing program to Councilors, Human Resources Director Sunny Valero said she had spoken with a colleague in Eureka. Both Eureka and Arcata are conducting mandatory testing of their staff through Optum Serve, a state-run program that operates out of Beachfront Park and offers testing in Klamath and Smith River, according to Valero.
According to Valero, the testing itself would be free to the city and free to employees' health insurance, though there would be a minimal cost in staff time and work. A mandatory testing program follows Equal Employment Opportunity Commission and Americans with Disabilities Act guidelines, Valero said. If someone had a valid medical reason for not being able to take the test, the city would have to work with them, she said.
"Other options that we researched is the city could do online services where employees did the testing themselves and sent it in, but there is a cost that ranges from $38 to $50 (per) employee per week, so that is a considerable amount of money," Valero said. "Employees could choose to get an oral swab — Eureka has an example, but they don't cover that. If an employee wanted to do that, the results would be fine, however the employee would have to take on that cost themselves."
According to Wier, if a person tests positive for COVID, regardless of their vaccination status, they would have to quarantine. The Public Health Branch would notify city managers when they could return to work, Wier said.
Those who are a close contact to someone who tested positive for COVID would be required to quarantine if they're unvaccinated or if they're vaccinated and showing symptoms, Wier said. Close contacts who are vaccinated and are not showing symptoms would not have to quarantine, he said.
Valero noted that if an employee tests positive for COVID, city managers reach out to see who they've been in close contact with and then notifies that close contact of the need to quarantine.
The proposed testing program for city employees, however temporary, didn't sit well with county resident Thomas Barnes nor former supervisor Roger Gitlin, who lives in the city.
Barnes, who owns property management company, TAB & Associates, called the plan sheer lunacy, complained about the potential cost to the public and a possible reduction in productivity since employees would be tested during work hours.
"We're the people that pay your salaries," Barnes said. "The doctors don't require you to get tested when you go for a doctor visit. The hospital doesn't require you to get tested when you go to a hospital visit. You don't have to get tested to go to Walmart or Safeway. What is this insane lunacy that you folks are considering here? Yes there is a COVID virus going around, but the world is not dying."
Gitlin, directing his statement at Valero instead of the City Council, referred to a recent proposal in the California legislature mandating vaccines that was "pulled off the table" because of public uproar.
Gitlin also directed the City Council's attention to the U.S. Constitution, stating it gives citizens the right of choice and adding that he would prefer a city testing program if it was voluntary.
"If you wish to take this test, go ahead and take it," he said, adding that he hopes no one is ostracized because they refuse to take a weekly test. "But to mandate or command or compel someone to take this test weekly is quite chilling and I'm hoping you will walk this back a little."
Mayor Pro Tem Blake Inscore reiterated that the proposed testing program is temporary. In response to Barnes' comment about organizational efficiency, Inscore said if a testing program had been in place a few weeks ago, it would have saved a lot of people from having to leave work and quarantine.
Inscore also said he didn't want employees to pay for the test or use their personal time to get tested.
"The very points brought up are also part of the reason I think we should be doing this," he said. "I appreciate the input and I don't feel like I'm giving into hysteria or it has anything to do with living in the State of California or the governor or the senator. I'm trying to look after the best interest of our employees."


---
SHARE →