---
Jessica Cejnar Andrews / Thursday, Sept. 23, 2021 @ 7:31 p.m.
Del Norte Sees 25 New COVID Cases, 36th Death, Though Health Officials Say Surge Continues to Wane
---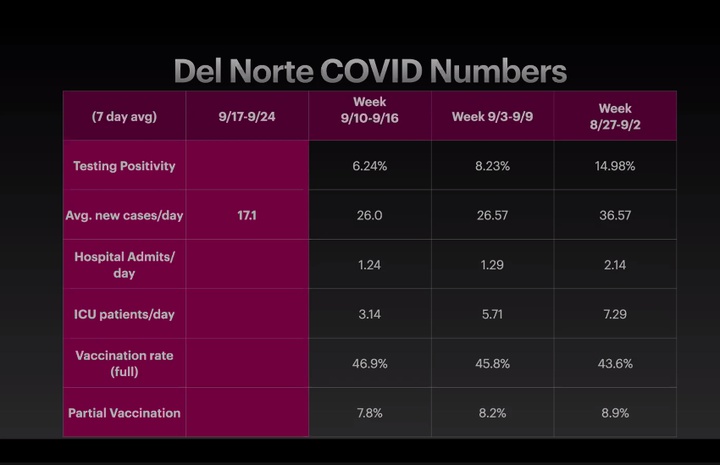 Del Norte County saw another death from COVID-19 on Thursday, bringing the total count to 36, according to the Public Health Branch.
However, Del Norte Public Health Officer Dr. Aaron Stutz said he's reviewing a fatal case that was reported last week, saying that though the patient was diagnosed with COVID about a month ago, he or she had other conditions that could have contributed to their death.
"Don't be surprised if the numbers change as we get new data about who died where and how," Stutz said at a community briefing Thursday.
Despite the additional death and 25 new cases that were reported to the Public Health Branch on Thursday, the average number of new cases has decreased again this week while the county's test positivity rate also continues to trend down, Stutz said.
There are currently 143 active COVID cases in Del Norte County, according to the county's COVID-19 Information Hub. Fifteen people are currently hospitalized with the novel coronavirus, according to the county's website.
According to Stutz, the average number of new cases in Del Norte County decreased from 26 per-day last week to 17per-day this week, though he acknowledged that he didn't have a full week's worth of data. Stutz pointed out, however that Del Norte County had been seeing an average 50 to 60 new cases per day at the height of its peak in August.
Meanwhile, the county's vaccination rate has increased by another percentage point, with 46.9 percent fully vaccinated and 7.8 percent partially vaccinated as of Wednesday, according to the California Department of Public Health.
The Del Norte County Public Health Branch hopes to have 75 percent of the county's population vaccinated by the end of 2021.
Del Norte County Unified School District has also seen a significant decrease in the number of COVID cases among its students and staff, Superintendent Jeff Harris reported. On Tuesday, DNUSD reported that 13 students and seven staff members had tested positive for the coronavirus. According to Harris, that's down from 30 students who had tested positive last week.
"The mitigating efforts we've done within our schools, within our community have been working," Harris said. "That also includes the additional mask mitigations Dr. Stutz put in place in the past few weeks. And within our school system we've been cautious as we've moved into the year. We've tried to keep our campuses as closed as possible and keep students as safe as we possibly can."
Harris urged families to keep their students home if they're symptomatic and to get them tested. DNUSD is accepting results from PCR tests and rapid antigen tests that are administered by "trained providers in our community," he said. DNUSD also accepts home tests, though they recommend a follow-up PCR test to confirm a positive case, Harris said.
However, Harris said, the California Department of Public Health doesn't recommend using home test kits for students that are under quarantine because they were a close contact to someone who tested positive for COVID.
"If your child is under quarantine as a close contact, we are requiring that any test you provide us comes from a trained tester at a recognized testing location," he said.
Harris also touched on masking requirements for students, which mandate that they wear face coverings while indoors and while they're outside if 6 feet of physical distancing isn't possible. Harris pointed out that Del Norte was at the peak of its surge with more than 400 active COVID cases when school began.
"We fully expect when Dr. Stutz pulls back the masking requirements that were put into effect, we'll also pull back other masking requirements to be in line with the CDC and CDPH," Harris said.
However, even though the number of cases appears to be decreasing, Stutz urged Del Norters to "stay the course."
For more information about testing and vaccination sites, click here.
Monoclonal antibody testing is also available at Sutter Coast Hospital. For more information, call the hospital at (707) 464-8511.
---
SHARE →