---
Jessica Cejnar Andrews / Monday, Sept. 20 @ 11:42 a.m.
Crescent City Harbor's Dredge Dilemma: Disposal of Nearly A Decades' Worth of Material Stands In Way of Permit
---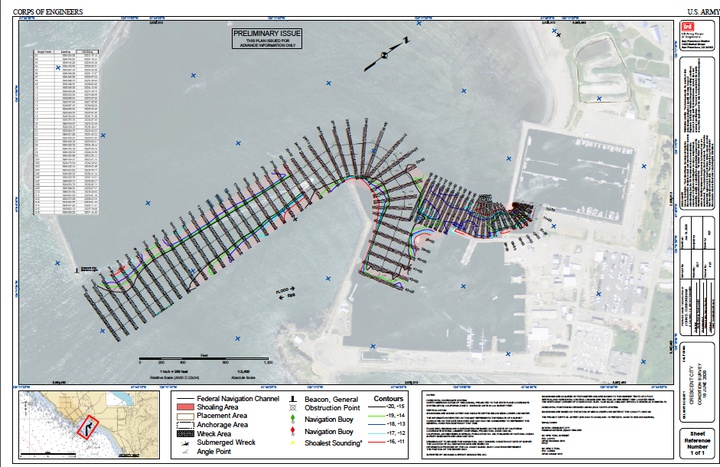 Crescent City Harbor officials are exploring different options, including obtaining emergency permits, to solve a long-standing problem — how to dispose of nearly 10 years of accumulated fine silt and soil in its dredge ponds.
The topic has been a regular item on Harbor District meeting agendas since July 20, but the district has had an open application for a dredge permit with the U.S. Army Corps of Engineers under consideration for about six years, Harbormaster Tim Petrick told the Wild Rivers Outpost.
The only holdup has been finding a viable disposal site for the material the Harbor District's dredge ponds have housed since 2013, he said.
The U.S. Army Corps has accepted responsibility for about 60,000-90,000 cubic yards of that material, but because the Northern California Regional Water Quality Control Board classifies the material as solid waste, it can't be deposited in a regular landfill, Petrick told the Outpost.
"Currently the only disposal place approved for fine tailings is HOODS (the Humboldt Open Ocean Disposal Site), an offshore disposal site approximately 90 miles to the south," he said. "Even the USACE doesn't consider that a financially viable solution due to the cost of transporting large quantities of dredge material that far."
Different areas of the harbor are dredged at different times to keep it open and accessible to boats as well as the district's tenants. The U.S. Army Corps of Engineers dredges and maintains the entrance channel from the mouth of the outer harbor to either side of Citizen's Dock. According to Petrick, the soundings for the entrance channel are "consistent with design depth for the harbor and there is no restriction."
It's the Crescent City Harbor District's responsibility to keep the inner boat basin and its outer boat basin — primarily along the piers and shoreline — dredged, Petrick said. These areas, including the docks around Fashion Blacksmith, a full-service shipyard, were dredged in 2013, according to Petrick.
The obstacles standing in the Harbor District's way to obtaining a dredge permit has resulted in a contentious relationship between port staff and Fashion Blacksmith owner Ted Long, according to Petrick. The Harbor is experiencing "known depth issues" under Fashion Blacksmith's synchrolift, while the end nearest the shoreline has silted in.
However, Petrick said, Long has not allowed harbor personnel into the lease area to take soundings and discover how much silting has occurred.
"I have been told that Fashion Blacksmith has had to turn away some of the larger vessels in the fishing fleet from other harbors due to depth, but they have been able to consistently have boats hauled out to work on," Petrick said. "It is my understanding that there has long been a contentious relationship between Fashion Blacksmith and the Harbor District. Myself and commissioners are committed to working with Mr. Long and his crew. The past issues were with different commissioners and different harbormasters and I can't change that."
Long could not be reached for comment.
At the Harbor District's most recent meeting, Sept. 7, commissioners discussed purchasing or leasing a dredge or hiring a diver to water blast material from underneath Fashion Blacksmith's synchrolift.
Petrick said purchasing or leasing a dredge is a long-term plan the Harbor District may want to consider. However, Commissioner Rick Shepherd urged him to express to both the U.S. Army Corps of Engineers and the Northern California Regional Water Control Board of the emergency the port is when it comes to being able to being able to accommodate its tenants.
"I can't believe it goes on and on," Shepherd said. "Almost four years now we've been working on permits. I'm getting so fed up with it. Express to these people the importance we have here, 'Get off your ass and get us some permits!' because we can't sit here and do this anymore."
Harbor District Board President Brian Stone said Harbor District staff have been trying to obtain a dredge permit since he was elected on the Board of Commissioners about six years ago.
Commissioner Harry Adams reminded commissioners of the potential for a "huge sediment load" from the Klamath River as a result of dam removal.
Petrick said the U.S. Army Corps would pay for dredge disposal, but it's up to the Harbor District to find a disposal site.
"I really don't think we have an issue with the Army Corps as much as we have an issue with the Water Board," he said. "The Army Corps wants to work with us and if we provide some potential disposal sites or potential beneficial use for the dredge pump material, they'd be happy to sign off on a permit and that's something they've been actively working on with us."
According to Petrick, the Harbor District has been working with the Army Corps to open either a new near-shore disposal site within five miles offshore or to obtain approvals to pump dredge tailings either at Whalers Island or over the north jetty. According to him, those options would be the most effective and would be good for 20-plus years.
According to Petrick, the US Army Corps of Engineers has spent about $500,000 to start studies to obtain federal and state approval for a new dredge disposal site.
Other possible solutions for the material in its dredge ponds include using the soil for landscaping or development at the harbor, according to Petrick. He said he's also begun discussions with the Army Corps' research division about potential ways to separate grain sizes to create dirt that could be sold for "different applications," potentially turning it into a revenue stream.
The Crescent City Harbor District board will meet at 2 p.m. Tuesday.
---
SHARE →