---
Jessica Cejnar Andrews / Friday, Sept. 17, 2021 @ 5:12 p.m.
Del Norte COVID-19 Update: 26 New Cases, No New Deaths; City Officials Wait To See What Weekend Brings Before Announcing Another Town Hall Meeting
---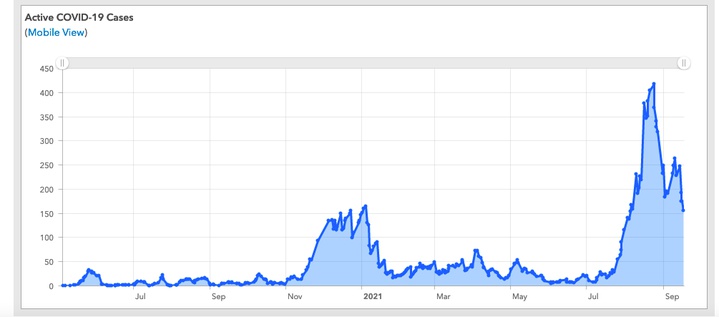 Health officials confirmed 26 new COVID-19 cases on Friday.
However, the number of active cases in Del Norte County continues to decrease, going from 175 on Wednesday and Thursday to 155 on Friday. However, 12 people are still hospitalized, according to the county's COVID-19 Information Hub.
The county's death toll from the novel coronavirus is still at 35, with the latest death occurring Thursday, according to the Public Health Branch.
Meanwhile, after an optimistic community briefing Thursday, Crescent City Manager Eric Wier said his staff is waiting until Monday before deciding whether to hold another next week.
"We will talk to Dr. Stutz on Monday and then make an announcement if we're going to have another community forum or if we're just going to report the numbers," Wier told the Wild Rivers Outpost. "We want to keep the community informed, but we don't want to reach a point where we're not giving them new information."
According to the California Department of Public Health, the percentage of Del Norters who have been fully inoculated against COVID-19 has risen to 45.8 percent. On Thursday, Stutz said with 8.2 percent partially vaccinated as of Thursday, he was hopeful that more than 50 percent of Del Norte County's population would be fully vaccinated soon.
Since the pandemic began in March 2020, there have been a total of 3,413 cases in Del Norte County, according to the Public Health Branch.
---
SHARE →