---
Jessica Cejnar Andrews / Tuesday, Oct. 26 @ 4:05 p.m. / Community
Six Rivers' Christmas Tree Permits On Sale Starting Nov. 1
---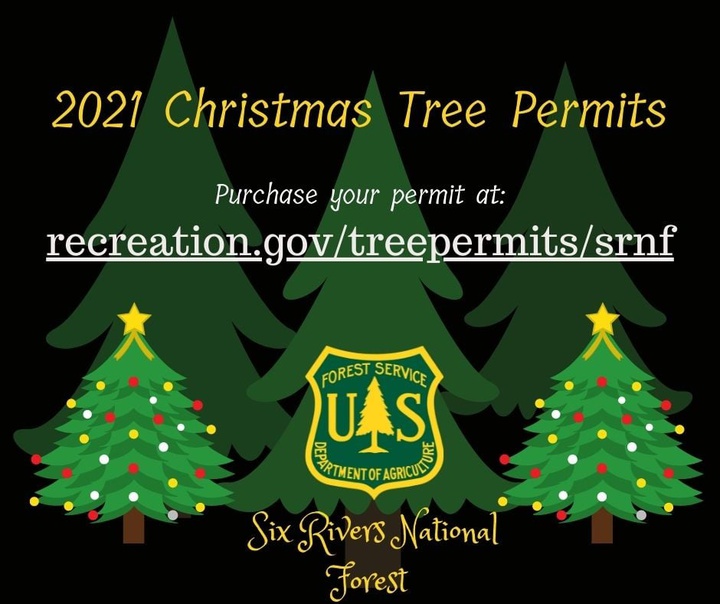 As soon as people retire their jack-o-lanterns and spider webs, they'll be able to take to the woods and get a Christmas tree.
The Six Rivers National Forest will start offering tree permits online starting Monday.
From a national forest press release:
EUREKA, Calif., October 26, 2021– Six Rivers National Forest Supervisor Ted McArthur has announced that Christmas tree permits will again only be available for purchase online from Recreation.gov this holiday season. The opportunity to purchase Six Rivers Christmas tree permits online this year through Recreation.gov replaces in-person transactions at offices that remain closed due to the COVID-19 pandemic. Online sale of Six Rivers' Christmas tree permits begins on November 1.

"We are excited to have the opportunity to have our Christmas tree permit sales online this year again, especially with our offices still closed. Due to this easy, at home technology, more families can venture out to the Six Rivers to cut their own Christmas tree for the Holidays," said Forest Supervisor Ted McArthur. He added, "While this might be a family tradition passed down for generations for some, it could be the start of a fun, new tradition for others and this year you can cut a tree from the same forest the U.S. Capitol Christmas tree is from!"

Prior to purchasing a Christmas Tree permit for the Six Rivers National Forest at www.recreation.gov/tree-permits/srnf, carefully review the Need-to-Know and Planning Your Trip information provided on that page. Visitors to the Recreation.gov site will need to create a new account—or log in to an existing account—to complete their transaction. Permits are $10 plus a $2.50 service fee. All sales are final with no refunds.

The program for fourth-grade students continues for a Christmas tree permit for $2.50 under the Every Kid Outdoors program. Every Kid Outdoors introduces fourth graders to the public lands in their own backyards and beyond. For more information about Every Kid Outdoors, visit https://everykidoutdoors.gov.

There are some places on the Six Rivers National Forest that are closed to Christmas tree cutting, including administrative sites, wilderness areas, research natural areas, or botanical/geologic/cultural areas, active timber sales, within 200 feet of any building, campground, state highway, river, stream, pond, lake, or other water body. In addition, certain areas affected by wildfires might also be closed. Maps of closed areas for tree cutting and the fire closure areas can be found at www.fs.usda.gov/main/srnf/passes-permits/forestproducts, under the heading Christmas Trees – 2021.

To ensure your visit to the forest is an enjoyable and safe experience, please follow these important tips:

· Let someone know where you're going and your estimated return time.

· Bring cold weather clothing, even if the day is nice when you start out.

· Bring emergency food and water, first-aid kit, tire chains, and shovel.

· Have a full tank of gas in your vehicle and don't forget to bring a map.

For additional information about cutting Christmas trees on the Six Rivers National Forest, visit www.fs.usda.gov/main/srnf/passes-permits/forestproducts.
---
SHARE →