---
Jessica Cejnar Andrews / Friday, Oct. 22 @ 11:48 a.m. / Weather
Rainfall Totals Exceeded 5 Inches Near Crescent City; More Rain, Wind Expected This Weekend
---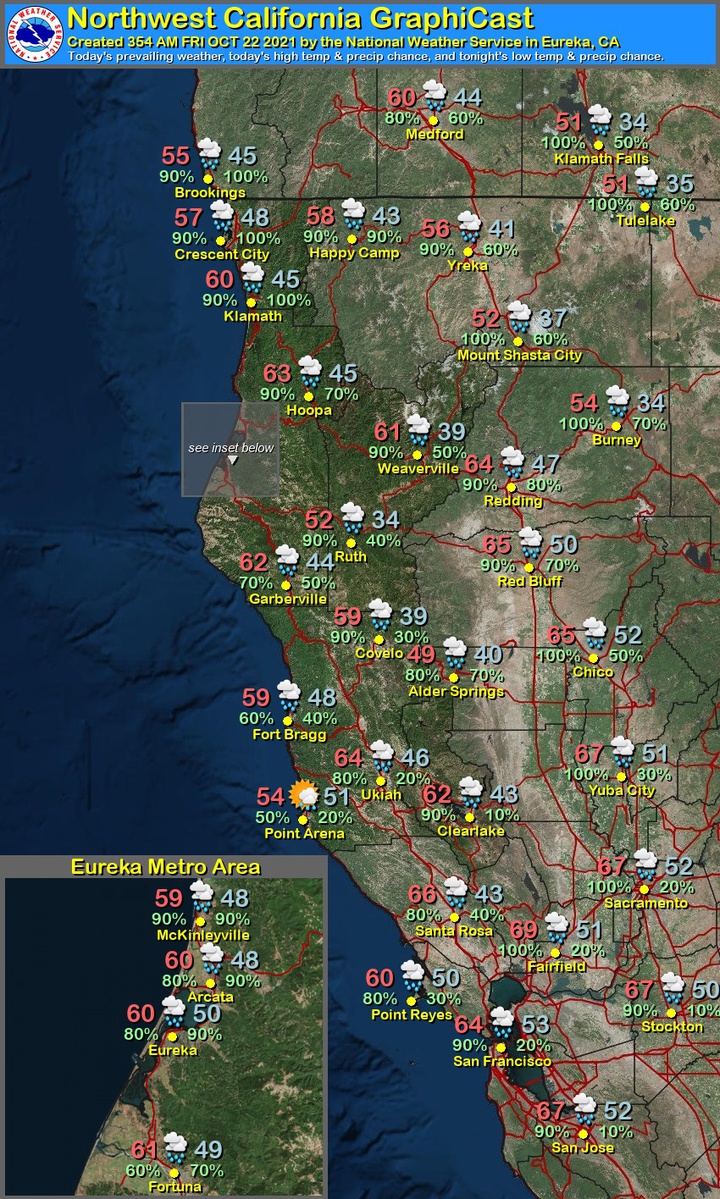 Previously:
• 'Substantial' Round of La Niña Forecast for Del Norte, Curry Counties This Week; High Wind Warning In Effect Tonight
###
Rainfall totals exceeded 5 inches in Crescent City, Smith River and Fort Dick as of Friday morning, according to National Weather Service statistics.
But, while Del Norte County is expected to get more rain and wind this weekend, which is anticipated to be stronger on Sunday, Humboldt, Trinity and Mendocino counties will likely bear the brunt, NWS meteorologist Matthew Kidwell told the Wild Rivers Outpost.
"Del Norte is still going to see 3-4 inches in the mountains and maybe 2 inches in town," he said. "Now, there is the chance it could shift further north, but that's what we're looking at right now."
Rainfall totals as of Friday morning include 5.19 inches six miles north-northeast of Crescent City and 5.17 inches near Smith River, according to National Weather Service precipitation reports. Klamath Glen saw 3.8 inches of rain, while Camp Six near Gasquet saw 3.72 inches of rain.
The rainy weather that has been drenching Crescent City and Del Norte is part of an atmospheric river fueled by moist tropical air, Kidwell said.
On Tuesday, the National Weather Service stated that the storm series could bring October precipitation to above-normal levels for parts of the forecast area and marks the first significant rainfall of the La Niña season.
Last week, NOAA announced that La Niña conditions have developed and are expected to continue "with an 87 percent chance of La Niña in December 2021-February 2022."
A bomb cyclone — an area of strong low pressure — will be coming onshore near the British Columbia-Washington border, Kidwell said. While that will bring stronger winds, it won't be like the bomb cyclone that hit Del Norte County roughly two years ago.
"Yes it's going to be a bomb cyclone, which is a rapidly deepening area of low pressure," Kidwell said. "I think it will meet that criteria — it's a pretty deep area of low pressure — but it's going to be well north of the area."
---
SHARE →