---
John Ross Ferrara / Tuesday, Oct. 19, 2021 @ 10:55 a.m. / Weather
'Substantial' Rounds of La Niña Rainfall Forecast for Del Norte, Curry Counties This Week; High Wind Warning In Effect Tonight
---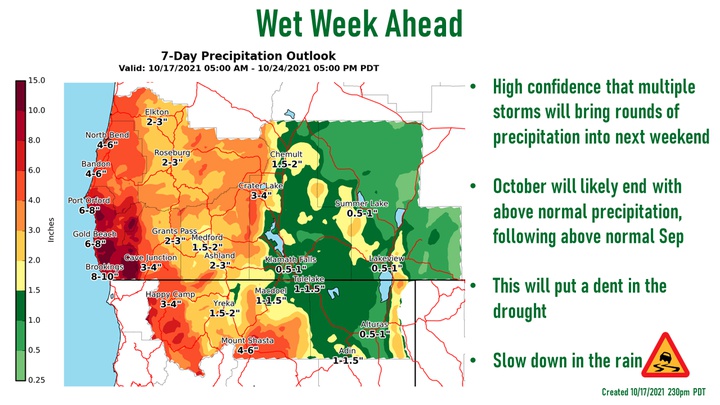 A series of storms are expected to drop several inches of rain in Del Norte and Curry Counties this week.
The first round of rainfall begins tonight, as La Niña conditions have officially developed in the Pacific.
"A series of storms will bring wet weather to the forecast area into next weekend," the National Weather Service stated. "There's a good chance that October precipitation will end up above normal for at least portions of the forecast area. This would be the second month in a row with above normal precipitation."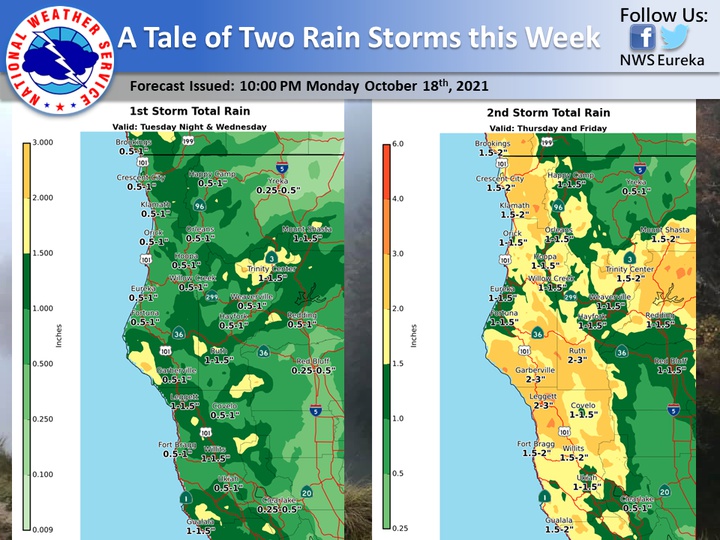 These storms will bring the first significant rainfall of the La Niña season, which NOAA announced last week, is already underway.
"La Niña conditions have developed and are expected to continue with an 87 percent chance of La Niña in December 2021 - February 2022," NOAA stated.
A high wind advisory also goes into effect tonight for Del Norte and Curry Counties. Southeast winds between 30 and 40 mph and gusts up to 60 mph will be possible until 5 a.m. tomorrow.
"Some of the strongest wind gusts up to 60 mph will probably be observed along the coast and coastal headlands," the NWS stated. "Farther inland, a few valleys west of the Cascades will also see strong wind gusts up to 45 mph in the Rogue Valley and 55 mph in the Shasta Valley. Be sure to secure your Halloween decorations as these winds and wind gusts could move Halloween decorations about."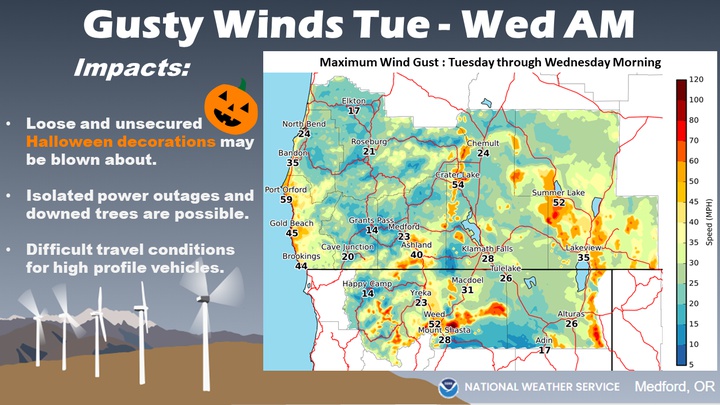 ###
PREVIOUSLY: NOAA Predicts 70 Percent Chance of Rainy La Niña Weather Across the Pacific Northwest This Fall, Winter
---
SHARE →