---
Jessica Cejnar Andrews / Tuesday, Oct. 19, 2021 @ 10:27 a.m.
Geneva Wiki To Offer 'Yurok Perspectives and Values' To California 100 Initiative
---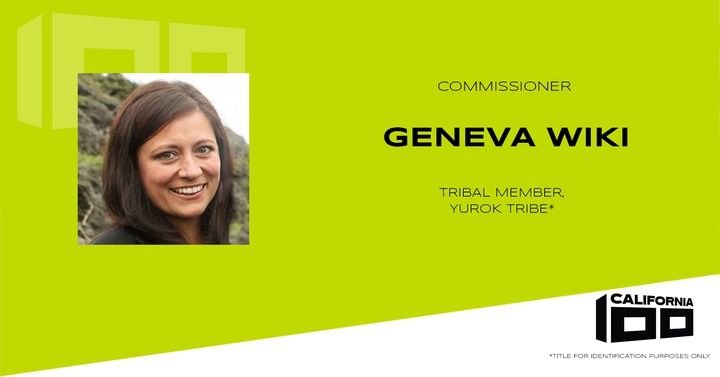 Requa's Geneva Wiki will draw on her experience as a Yurok Tribal member and a leader for the California Endowment on a new initiative that looks to the Golden State's future.
Wiki, senior program manager for the California Endowment's Building Healthy Communities initiative in Del Norte County, is one of the 26-member California 100 Commission.
A new statewide initiative, the commission's goal is to support ideas and projects that focus on an innovative, sustainable and equitable future for the Golden State, according to the California 100 initiative's website.
Wiki said she hopes her involvement in the California 100 Commission will "shine a brighter light on local leaders, residents and young people" in Del Norte County.
"I'm excited to offer Yurok perspectives and values to planning for an equitable and sustainable California," she told the Wild Rivers Outpost on Monday. "I look forward to bringing more statewide attention to the issues and opportunities in the Del Norte region."
The California 100 initiative is administered through the University of California and Stanford University and was launched last summer.
According to Jesse Melgar, the initiative's director of engagement, as a leader for the California Endowment, Wiki will focus on the areas of economic mobility, inequality and the workforce. She and other commissioners were selected based on their expertise in 13 research areas, which include health and wellness, fiscal reform, energy and the environment and public safety and criminal justice.
"Commissioners hail from every corner of the state and inland and rural communities are important to our work," Melgar said. "We were intentional about ensuring that voices like Geneva's, who have ties to communities often left out of statewide conversations, were included in this exercise."
Before she was a senior planner for the California Endowment, Wiki was the executive director of the Wild Rivers Community Foundation. She was also the deputy executive director for the Yurok Tribe and the founding director of a non-profit charter high school on the Yurok Reservation, according to the California 100 Commission's website.
---
SHARE →