---
Jessica Cejnar Andrews / Tuesday, Oct. 19 @ 12:35 p.m. / Community
Sugar Bear's Crescent City Send-Off A 'National Security' Event; 84-Foot Fir Tree Will Receive CCPD, CHP Escort Out of Del Norte
---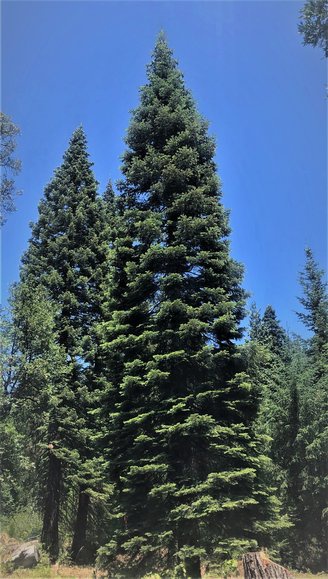 Before it begins its journey to Washington D.C., the U.S. Capital Christmas Tree will brave the precarious stretch of U.S. 101 at Last Chance Grade to make its official start in Crescent City on Oct. 29.
It's a privilege District 2 Supervisor Valerie Starkey, Crescent City-Del Norte County Chamber of Commerce Executive Director Cindy Vosburg had to fight for, Crescent City Manager Eric Wier told Councilors on Monday.
"The easy thing to do would be to harvest this tree in Humboldt County, where it's going to be harvested, and then continue down California," Wier said. "But Supervisor Starkey and Cindy Vosburg — all these people we've been talking about — they said, 'No. The first stop needs to be in Crescent City, California. And that's not the easiest thing to do."
A 120-foot long trailer will ferry Sugar Bear, the 84-foot white fir tree, from the Six Rivers National Forest's Mad River Ranger District to Crescent City. According to Crescent City Police Chief Richard Griffin, the trailer will wind its way through Last Chance Grade on Oct. 28 and be stored at the Del Norte County Fairgrounds before making its big debut at the Cultural Center the next morning.
There will be no overnight parking on Play Street at Beachfront Park that night, enabling the truck and trailer to back in so it can make an easy exit out onto U.S. 101.
"It's a monumental task," Griffin said. "We'll be closing down 101 as we go southbound through the S Curves."
Griffin said his department will be working with the California Highway Patrol to escort the tree out of town. Since Sugar Bear is a national treasure, its journey is being treated as a national security event. Griffin said he's been working with the Federal Bureau of Investigation, which has come to the community to do surveillance because the event "qualifies for that type of thing."
The tree will be escorted by four U.S. Forest Service officers at all times during its journey to Washington D.C., according to Griffin. CCPD will post updates on its Facebook page to keep the community informed, he said
According to Starkey, CCPD and the CHP will escort Sugar Bear to the Del Norte County line with lights and sirens after it leaves Crescent City.
Before that happens, Crescent City, Del Norte County, Del Norte Unified School District and numerous nonprofit organizations will give Sugar Bear a massive send-off. The Crescent City Council on Monday unanimously approved a fee-waiver for use of the Cultural Center, which will house several activities should it rain next week.
According to Wier, Cultural Center fees are typically $432. Since there is no other event scheduled that day, the "true cost" to the city is in the approximately 4 hours of staff time needed to set up for the event and clean up following it, according to the staff report.
Sugar Bear will be harvested during a live community broadcast on Six Rivers National Forest's Facebook page at 10 a.m. Oct. 25.
Crescent City's celebration will be held from 9 a.m.-noon on Oct. 29 at the Cultural Center and will be Christmas and Halloween themed and will include cookie and ornament making, games and colorful mascots such as Santa and Mrs. Claus, Ricky the Racoon, McGruff the Crime Dog, Woodsy the Owl, Smokey the Bear, Bigfoot, the Grinch and Chippy.
The celebration will also include performances by the Del Norte High School Band and Madrigals.


---
SHARE →