---
Jessica Cejnar Andrews / Wednesday, Oct. 13, 2021 @ 1:55 p.m.
Del Norte Supervisors Talk South Beach Parking, Camping Again, Decide Against Fines and Penalties For Now
---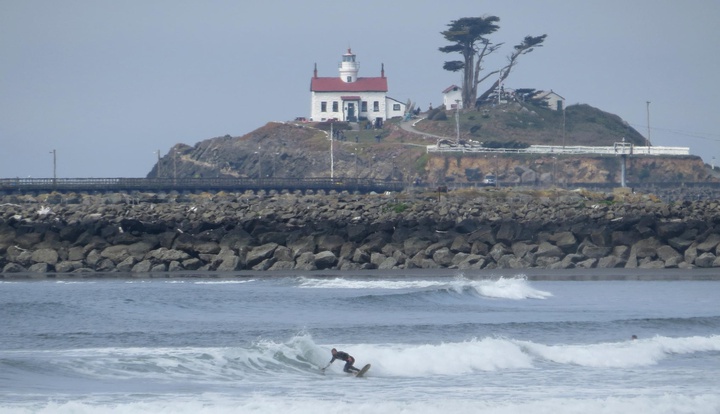 Previously
• Del Norte Supervisors Discuss Overnight Parking at South Beach, Give CHP Blessing to 'Gently Nudge' People to Move Along
###
Del Norte County's District 5 representative initially sought to put some "teeth" behind a ban on overnight parking and camping at South Beach.
But instead of directing staff to come back with potential fines and penalties, Supervisor Bob Berkowitz was satisfied with the Del Norte County Sheriff's Office doing more "deliberative enforcement" to get people to move along.
"If we think it's a problem from here out, we may want to take further action," Berkowitz told his colleagues Tuesday.
Berkowitz said he received complaints about two weeks ago regarding RVs and campers that were parking overnight on South Beach despite clearly posted "No Overnight Parking or Camping" signs.
Though the county has an ordinance banning overnight parking in that area, Berkowitz said, there's no penalty listed on the signs to discourage that behavior.
"A person who violates the ordinance has no fear of getting fined for the offense," he said. "In view of this lack of a penalty, I would suggest the staff look into this and, if appropriate, propose a penalty for overnight parking or camping that would allow us to put some teeth in this ordinance."
The Board's discussion Tuesday came about four months after they gave their blessing to the Del Norte County Sheriff's Office and the California Highway Patrol to give overnight campers a "gentle nudge" to move them along.
South Beach is outside Crescent City limits and, according to the County Code under Restricted Driving Areas, is not designated as an area where overnight camping is permitted.
According to Allen Winogradov, the county's parks and maintenance director, the only legal places to camp that's under county jurisdiction is its campgrounds at Florence Keller, Clifford Kamph and Ruby Van Deventer parks.
At a Monday meeting between city and county representatives over illegal camping concerns at Preston Island off Pebble Beach Drive, Winogradov said the ordinance also mentions places where camping is prohibited, such as Point St. George.
On Tuesday, County Counsel Joel Campbell-Blair said violating a county ordinance, including camping or parking overnight in a prohibited area, is an infraction that does carry a fine. For a first-time infraction, the fine is $100, he said.
The fine escalates to $500 and $700 depending on the number of violations, Campbell-Blair said. Imposing a fine on someone who commits an infraction of the Del Norte County code is an administrative process, he said, but it'd be a "change of gear."
"One of the problems is it always has been kind of the ethos of County Code Enforcement to move people along or get compliance rather than punish," Campbell-Blair said. "We don't really have a county philosophy of using (fines)."
The Del Norte County Board of Supervisors would be bound to the county's infraction schedule if they wanted to impose penalties on those who park overnight or camp illegally, Campbell-Blair said. The Board of Supervisors could also make illegal overnight parking or camping a misdemeanor, he said, which would carry a fine of about $1,000.
District 4 Supervisor Gerry Hemmingsen doubted that making overnight parking or camping at South Beach a misdemeanor would be effective.
"The people we're going to be fining aren't going to have $100 let alone $1,000," he said, "so, I don't know that that's going to be an improvement."
According to Del Norte County Sheriff Randy Waltz, deputies talk to campers at South Beach, advise them of the regulations and ask them to move along. Waltz said if someone was moving forward only about 1,000 feet or moving to another turnout, he and his deputies could issue citations for an infraction.
"That might be an additional deterrent we could use," he said. "So far we haven't had too many repeat troublesome people. There've been a couple, but I think some of our persistence paid off and most of the trouble just moved along."
Berkowitz was satisfied with the sheriff's answer, saying that if overnight parking and camping on South Beach is still a problem, supervisors could take further action.
One member of the public, who identified herself as Annie, wasn't, however.
"I really like the courtesy move-along, but it's the defecation that goes along with it, on the beaches, and no facilities for people that are camping out," she said. "There's regular human defecation on beaches and I think that's something the city could address or the county."
Linda Sutter, who lives in the fifth district, said while there were no RVs at South Beach on Tuesday morning, during the summer, especially before Independence Day, it was bad.
"In all the 30 years I've been here, I've never seen RV campers, 52 parked on both sides of the road, and the road is 55 mph — that is a great concern," she said, adding that she was also concerned about the garbage she saw over the summer.


---
SHARE →