---
Jessica Cejnar / Thursday, June 24, 2021 @ 12:56 p.m.
Del Norte Supervisors Discuss Overnight Parking at South Beach, Give CHP Blessing to 'Gently Nudge' People to Move Along
---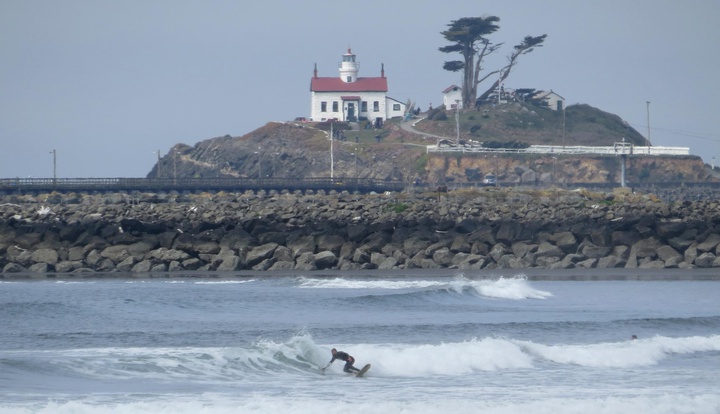 County supervisors gave their blessing to the California Highway Patrol and other agencies wanting to enforce rules against overnight parking near South Beach.
Del Norte County District 4 Supervisor Gerry Hemmingsen brought the issue to his colleagues' attention Tuesday after speaking with CHP Cmdr. Larry Depee. According to Hemmingsen, Depee wanted to find out how the Board of Supervisors would react if his officers began moving people along.
South Beach is outside Crescent City limits along U.S. 101, which is Caltrans' jurisdiction, Hemmingsen said. He said he wasn't concerned about those who needed a place to pull over and rest after hours of driving, but those who are "perpetual people on the beach or in those parking areas."
"My understanding is there's some staying out there … I'm not sure if their holding tanks are working properly and are disposing of sewage and waste and all that kind of stuff," Hemmingsen said. "I think there's some concern, but I think we need to treat everybody the same."
Under the county code, overnight camping is prohibited in the following areas: The mouth of the Smith River; the Point St. George access area; Never Dying Redwood; Pyke Field sports complex; Bertsch Oceanview Park; Hunter Creek Park; Klamath Townsite Park; Klamath Community Park; the Klamath Townsite boat launch facility and the Klamath Glen boat ramp.
According to the county code, South Beach isn't an area "where overnight camping is prohibited."
Hemmingsen's colleague, District 2 Supervisor Valerie Starkey said her constituents often call to complain about motorhomes parked overnight on Pebble Beach Drive. Some will be parked for two to three days at a time, she said.
There is a no-camping ordinance in that area, Starkey said, adding that she has called the Del Norte County Sheriff's Office to "give them gentle nudges to move along."
"Is South Beach in the city or the county and are there ordinances there as well?" Starkey asked. "If the answer is yes, then we need to give them a gentle nudge to move them along."
District 1 Supervisor Darrin Short chimed in noting that some parked on South Beach are there for a number of hours and when they get moved along, they simply move a few yards down the beach. He asked if the Board of Supervisors would consider an ordinance limiting parking at South Beach to six hours.
"Do you think that just a nudge from law enforcement would be enough?" Short asked.
Hemmingsen said his concern was about people parking overnight near South Beach and living there — "using that as your own piece of property."
Hemmingsen said he's not interested in limiting the number of hours people can park there because he knows many people spend the day at the beach with their children. However, some of the activities of those who are parked long-term in the area keep people from recreating at South Beach, he said.
Hemmingsen said it would be up to law enforcement to decide how they would approach "habitual users" of the South Beach area. He also noted that if CHP was going to kick everyone out for overnight parking it won't just be limited to the "perpetual occupants."
Hemmingsen also reiterated that he wasn't opposed to those who are parking to rest themselves after driving.
"If you're driving in a $300,000 motorhome and you can't find any place and you need to rest, that's fine," he said. "If you're driving in a $2,000 motorhome and you need to place to rest, I don't have a problem with that if you can't find any other place to park. If there's not an open RV park or a Walmart parking lot someplace that you can find a spot (at). I think that should be allowed, but not habitual abusers of something that belongs to everybody, doesn't belong just to them."
Hemmingsen said a resolution or any other action from the Board of Supervisors was unnecessary. They just wanted a consensus from the Board on overnight parking.
---
SHARE →