---
Jessica Cejnar Andrews / Tuesday, Oct. 12 @ 4:40 p.m.
$30 Million Promise Neighborhood Grant Will Create Opportunities for Del Norte Kids, Education, Tribal Officials Say
---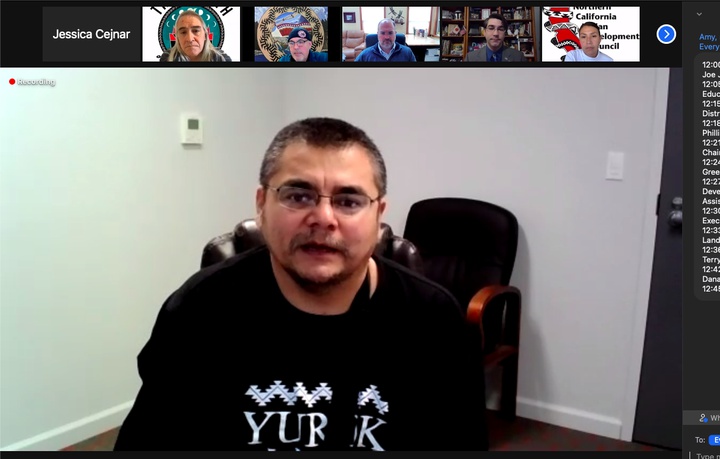 Joseph L. James sang a Yurok healing song for children to celebrate the collaborative effort that made his tribe one of seven recipients, and the only tribal organization, to obtain a U.S. Department of Education Promise Neighborhood Grant.
Though the five-year $30 million grant will create the Klamath River Promise Neighborhood, those dollars will benefit children across Del Norte County, the Yurok Tribal Chairman said Tuesday. It's an accomplishment the entire community, can be proud of, he said.
"We're looking forward to the product and the work forthcoming of this grant," James said. "Five years, $30 million has a nice ring to it."
The Yurok Tribe and 16 other organizations that worked together to obtain the Promise Neighborhood Grant came together Tuesday. to celebrate and to give the public an idea of what to expect.
The goal is to create a "cradle-to-career" pipeline starting with infants, toddlers and preschoolers who are getting ready for kindergarten, said Yurok Education Director Jim McQuillen. The grant will also create supports for K12 students, including career technical education opportunities, and families.
Along with the tribe, the other agencies that worked on the grant proposal include True North Organizing Network, the Del Norte County Office of Education, Del Norte Unified School District, the North Coast Indian Development Council, the Del Norte Child Care Council and First 5 Del Norte, McQuillen said.
"It was a very competitive process," he said. "We're very excited and honored with our grant writing team, True North Organizing Network, who's been a very significant partner in this process."
According to Terry Supahan, executive director for True North Organizing Network, the Promise Neighborhood project started in Harlem, New York and has grown with Congressional support from both Democrats and Republicans.
When putting together the grant proposal, True North Organizing Network used data gathered through the California Endowment's Building Healthy Communities initiative, which had been in Del Norte County for 10 years, to create an inventory of current services and to analyze gaps and unmet needs, according to a Promise Neighborhood grant overview.
A letter of support from Congressman Jared Huffman as well as the U.S. Secretary of Education was also included in the Yurok Tribe's grant application, Supahan said.
"Our whole region's been through a lot," he said. "A lot of different times when someone says dream big, we don't know how big that can be sometimes."
According to Supahan, the planning phase of the grant starts in January. He said True North, the Yurok Tribe and other partners will form a pre-launch team and urged those who want to participate to get involved.
A significant contributor to True North's grant writing team, Alison Ramsay, had been successful in obtaining similar grants in San Diego and Escondido. During a previous conversation, Ramsay told the Wild Rivers Outpost that she had seen how well the Promise Neighborhood grants worked for school-based initiatives in San Diego County and thought it could be a game-changer for Del Norte County.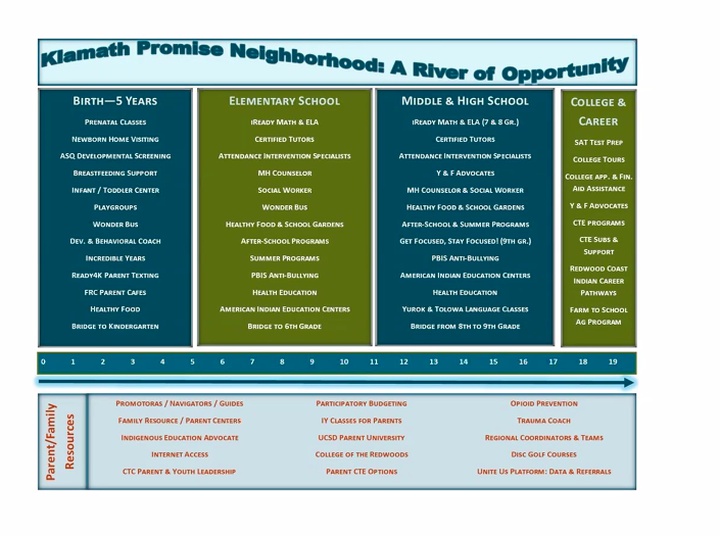 On Tuesday, Del Norte County Board of Supervisors Chairman Chris Howard said community organizations that had once operated alone began working together about 10 years ago when Building Healthy Communities was first established in Del Norte County.
One of the first big projects for children, KidsTown in Beachfront Park, was a project that included collaboration by the Humboldt Area Foundation, Howard said.
"We've been making these baby steps ever since with collaborative community efforts," he said. "We won't know the impacts that $30 million means over five years, but I guarantee you with proper guidance and efforts, the Yurok Tribe will put forth will change many outcomes for our children and give them the hope they surely deserve here in our area."
For Del Norte's youngest citizens, one of the gaps the Promise Neighborhood Grant will address has to do with finding child care for infants and toddlers, said Melodee Mitchell, the Del Norte Child Care Council's executive director.
The Promise Neighborhood Grant will also be used to support the Child Care Council's preschool as well as after school programs for school-age youngsters, Mitchell said. The organization's mobile literacy program, the Wonder Bus, will also benefit, she said.
"Every child that visits the Wonder Bus now will receive a book tailored to their environment and culture," Mitchell said. "We'll provide books in native languages and all families in the county will be served. We're excited to enhance the diversity of opportunities through the Wonder Bus."
NCIDC board member Lonyx Landry piggybacked a statement from McQuillen about Promise Neighborhood Grant dollars being used to enhance Career Technical Education programs. McQuillen had said this would enable K12 students to find lucrative careers as plumbers, mechanics and heavy machine operators.
But Landry, coordinator for Humboldt State University's Indian Natural Resources Science and Engineering Program, said the Promise Neighborhood Grant will also help students that are college-bound.
"I see this as a wonderful tool so that our students, our community members, are ready to step into some of those positions and some of those majors that we offer here, in particular regarding natural resources and managing our landscapes," Landry said. "We have many wonderful things happening in our community, but unfortunately, sometimes, they are happening in isolation. I see this type of opportunity as a way to really put the puzzle pieces together and create a sustainable pathway."
Other participating organizations and agencies include RX Safe Del Norte, Gateway Education, the California Center for Rural Policy, the Family Resource Center of the Redwoods and College of the Redwoods' Del Norte Education Center.
---
SHARE →