---
Jessica Cejnar Andrews / Tuesday, Oct. 12 @ 1:10 p.m. / COVID-19
Two More People Die of COVID, Del Norte Public Health Officer Says, Though Downward Trend in Cases Continues
---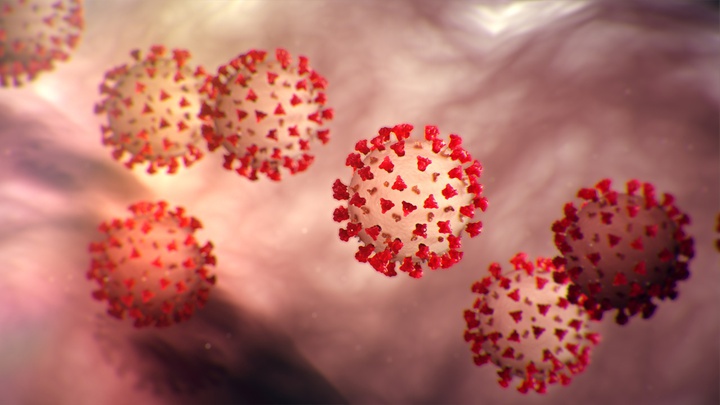 The daily number of new COVID cases in Del Norte County continues to trend down, though two more people have died of the disease, Public Health Officer Dr. Aaron Stutz told county supervisors Tuesday.
Del Norte County's death toll from the novel coronavirus is at 40 since the beginning of the pandemic, Stutz said, though the statistics the Public Health Branch publishes doesn't yet reflect this.
However, the county has averaged fewer than five new cases per day during the past week, he said, and two people are in the hospital with COVID-19.
"Our average number of new cases per day is down to 2.65. This is down about 38 percent from the prior week and the amount of tests we've been doing has remained stable," Stutz said. "We're up another percentage point since last week for vaccinations at 48 percent."
Calling the statistics encouraging, Stutz said Del Norte County is down to "pre-surge numbers." He said he will keep the mask mandate in place until the end of the week, reassess and "go from there."
On Monday, the Public Health Branch reported that six new COVID-19 cases were identified over the weekend, while there are 40 active cases in the county overall. Two people are currently in the hospital with the novel coronavirus, according to the Public Health Branch.
Stutz's presentation Tuesday followed a 4-0-1 Board of Supervisors decision to keep him on as public health officer until June 30, 2022. After approving Stutz's not-to-exceed $39,000 contract in August, supervisors agreed to let him work through the remainder of the fiscal year for an additional $117,000.
District 1 Supervisor Darrin Short was absent.
The Board of Supervisors also agreed to waive the residency requirement for the public health officer position. Stutz is also Siskiyou County's public health officer, though he works in the Sutter Coast Hospital emergency room.
Before deciding to extend Stutz's contract, supervisors Chris Howard and Gerry Hemmingsen noted that it's not unusual to have a public health officer who lives outside Del Norte County.
This includes previous deputy public health officer, Dr. Palak Patel, who lived in Brookings, according to Hemmingsen.
"Certainly, lately with the COVID thing, nobody wants to take the ridicule and abuse for doing a good job," Hemmingsen said. "I understand why it's hard to get somebody. We're very fortunate to have Dr. Stutz offering to take this job."
Howard said Del Norte County was also lucky to have Dr. Warren Rehwaldt, Stutz's predecessor who retired in June.
"The fact of life is getting health representation in rural California is not just a Del Norte problem," Howard said.
During Stutz's presentation, Howard noted that Del Norte County's improvement in the number of COVID cases and hospitalizations seemed sudden and asked the doctor if that was because people were being more vigilant.
Stutz said Del Norte's turnaround from the peak of a COVID-19 surge fueled by the more virulent Delta Variant in August differs compared Humboldt, Shasta and Siskiyou counties. Those communities are still in the midst of a surge, he said, but their peaks weren't as high as Del Norte's, which saw more than 400 active cases.
Stutz said he thought Del Norte's status as a small rural county contributed to the abrupt decrease in cases as well as its town hall meetings and help from the state, which sent additional personnel and equipment to Sutter Coast Hospital.
"This particular virus seems to rise and hit areas almost at random. I think it's very difficult to predict when or where it's going to hit," Stutz said. "Del Norte is much better at pulling together, in my experience, than other counties. A number of other counties I work with are quite fractured in this regard."
Hemmingsen also asked Stutz about Ivermectin, which the U.S. Food and Drug Administration has approved for treating infections caused by parasitic worms, head lice and some skin conditions but not for treating COVID-19.
Stutz said although multiple studies are going on in the United States to determine Ivermectin's efficacy against COVID-19, he doubted that physicians would recommend it over other therapies such as steroids for COVID patients who are hypoxic, monoclonal antibody therapy for those who are newly diagnosed or the vaccine.
"There's no way that those studies are going to show that it's effective enough to worry about over some of these other therapies," Stutz said. "If Ivermectin was as effective as everybody claims it might be, we would have seen that in the data already. I'll be surprised if these well-designed studies we know are happening, I will be surprised if it shows any efficacy that even approaches what we have available."
Del Norte County has had a total of 3,640 COVID-19 cases since the pandemic began in March 2020. For more information on testing and vaccines, click here.
---
SHARE →