---
Jessica Cejnar / Monday, May 3 @ 11:17 a.m.
U.S. Capitol Christmas Tree Will Hail From Six Rivers National Forest, Ornaments, Tree Skirts, Needed
---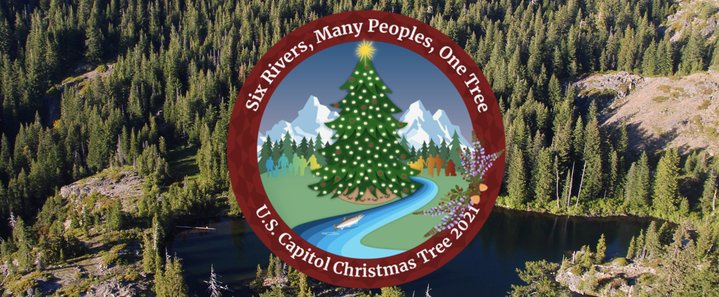 The U.S. Capitol Christmas Tree will be harvested from the Six Rivers National Forest in October and will begin to make its way to Washington DC in early November.
However, though two elected officials in Del Norte County have said the tree could begin its journey there, its tour is still being finalized, U.S. Capitol Christmas Tree spokeswoman Samantha Reho told the Wild Rivers Outpost on Monday.
Six Rivers National Forest officials also have yet to determine a species for the tree, which will reside on the West Lawn of the U.S. Capital during the holiday season, Reho said. Fir and spruce trees are typical for Christmas, but they're looking for the right one, she said.
"We're looking for the prettiest tree Six Rivers has to offer, but there are a couple of additional requirements," she said. "We're looking for a tree between 60 and 80 feet in height — these are the requirements given to us by the Architect of the Capital. We're preparing for a visit by the architect himself for some time in July. We have folks scouting out trees … we'll show them to the architect some time in July."
While Six Rivers staff are looking for candidates, they're also inviting Californians to help create 15,000 ornaments and 130 tree skirts to adorn it and smaller "companion trees," according to a Monday news release.
The theme is "Six Rivers, Many Peoples, One Tree." All Californians are invited to be a part and "showcase the diverse people and ecology of California and its North Coast."
Officials also urge people to construct ornaments and tree skirts from recycled, recyclable and natural materials, according to the news release.
The West Lawn tree will require nearly 4,000 large ornaments — from 9 to 12 inches in length, colorful, reflective and able to withstand the elements, including rain and snow, according to the news release.
Six Rivers National Forest and nearby communities will provide the smaller trees, which will require a total of 11,000 ornaments. Ornaments for those trees should be 4 to 6 inches in length, lightweight and colorful. According to the news release, durability isn't a concern since the trees will be indoors.
As for the Christmas tree skirts, 130 are needed. They must be 5 feet in diameter, according to the news release. It's possible the skirts can be returned, but no guarantees can be made, according to the news release.
The smaller trees will be displayed throughout the Senate and House Chambers of the California Congressional Delegation as well as the U.S. Department of Agriculture and the Department of the Interior, Reho said.
For ornament and tree skirt examples, click here. Decorations are due by Sept. 1 and may be sent to the U.S. Capitol Christmas Tree, 1330 Bayshore Way, Eureka, CA 95501 or at drop off sites listed here.
Once the tree is selected and ready for its journey, it will first head south, according to Reho.
"It will obviously go from far northern California and make its way, zigzagging across the state down to San Diego before taking it east to DC," she said. "The reason we're going so far south is navigating a very large trailer through the Rocky Mountains in winter is not something we want to do, so we're taking a more southern route to get ourselves to DC."
To follow the Christmas tree's journey, click here.
---
SHARE →