---
Jessica Cejnar / Wednesday, March 31 @ 5:12 p.m. / COVID-19, Education
DNUSD Call for Advocacy Campaign Catches Attention at State Level; Graduation Plans Still in the Works
---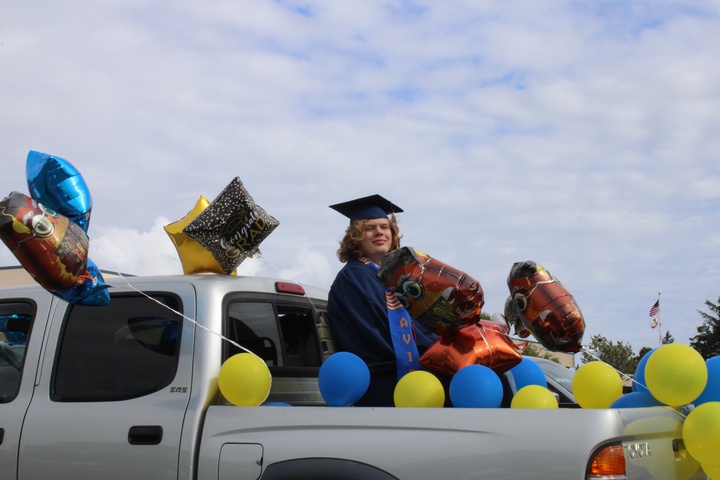 Previously:
• Fed Up With Changing Guidelines, Slow Vaccine Distribution, DNUSD Superintendent Calls For Advocacy Campaign
###
Though a letter template is forthcoming, Del Norte Unified School District's call for an advocacy campaign to the California governor has caught the attention of other state officials in Sacramento.
DNUSD Superintendent Jeff Harris told trustees last week he was contacted by Assemblyman Jim Wood's office as well as the California School Board Association.
Angela Greenough, president of the DNUSD Board of Trustees, said Wood's field representative in Eureka, Erin Dunn, contacted her to ask about what DNUSD has been through during the COVID-19 pandemic. In about 20 minutes, Greenough said, she talked about the challenges Del Norte is facing when it comes to the number of vaccines coming into the county as well as issues involving distancing between students.
"She was surprised. She had no idea what some of our challenges and some of our accomplishments," Greenough told her colleagues last Thursday. "She said, 'I'm definitely going to tell this to Assemblyman Wood… Will you guys be able to open in April?' We'e been open. We've had this plan since July to be ready to open. We just need more vaccines for teachers."
DNUSD plans to launch its letter-writing campaign to Governor Gavin Newsom on April 12, Director of Communications and Outreach Michael Hawkins told the Wild Rivers Outpost. This includes sending letter templates to parents, local businesses and elected officials, enabling them to tell their story and why "Del Norte is essentially being left out…."
The district plans to collect completed letters starting May 1 and will spend about two weeks screening out inappropriate content, Hawkins said. DNUSD will likely send the letters to Sacramento by the end of May, he said.
"I think they'll probably all be going to the governor's office, but whether or not we're making copies and sending them multiple places or divvying the letters up based on content and sending them to different groups, we have yet to determine," Hawkins said. "What we do know is we want to send them to the policy makers and politicians in California who are essentially making these decisions that have these effects on us and are the groups that are constantly changing the goal posts."
Harris's call for an advocacy campaign came at a March 11 school board meeting during a discussion about what the 2021-22 school year could potentially look like. During that meeting, Harris mentioned guidelines from the California Department of Public Health stating that students had to maintain a physical distance of 6 feet but "under no circumstances" could they go less than 4 feet. Teachers had to be at least 6 feet away from students, he said.
The other hurdle DNUSD faces when it comes to reopening its campuses further include ensuring all its employees are vaccinated against the novel coronavirus, Harris said on March 15.
Last Thursday, Harris mentioned several lawsuits against the CDPH challenging the validity of the guidance it's issued in the last 12 months when it comes to schools. The latest, on March 17, resulted in a San Diego County judge issuing temporary restraining order that eliminated CDPH's guidelines when it comes to spacing between students. But, Harris said, the plan is to keep Del Norte schools status quo "because we don't react to something, do something and then have to pull it back."
Harris said the minimal space allowed between students — 4 feet, according to CDPH, or 3 feet, according to Del Norte Public Health Officer Dr. Warren Rehwaldt — does not allow DNUSD to bring more students back to the classroom.
"We're still limited in the number of students we can seat in a classroom," Harris said. "While I completely understand where our students are, our students are members of our community and we are still bound by that 3 feet. The distancing piece did not go away."
Meanwhile, schools are still determining what graduation is going to look like. According to Hawkins, because of COVID-19 restrictions, each graduate can invite a limited number of family members. Though that number has yet to be determined, DNUSD will livestream all its eighth-grade and middle school graduations, he said.
"Schools are looking at different venues, different possibilities of whether they can have graduation at their own sites or whether we can find a central location to set up with premium livestream where each school can take a turn at a centralized venue," Hawkins said. "There are some challenges individual school sites don't have a lot of bleacher space or space distance, so we're trying to solve that problem."
---
SHARE →