---
Jessica Cejnar / Monday, June 7 @ 8:32 a.m. / Emergencies
DNSO Rescues Subject Stranded on Rock Off the Coast of Smith River
---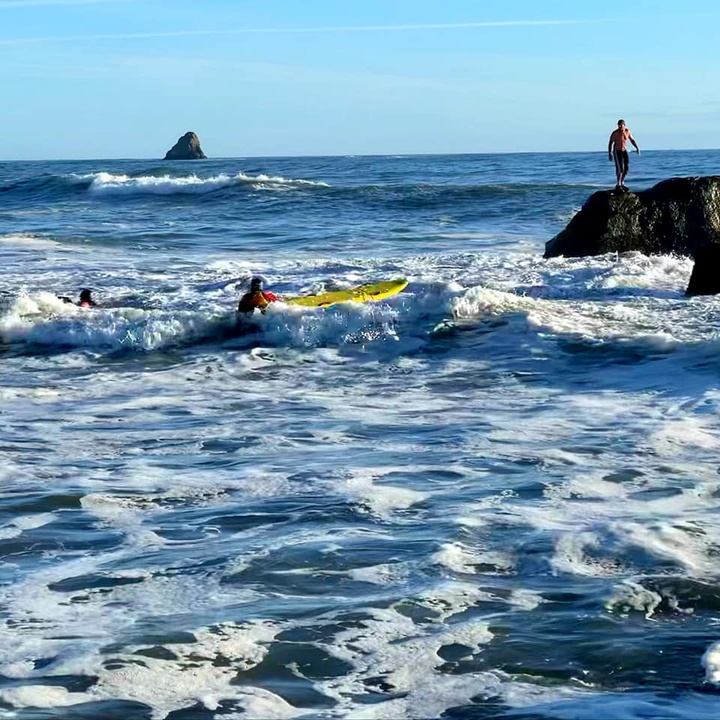 Del Norte County Sheriff's deputies rescued a person stranded on a rock due to incoming tides near White Rock Resort in Smith River on Sunday.
From a DNSO Facebook post Monday:
DNSO Deputies Conduct Heroic Rescue Near White Rock Resort in Smith River, CA
On 6/6/21, DNSO Dispatch received reports of an individual stranded on a rock in the Pacific Ocean near White Rock Resort in Smith River. Deputy Hunter and Sergeant Gill responded to the location to get eyes on the subject. Deputy Lucero and Sergeant Ortega were called to assist in the rescue.

Witnesses reported the person had been stuck on the rock for several hours due to an incoming tide. The rock was located approximately 100 yards off shore and periodically being washed over by waves nearly knocking the man off many times. The rock was surrounded by several other wash rocks creating a very dangerous environment if the subject was forced off.

Deputy Lucero and Sergeant Ortega deployed into the surf from the shoreline and swam to the subject on the rock. After several minutes of fighting the surf, they were able to reach the subject and swim him back to shore. The rescued individual was transported to Sutter Coast Hospital by ambulance.

The tide was due to rise until high tide at 10pm. Without their prompt rescue, the stranded individual would have certainly been washed off the rock and been significantly injured or perished in the surf.
Sheriff Apperson said "I am never short of amazed by how quickly DNSO staff coordinates and responds. This event serves as a reminder that we are here and willing to do what needs to be done so that our communities are safe. All of the deputies and support staff that coordinated and participated in this response are heroes. I would like to especially recognize Sergeant Ortega and Deputy Lucero for their efforts. The ocean is a dangerous, unforgiving and unpredictable environment. They put themselves in harms way so that another person may continue to live. They are the definition of selfless and exemplary first responders."
---
SHARE →