---
Jessica Cejnar / Friday, June 4 @ 5:01 p.m.
Del Norte Unified Plan Calls For Restructuring In-Town Elementary Schools
---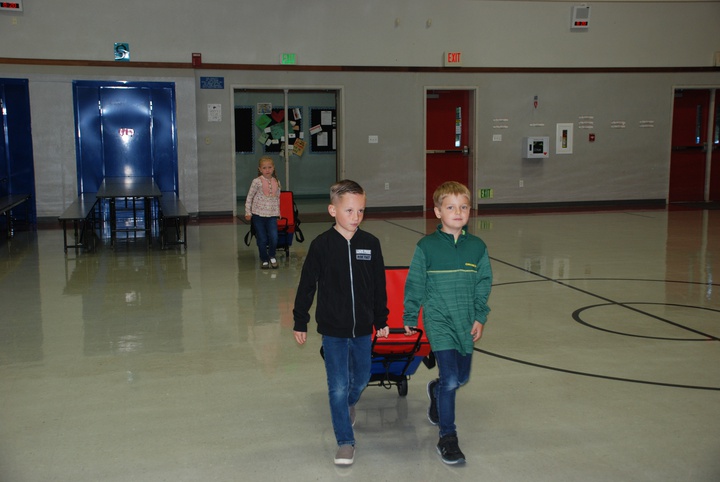 Though they acknowledged that most parents are focused on the upcoming school year, Del Norte Unified officials propose to restructure its four in-town elementary campuses so that half serve transitional kindergarten through second-grade students and the other half house third- through fifth-grade students.
Included in DNUSD's Local Control Accountability Plan for the 2021-22; 2022-23 and 2023-24 school years, the proposal would impact Joe Hamilton, Mary Peacock, Bess Maxwell and Pine Grove elementary schools, Superintendent Jeff Harris told trustees at a special meeting Thursday.
But officials have yet to figure out what that restructure would look like, Harris said. There are infrastructure issues to be considered — adding restrooms to transitional kindergarten classes, for example — as well as materials and supplies, technology and furniture. There are also the needs of individual families around transportation, Harris said.
"I don't want anybody to think this is happening," he said. "We want to have these conversations in a much more public open forum beginning in August."
In its Local Control Accountability Plan (LCAP), DNUSD proposes to use $600,000 in federal Elementary and Secondary School Emergency Relief (ESSR II) dollars to facilitate the restructure of its Crescent City area elementary schools for the 2022-23 school year, according to Tom Kissinger, the district's assistant superintendent of curriculum and instruction.
In previous years, the Local Control Accountability Plan outlined how the district would spend extra state funding it receives for services benefitting English language learners, foster youth, homeless students and low-income children.
However, since the LCAP was suspended because of the COVID-19 pandemic during the 2020-21 school year, next year's plan not only includes how the district will spend those additional state dollars, but also federal ESSR and Expanded Learning Opportunities grant moneys.
The district expects to receive $2.6 million in ELO dollars, which are meant to pay for academic and social emotional interventions for students returning to school following the pandemic, according to Jeff Napier, assistant superintendent of business services. DNUSD proposes to use much of that one-time funding to hire more staff, he said.
"My rule of thumb is never do one-time funding on things that eat," Napier told trustees Thursday. "But the majority of that one-time funding is going towards things that eat because that's the only way we're going to make up learning loss for these kids."
Though he noted that it will take a lot of conversations with families, the community as a whole as well as district staff, Harris said the district has considered restructuring its in-town elementary schools for years.
In some cases, Harris said, you'll have a school with a single kindergarten class of 26 students while another nearby school has more than one with 17 students. He noted that the district's youngest students have different needs than their older peers, while their teachers often lack the ability to collaborate with their colleagues.
"The focus of kinder, first and second (grades) are learning how to read — learning the fundamentals of reading, and they kind of tie that up by third grade," Harris said. Kinder through second grade also don't take state tests. That's third-grade on up."
Creating two K-2 schools would focus on those basic entry-level academic schools while the remaining two 3-5 schools would change the focus of those intermediate grade programs, Harris said.
"If we can bring those teachers together for collaborative opportunities, and we can bring those teachers together to create intervention schedules and we can find ways to work together to provide interventions; if we are able to focus on curriculum and materials and special education programs around what students need, that, we believe, may be a huge benefit to our student," he said.
Though the proposed restructuring is in the district's budget for the 2022-23 school year, Harris said it would likely take staff, trustees and the public from August through December to officially decide to proceed.
The district would also need to hire an architect to map out plans for how the schools would physically changed, Harris said. Those plans would then have to be submitted to the Division of the State Architecture for approval.
"The DSA is about six months out," he said. "We'd need to get contracts approved and then to get moving on this throughout the 2021-22 school year in order to pay for these things in '22. Hopefully, if the everything goes well, if the board is supportive, if families are supportive, then to open two K-2s and 3-5s in the 2022-23 school year."
When asked what parents thought of the proposal during previous LCAP input sessions, Kissinger said they're receptive, they have a lot of questions, but they're also more focused on the opening of school this autumn.
Harris also noted that there is "community PTSD" around the idea that the district is closing schools, but, he said, that's not part of this conversation.
"This is not about closing schools," he said. "It will be a conversation next year about do we restructure schools … Crescent Elk continues to be the 6-8 middle school."
Other proposed expenditures included in the LCAP for the next three years include continued efforts to reduce combination classes, hiring library technicians, more counselors and another school psychologist, according to Kissinger.
The district's goal is to have a counselor at each school site. However, Gasquet Mountain School, with a 55 student enrollment, will be served by a counseling technician with support from a counselor, according to Kissinger. Sunset High School and Community Day School will share a counselor, he said.
This proposal prompted trustees Charlaine Mazzei and Jamie Forkner to ask the district to define the difference between an academic counselor and a counselor addressing a student's social-emotional needs.
Kissinger said the district's counselors offer academic counseling and social-emotional support, but don't provide licensed individual or group therapy.
Forkner said she was worried that counselors would be more focused on students with social-emotional challenges while putting academic counseling "on the back burner."
Mazzei noted that a counselor helping a student who is experiencing domestic violence issues at home or who is living on the streets requires a different skill set than academic counseling.
"I'm concerned you're trying to put too much on these counselors to say you have to do both of these things," she said.
Harris said the district also plans to hire an additional psychologist as well as counselors who can devote more time to intensive therapy. The district also has grants to hire social work interns, he said, though that's not included in the LCAP.
Mazzei and Forkner's concerns prompted Board President Angela Greenough to ask if the district needs to hire more counselors. She asked Kissinger and Harris to pose that question to the counselors that are already on staff.
"If we need to hire more, then let's adjust our budget to do so," Greenough said. "We know the social-emotional need, but we don't want to neglect educational counseling. Do we need more? That's a question we need to ask counseling staff."
The DNUSD Board of Trustees will take public input on the LCAP at a hearing June 15, according to Harris. Trustees will then take public comment on the proposed 2021-22 budget. The Board is expected to approve the LCAP and the budget on June 24.


Documents:
• June 3 LCAP Budget Presentation
---
SHARE →