---
Jessica Cejnar / Thursday, June 3 @ 1:03 p.m.
'We Got the Guy!': Woman Describes How She and Her Fiance Trapped a Suspected Burglar in School Bathroom
---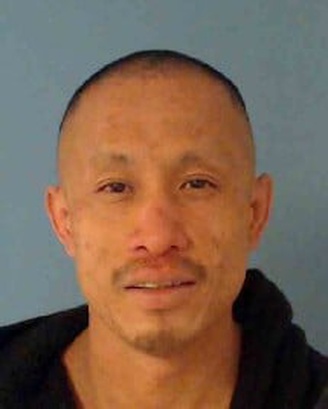 Loretta Raney says it was her little girl who first noticed something odd.
Raney had pulled into the Joe Hamilton Elementary School parking lot at about 9:50 p.m. Tuesday to pick up her fiancee, one of the school custodians, when her daughter, Melayna, pointed out a man by the bathrooms.
Raney said she and her daughter watched the man pull out a set of keys, select one, open the boy's bathroom door and go inside. Caught without a cell phone, Raney used her car horn to alert her fiancee.
"I said, 'We got the guy! He's in the bathroom right now!'" Raney told the Wild Rivers Outpost on Thursday, adding that her fiancee didn't want to be named. "I put the car in park, jumped out barefooted and grabbed that door. I'm holding the door shut (with) my right knee, holding it with all my might."
Raney said it took roughly seven minutes for Crescent City police officers to arrive at the school.
Once officers arrived, they found 37-year-old Ler Xiong, who they suspected in several local burglaries but hadn't been able to locate. They arrested him on an outstanding warrant for theft and, during a search of Xiong's person, found stolen property from Joe Hamilton, Crescent Elk and Bess Maxwell schools.
Officers also suspect that the keys Xiong used to access the boy's bathroom were also stolen, according to CCPD Chief Richard Griffin. Xiong is a suspect in six total burglaries, Griffin told the Outpost.
"During one of the initial burglaries, he took the keys and that's how he continued to have access," he said, adding the first burglary took place about a month ago.
During Xiong's arrest, in addition to finding a school walkie talkie in a trash can, police found keys belonging to two other Del Norte Unified School District campuses, Griffin said.
CCPD also has video evidence from a few of the burglaries as well, and is working with the Del Norte County Sheriff's Office to build a case against Xiong since two of the burglaries happened outside city limits, according to Griffin.
"We thought we had him identified based on video surveillance, we were looking for him and couldn't catch up with him," he said. "We're definitely appreciative of (the couple) for taking action."
Xiong is currently housed at the Del Norte County Jail under charges of possession of a controlled substance, possession of drug paraphernalia, theft and burglary. According to CCPD's Facebook post Wednesday, officers are working with the DNSO regarding another burglary that took place at Bess Maxwell.
Raney said she urged her fiance to search the bathroom to make sure Xiong didn't leave anything dangerous behind. She said the walkie talkie came from Bess Maxwell Elementary School. She said her fiance also found a metal plate used to pop door hinges open.
Looking back on her actions, Raney said she knew shutting Xiong up in the bathroom was dangerous. But she said she wasn't thinking about the danger at the time.
"I was thinking, 'We need to keep this guy in his little box where he can't shoot a gun or stab anybody. As long as I got this door shut, he can't do nothing to nobody," Raney said. "We were pretty thuggish."
Raney added that Melayna deserves much of the credit too.
"My daughter's the one that actually saw the guy," she said. "I told her, 'you're a hero too, Mama. If you wouldn't have asked me about that guy I wouldn't even have noticed him.'"
---
SHARE →