---
Jessica Cejnar / Tuesday, June 1 @ 12:31 p.m.
Del Norte OES Tests Alert System in English, Spanish and Hmong, Urges Residents to be Prepared for Wildfire
---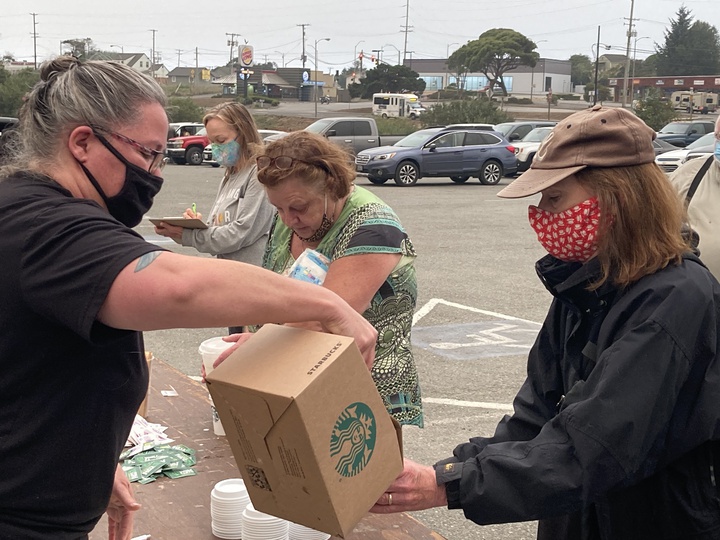 Del Norte emergency officials got ahead of wildfire season, sending alerts to roughly 28,000 accounts Tuesday reminding residents to have a "go bag," plan for evacuation and create a defensible space around their homes.
The test of the Community Alert System — a.k.a "Everbridge" — didn't leave Hmong and Spanish speakers out thanks to Crescent City Police officers Yeng Lo and Magnolia Valero, according to CCPD Chief Richard Griffin.
"They've translated several things including audio messages that can be played in emergency situations," Griffin said of Lo and Valero. "We have Officer Sanders too that speaks Russian and Ukrainian… we have a pretty good cast here."
Tuesday's test included an English recording from Del Norte Emergency Services Manager Kymmie Scott, recordings in Hmong and Spanish and text messages and emails in English, Hmong and Spanish.
Scott said she was happy with the test, but urged residents to provide feedback either by calling the Del Norte Office of Emergency Services at (707) 464-7255 or commenting via Facebook.
This is Del Norte County's second Community Alert System test since late March. But unlike the previous test, which focused on people with addresses in the tsunami zone, alerts were sent to everyone, Scott told the Wild Rivers Outpost.
Everbridge may also have worked out a few kinks that had showed up at the previous test, according to Scott. In March even though the alert targeted a smaller portion of the community, it took awhile for the messages to reach them, she said. Getting messages to 28,000 accounts can take time, Scott noted.
"In March, because the system was being used in Mendocino County and Humboldt County at the same time, there might have been some delays because of how widespread (the test) was at the time," she said. "This time, we have 28,000 contacts loaded into the system and it pushed all of those out in the first five minutes."
Like much of Northern California, Del Norte is bracing for a riskier fire season than normal, Scott told the Outpost. The Office of Emergency Services is preparing by undergoing training for its shelter team as well as the local chapter of the American Red Cross.
According to Scott, the Red Cross announced they will transition back to congregate sheltering with masking and distancing requirements. Last year, the local Red Cross put Gasquet residents evacuating from the Slater Fire up in hotels.
Red Cross volunteers had also set up a temporary evacuation point at the Del Norte County Fairgrounds during the Slater Fire last year — a practice that will be used again this year if needed, Scott said.
"We felt like even with congregate sheltering, that allows us to have a safe place for people to go to initially make contacts with them and find their needs before being placed into a shelter," she said. "If there is an evacuation scenario we'll tell folks to go to stage while we meet with them and find out how many people are in their families, do they have pets… the things we need to think about."
Residents also need to do their part, Scott said. This includes getting a "go bag," which includes snacks, water, a change of clothes, medication, pet supplies and items to entertain children.
---
SHARE →