---
Jessica Cejnar / Tuesday, July 20 @ 12:57 p.m.
Elk Valley Rancheria, Crescent City Pursue $17 Million Federal Grant for Build-Out of Front Street; Project Acknowledges Tolowa Village Site
---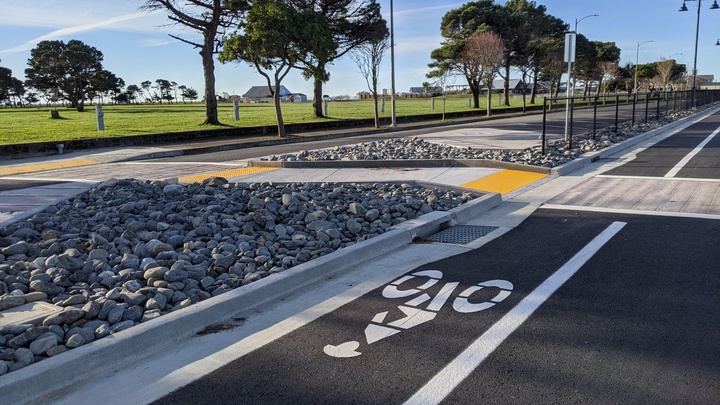 In addition to acknowledging its partnership with Elk Valley Rancheria by displaying both logos on two water tanks, Crescent City will partner with the tribe as it seeks a $17 million federal grant to complete the Front Street project.
Four members of the Crescent City Council on Monday ratified the joint application with the Elk Valley Rancheria for $17 million in Rebuilding American Infrastructure with Sustainability and Equity dollars. Mayor Pro Tem Blake Inscore was absent.
Those grant dollars will be used on the Front Street Complete Street and Cultural Inclusion Project, which includes converting the road to a landscaped two-lane street with sidewalks and bike lanes, according to Public Works Director Jon Olson.
The project also includes constructing a sidewalk and posting interpretive signs connecting people to Battery Point Lighthouse, the California Coastal Trail and the Tolowa village of Tatatun, Olson told Councilors.
"We'll add additional cultural interpretive signage and acknowledge the Tolowa people and the village site that was once here, along with Battery Point and the story of this area," Olson said.
Crescent City had used a $4.2 million Community Development Block Grant for a storm drain improvement project on Front Street between B and G streets. Completed earlier this year, that project also included new lighting, a six-inch cobblestone median that separated traffic from a parking area as well as walkways and crosswalks.
The city is also pursuing an $8.5 million Park Development and Community Revitalization, Proposition 68, grant for improvements to nearby Beachfront Park, which includes an area showcasing Tolowa culture.
On Monday, City Manager Eric Wier noted that the cultural awareness is a key component of the city's Beachfront Park master plan.
"One of the differences in this application from our previous application is the expansion of a pedestrian area down to Battery Point and the historical cultural significant area," Wier told Councilors. "Working with Elk Valley, that was identified as a key cultural piece and within this grant application, they have also identified racial equity as a key component of this."
The $17 million RAISE grant is part of an overall $1 billion available from the U.S. Department of Transportation. RAISE, formerly known as BUILD and TIGER, has awarded more than $8.9 billion in grants to projects throughout the U.S. and in Puerto Rico, according to the city's staff report.
Elk Valley Rancheria and Crescent City have worked together on a number of projects, including a "multi-phase" rehabilitation project of water tanks near Washington Boulevard and Amador Street.
According to Olson, the city has nearly finished first phase of the Amador Tank project, which included adding safety equipment and cost about $300,000.
A second phase, which includes removing the oxidized metals and coating system, patch repairs and installing a new foundation, is in the design phase, Olson said. Construction is expected to begin in the spring or summer of next year. Elk Valley obtained a $200,000 in grant dollars to be used toward that project, Olson said.
Elk Valley Rancheria is also pursuing a $1 million Water Smart Grant for construction work on the Washington Boulevard water tank, Olson said. That project includes addressing corrosion, according to Olson's staff report.
"Elk Valley has been an outstanding partner and one of the requests you'll see on the staff report is similar to what we did on a recent fire truck purchased in 2016," Olson told Councilors. "We put the Elk Valley Rancheria logo right next to the City of Crescent City and present that proudly in the community and say, 'Look, these are our partners and they are helping us move forward as a city and we're helping them because we're supplying them with water.'"
Olson proposed using the same suite of engineering consultants, SHN Consulting Engineers and Geologists, the city used on the first phase of the tank rehabilitation projects in 2018. SHN will develop the plans, specifications and estimates for the Washington Boulevard tank project, according to Olson.
---
SHARE →