---
Jessica Cejnar / Tuesday, July 20 @ 5:55 p.m.
Brown Act Violation or Political Theater? Chamber Mixer Drama at the Harbor Continues
---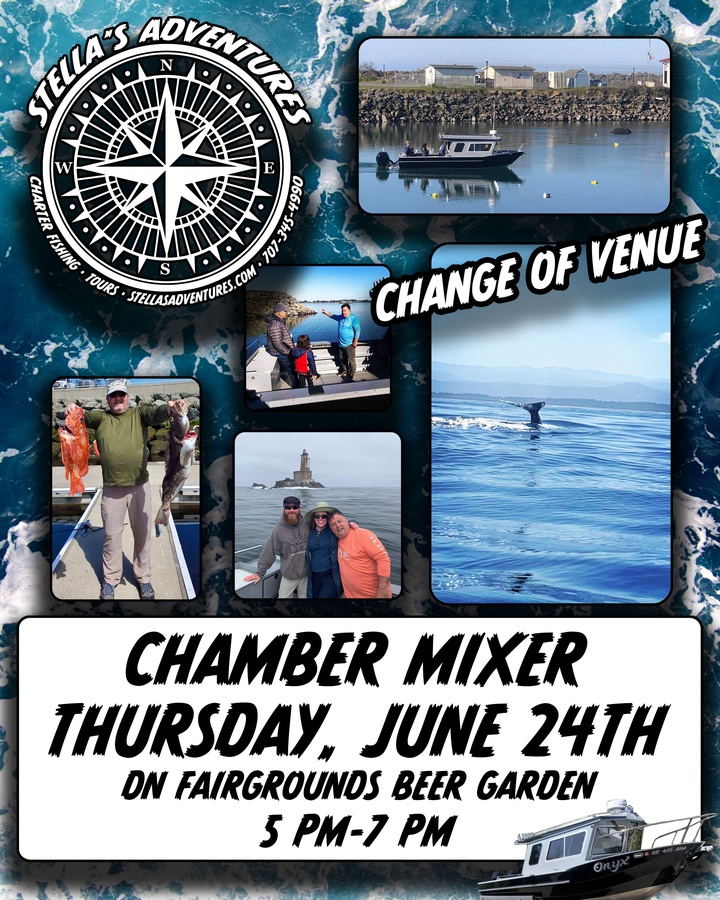 Previously:
• Last-Minute Change of Chamber Mixer Venue Prompts Harbor Commissioner to Accuse Colleague of Abuse of Power
###
What began as a question of who controls a meeting agenda turned into something Crescent City Harbor District Board President Brian Stone said he wanted to avoid — political theater.
The question came from Harbor Commissioner Harry Adams, who two weeks ago accused Stone and his colleague Wes White of forcing him to change the venue for a June 24 chamber mixer promoting his charter boat business, Stella's Adventures.
On Tuesday, Adams asked the district's attorney if Stone and White's decision to remove the proposed chamber mixer from a June 24 special meeting agenda constituted a violation of the Ralph M. Brown Act. Adams said he had spoken to Harbormaster Tim Petrick on June 17, who indicated that the only thing he needed approval for was a license to serve alcohol.
"It was already approved by Tim," Adams said, referring to the chamber mixer. "So, we had two commissioners remove it from the agenda. Is two commissioners removing something from the agenda a Brown Act violation?"
According to Stone, Adams failed to follow the harbor district's procedures when it comes to holding a community event. Stone referred to Schmidt's House of Jambalaya's July 2 music festival, which required an ad-hoc committee to vet the event before harbor commissioners gave final approval — a process that took roughly six weeks.
Stone said when he and White met on June 23 to discuss the June 24 agenda, after receiving advice from the port's legal counsel, Ruben Duran, tried to reach Adams, but were unsuccessful.
"We're making a big political theater out of something that shouldn't have happened in the first place and I think we've had enough discussion on this issue," Stone said, adding that he and White did nothing to spite or hurt Adams. "There was a miscommunication. You had gone through the process previously with Jambalaya House, you were the lead commissioner with respect to what needed to be done. You knew the procedures, yet you came to the commissioners less than a week prior to your suggested (mixer) and it begs the question in front of everyone, especially me, were you receiving preferential treatment?"
According to Stone, the Crescent City Harbor District didn't have a written request from Adams to hold a mixer nor proof of liability insurance or a liquor license.
"Nor did we have the opportunity for the board to review this in a regular normal way," Stone said. "Had Mr. Adams gone forward and said to us six weeks or maybe even four weeks in advance, 'I'd like to have a meeting and this is the date,' and given us information just like every other citizen is required to do, he would have most likely gotten his approval."
In response to Adams' question, Duran said there was no legal problem with Stone's actions because removing the item from the June 24 agenda wasn't a Brown Act violation. Under the Harbor District's bylaws, the president and harbormaster controls the agenda.
The Ralph M. Brown Act guarantees the public's right to attend and participate in government meetings in California. According to Duran, the act applies to every local government body in the state and also guarantees the public's right to review the agendas. The Crescent City Harbor District is mandated by law to comply with the Brown Act, Duran said.
But, Duran said, the issue of whether or not Adams should have been permitted to hold his chamber mixer at the harbor is related to the state's Political Reform Act, its conflict of interest laws, not the Brown Act.
Though Stone insisted that Adams hadn't followed the proper procedure when seeking to hold his event, former county supervisor Roger Gitlin said he was disturbed by the protocol and "how this all came together."
Gitlin said Stone and White made the decision to pull the proposed mixer from the June 24 agenda at the "11th hour," pulling the rug out from under Adams. Gitlin questioned Stone's ability to set meeting agendas, noting that the Harbor District Board is a body of five and decisions are made with a quorum of three.
"Two commissioners, an interim harbor director and a counsel decided it would be in the best interest not to violate the very vague Brown Act," Gitlin said. "A commissioner who sits on here had to go through a bunch of hoops and move over to the fairgrounds. That is completely unnecessary and completely out of line and it does show angst. It shows an attitude that we're not here to help you, we're here to protect us from the Brown Act."
Gitlin called for a public apology from White and Stone to Adams and fellow commissioners Rick Shepherd and Gerhardt Weber "for excluding them from this process."
"I find it unnecessary that it has come down to this level and make the request be on the next agenda," Gitlin said.
Another member of the public, noted that although the argument was that Adams would have been given preferential treatment had his mixer been allowed to go forward at the harbor, she didn't know what the procedure was.
"I've spoken to Tim (Petrick) who's working on putting documents online," she said. "He's referred to bylaws, which I can't view outside of the one page. If I walk in and ask for the harbormaster, I would assume, if he's OK-ing an event, I would have the go ahead. From the public's view, it looks like you're stomping all over his event."
Adams and his wife held the chamber mixer for Stella's Adventures at the Del Norte County Fairgrounds. The event drew 120 people and was a success, he said.
---
SHARE →