---
Jessica Cejnar / Monday, July 12 @ 4:17 p.m.
DNUSD Trustees Turn Thoughts to Development Mitigation Fee Study; Approve Contract for GO Bond Study
---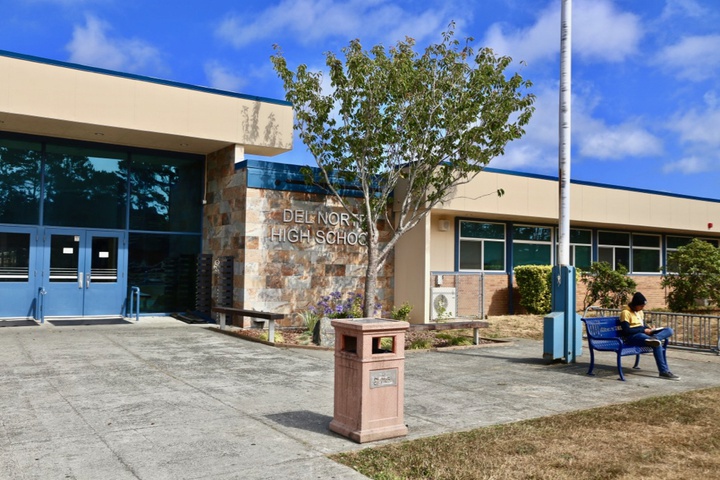 As it embarks on a survey about whether voters will support another bond for school facilities, Del Norte Unified School District may also conduct a study to determine whether its current developer mitigation fees should change.
Intended to offset the cost of new classrooms or schools due to an increase in student enrollment, those fees have been 27 cents per square foot for a commercial development and $1.65 per square-foot for residential development in Del Norte County since the 1994-95 fiscal year, according to Jeff Napier, DNUSD's assistant superintendent of business.
Since large development is rare in Del Norte County, previous school boards have chosen not to increase mitigation fees, Napier said. A draft feasibility study conducted in 2018 indicated that the current fees were justified. However, Napier said, that study was never finished.
A new study would determine whether or not developer mitigation fees should stay at 27 cents per square foot for commercial developments and $1.65 per square-foot for residential development, according to Napier.
He also noted that DNUSD is close to paying off debt associated with the construction of Mary Peacock Elementary School and with the instillation of portable classrooms during a population boom in the 1990s. A new study, along with a five-year plan, would outline what those developer fees would be used for, Napier said.
"Developer mitigation fees can be used for the construction and reconstruction of school buildings, primarily classroom space is what they're looking at," he told trustees Thursday. "If we're moving forward on the possibility of raising fees, we would need to do a fee study."
Napier proposed the district entering into a professional services agreement with Jack Schreder & Associates, school facility planning and capital funding consultants, to conduct the study. That study would come back before the DNUSD Board of Trustees, who would decide whether or not to raise fees.
DNUSD received roughly $130,000 in revenue from developer mitigation fees this year — a year that saw a lot of construction in Del Norte County, Napier said. In previous years, he said, revenue from developer mitigation fees have been as low as $20,000.
Though the 2018 draft feasibility study indicated that DNUSD's current developer mitigation fees were justified, trustees on Thursday favored conducting a more complete study.
As DNUSD seeks state hardship dollars for modernization projects and is considering placing a second voter-approved bond on the 2022 ballot, one caveat for being eligible is leveraging every funding source that's available, Trustee Area 1 representative Don McArthur said.
However, though the district's director of facilities and maintenance said its schools and facilities are in need of about $47 million in repairs, development mitigation fee dollars can only be used to build new classrooms, Superintendent Jeff Harris said.
"Fees cannot be used for regular maintenance or routine repair," he said. "It can't be used for asbestos work unless it's under construction or reconstruction. And it can't be used for deferred maintenance."
Though Del Norte hasn't raised rates in more than two decades, other counties regularly raise developer mitigation fees, Harris said. In Shasta County where the residential developer is more than $4, the County Office of Education sets the fees.
"They incentivized an increase in rates (by saying) if you did not choose to increase rates then the rate increase that everyone else realized would go to other school districts an dnot yours," Harris told DNUSD trustees.
Though some trustees liked the idea of going out for a feasibility study on developer mitigation fees, Trustee Area 3 representative Frank Magarino was skeptical. Pointing out that DNUSD is considering another bond measure, he was worried about a developer mitigation fee study impacting votes.
"It would just throw something into the pot at the moment that is probably not necessary," he said.
However, Harris said, trustees could vote to not increase fees even if the study indicated that an increase was justified.
Greenough said too liked conducting a feasibility study as a means of potentially persuading the state that DNUSD tried to leverage as much money as it could for modernization projects and it's in need of economic help.
"Having that documentation could help us get matching, if not refundable, funding," she said.
DNUSD Approves GO Bond Study
Trustees unanimously approved a contract between DNUSD and Isom Advisors to conduct a feasibility study to determine if the public supports placing a general obligation bond on a 2022 ballot.
By signing the contract, DNUSD agreed to pay $12,500 to Isom Advisors for completing the survey and presenting the results to the board, according to Harris. The district would pay an additional $93,000 to Isom Advisors for financial planning and financial advisory services should a bond measure pass, Harris said.
That $93,000 includes $65,000 for financial advisory services for each bond series that is sold, according to Napier. The district is limited to $5 million for each bond it issues, Napier said.
Documents
• History of Developer Mitigation Fees
---
SHARE →