---
Jessica Cejnar / Thursday, Jan. 7 @ 4:55 p.m. / Elections
(Audio) CR Political Science Professor Puts Historical Context To Wednesday's Washington DC Riot, Urges Del Norters To Have Uncomfortable Conversations
---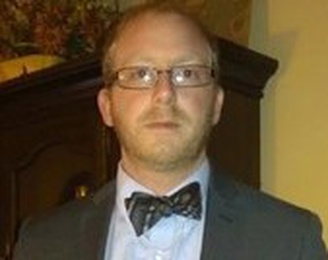 A day after Donald Trump loyalists stormed the U.S. Capital, a College of the Redwoods political science and history professor asked Del Norters — especially those who supported the president — if Wednesday's violence was acceptable.
"Ask yourself the question, 'Is this acceptable and do I still support him?'" Will Meriwether told the Wild Rivers Outpost and KFUG Community Radio. "And that means we have to have conversations with our friends and our family members that are going to be uncomfortable."
Meriwether, who teaches at CR's Del Norte Education Center, provided an opportunity via Zoom Wednesday evening for his friends and family to try to wrap their heads around the chaos that unfolded during Congress's ceremonial tallying of the votes from the November 2020 Presidential election.
On Thursday, Meriwether spoke by phone with KFUG and the Outpost, putting a historical context to Wednesday's riot, discussing the events that led to the rioting and what everyday people can do to avoid a repeat of the violence. He said he wanted to reassure friends and family that despite the violence, "we were good."
"Our democracy survived because in the moment in which people had to decide which side they were on, most of them decided our democracy is more important than one man trying to steal an election," Meriwether said. "I do want to reiterate that is exactly what he was trying to do. There were all these court cases challenging fraudulent votes. They never had evidence. All those cases got thrown out of court repeatedly."
Meriwether referred to Trump's refusal to concede an election, claiming it was fraudulent and bringing forth several futile lawsuits to overturn the results that proclaimed Joseph R. Biden the winner.
Del Norte's representative in Congress, Rep. Jared Huffman, also condemned the violence that took place. On Twitter, Huffman said Thursday he was joining efforts to impeach and remove Trump from office.
"Our country is so much better than what transpired on Wednesday," Huffman said. "We must come together to defeat these attacks on our republic and to protect and strengthen our democracy for future generations."
Later in the day, the AP reported that Trump called Wednesday's violence a "heinous attack" that left him outraged, and finally acknowledged Biden's win.
According to Meriwether, though a U.S. president has never refused to concede an election before, an "attempted coup" isn't a new thing for the country. For example, the Business Plot involved a group of bankers challenging the 1932 election of Franklin D. Roosevelt, he said.
Those bankers wanted Retired Marine Corps Major Gen. Smedley Butler to launch a military coup and become the country's leader instead of FDR, Meriwether said. It was Butler who told Congress what was happening and who was involved, he said.
Another major example of violence during a transfer of presidential power is the U.S. Civil War, Meriwether said.
"Those people were calling for an insurrection against the U.S. government," he said, referring to the Confederacy. "And we still glorify those individuals. So this is our past catching up to us."
Like many in Washington, including House Speaker Nancy Pelosi, Sen. Chuck Schumer (D-New York) and several in Trump's cabinet, Meriwether said the president must be removed from office with Vice President Mike Pence taking his place until Biden is sworn in on Jan. 20. This can take place either through impeachment, Meriwether said, or by Congress invoking the 25th Amendment of the U.S. Constitution granting the presidentship to Pence temporarily.
If Trump is impeached and found to have committed a high office or misdemeanor, not only is he removed from office, he'll never be allowed to hold a position of public trust again, Meriwether noted.
"He could run for office in a House election in a very conservative state and he could go to Congress," Meriwether said, noting that John Quincey Adams was elected to Congress after his presidency. "Impeachment has to happen and we have to hold Donald Trump accountable for this because there's direct evidence from his mouth, his Tweets, that he had instigated this. He told people to show up on Jan. 6 at the capital, 'It's going to be a wild time.' He told them to march to the capital and fight like hell for what is right. If I was in front of a crowd and I told a crowd we have to march somewhere and we have to 'fight like hell,' that would be inciting a riot."
Meriwether commended Kentucky Sen. Mitch McConnell, the majority leader, who condemned the violence and Trump's actions and refusal to concede the election since November.
For Del Norte voters, most of whom cast their ballot for Trump on Nov. 3, Meriwether asked that they listen to those who have worked with the president. This includes former defense secretary Gen. James Mattis, who called Trump a threat to the nation, and former president George W. Bush, who called Wednesday's riot an insurrection.
Meriwether also said people shouldn't shy away from difficult conversations with people who support Trump and "start trusting the experts again."
Businesses also have a role to play in holding political leaders accountable and ensuring accurate information is getting out to the public, Meriwether said. He said the business community shouldn't advertise on shows that knowingly disseminate false information. Meriwether singled out Fox News personalities Sean Hannity and Tucker Carlson.
When it comes to teaching future students about the events that led to Wednesday's riot at the capital, Meriwether said teachers should treat Trump as a demagogue.
"It can't be, 'He did all these good things and then he just refused to concede the election,'" Meriwether said, adding that the path to the violence in Washington DC began when on Inauguration Day four years ago when people close to Trump showed they were willing to lie for him to appease him. "I hope that when we teach this and how we teach it, we do so by looking back at the things he has done and said and treat him as the worst president in our history."
To avoid another scene like Wednesday's riot at the capital, Meriwether said, raising taxes to fund public education, ensuring smaller class sizes so teachers can engage students, is necessary.
Citing Derek W. Black's "Schoolhouse Burning: Public Education and the Assault on American Democracy", Meriwether said the U.S. founding fathers decreed that as the country expanded parcels would be set aside for public education to be funded through the sale of land.
Meriwether also brought up the Morrill Land Grant Act of 1862, which funded agricultural and mechanical universities through land sales in the west, as well as the GI Bill that funded a massive rise in education and the research and development that made the U.S. what it is today.
"It takes money to do that," he said. "It's smaller class sizes."
Meriwether also noted that it takes time for "our democracy" to work. It's slow and it's ineffective, and that's good, he said. This keeps the passions of the people and demagoguery from taking hold, he said.
Politics is a life and death business, Meriwether said. Difficult conversations with family and friends about Trump's continued refusal to concede the election and the events that led to Wednesday's riot is as important as voting, Meriwether said.
"If you have Trump supporters as family or friends, ask 'Do you still support him after what happened yesterday?'" he said. "Have a conversation with someone to ask about what would have happened if they had succeeded."
---
SHARE →