---
Jessica Cejnar / Monday, Jan. 4 @ 5:14 p.m.
Del Norte COVID-19 Update: Six Cases Reported Sunday and Monday
---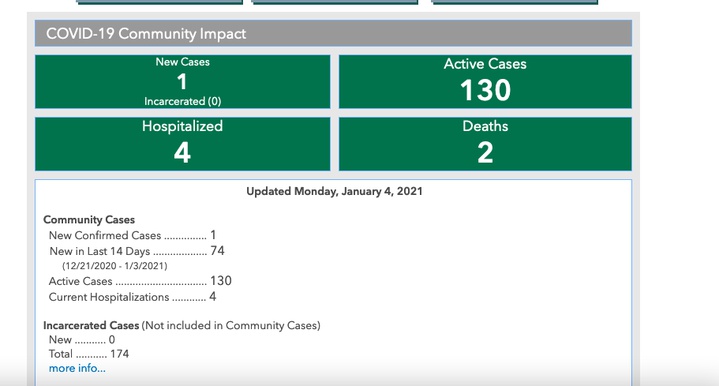 Six new COVID-19 cases were reported to the Public Health Branch in the last two days.
Five new cases were confirmed Sunday and an additional case was reported on Monday, according to the county's COVID-19 Information Hub.
Seventy-four new coronavirus cases were identified in Del Norte County in the last 14 days, according to the Public Health Branch, making for a total of 130 active cases. Four people are currently in the hospital, according to the Public Health Branch.
There were no new COVID-19 cases identified among Del Norte County's incarcerated population, which includes both Pelican Bay State Prison prisoners and inmates in the Del Norte County Jail.
There are 174 total active cases at the prison and the jail, according to Public Health. This includes 33 Pelican Bay inmates that are positive for COVID-19.
---
SHARE →