---
Jessica Cejnar / Saturday, Jan. 16, 2021 @ 3:10 p.m.
Del Norte Fishermen Experience Disappointing Start To Dungeness Crab Season
---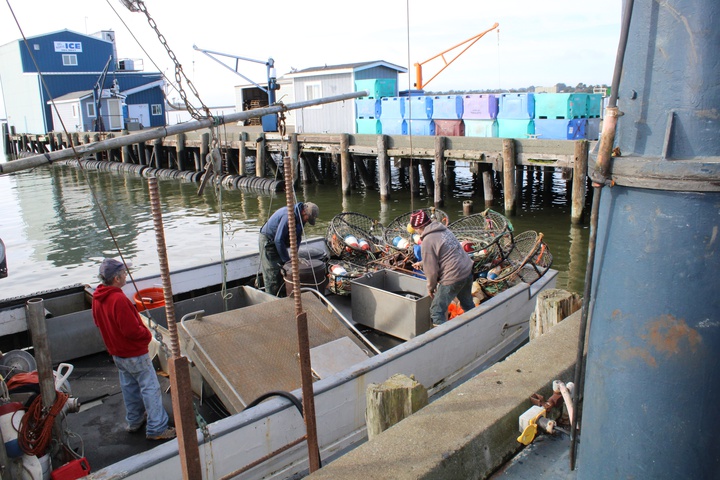 Though his was one of the first boats to pull up at Citizens Dock after fishermen pulled their pots on Saturday, Kurt Ivison didn't have much — only six crab out of 40 pots, he said.
Disappointed, the skipper of the FV Moray shrugged his shoulders and used an oft-quoted adage, "That's why it's called fishing, not catching." Ivison, who has been part of Crescent City's commercial Dungeness fleet for about 40 years, said he'd let his pots soak for a little bit longer.
"It's never been this bad," he told the Wild Rivers Outpost.
Kept from plying their trade initially due to poor quality crab and later because of a price dispute with seafood processors, Del Norte County fishermen, and others on the North Coast, set their pots at 8 a.m. Thursday.
According to LCZ Unloaders employee Kevin Wilson, fishermen had a "gentleman's agreement" to start bringing in their catch at 8 a.m. Saturday.
At about 8:30 a.m., Wilson said he and his coworkers might be unloading the first crab roughly three hours later. But at noon, four hours after fishermen could pull their pots, Citizens Dock, and others at the Crescent City Harbor, were quiet.
Wilson and his coworker Justin Green noted that everything was going at a slower pace, rough weather earlier in the week might have contributed to the lack of crab coming in.
"Right now this whole dock should be hectic with semis and everybody trying to get around," Green said.
"It might pick up hopefully," Wilson added.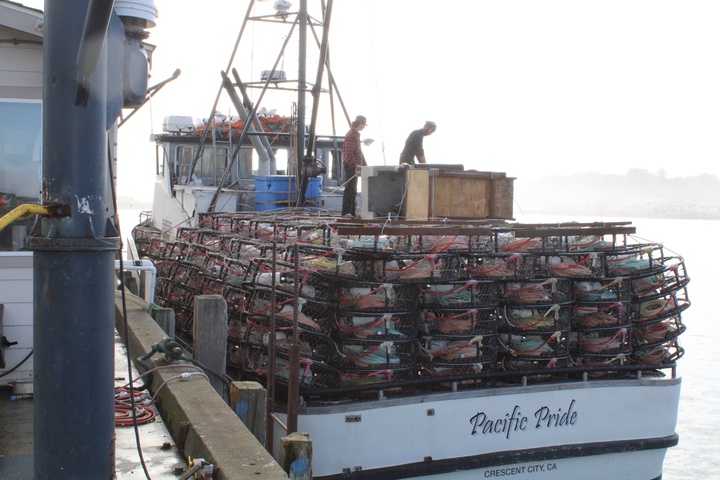 The late start to the season exacerbates a year already made challenging by the COVID-19 pandemic. After about three weeks of haggling with seafood processors over price, fishermen agreed on $2.75 per pound — less than their initial asking price of $3.25 and their reduced request of $3.10. The hope, Rick Shepherd, president of the Crescent City Commercial Fisherman's Marketing Association, told the Wild Rivers Outpost earlier this week, is that seafood processors will agree to raise the price as the season wears on.
Seafood processors, including Pacific Choice Seafood, Bornsteins Seafood and Hallmark Fisheries had offered $2.50 per pound. When the season began seafood processors was offering $2.25 per pound.
Seafood processors are still feeling the effects of the pandemic, Lori L. Steele, West Coast Seafood Processors Association executive director. Since they lost about 70 percent of their market at the peak of the 2019-20 crab season due to the emergency closure of restaurants, they still have a lot of product from the previous year, she said.
Much of the crab that would have been sent fresh to restaurants had to be repackaged for sale in grocery stores or frozen at Costco.
"A lot of stuff is being repackaged and repurposed," Steele told the Outpost on Jan. 8. "They're looking for every possible avenue for market, but that doesn't come without cost of course."
Back at Citizens Dock, the only other vessel to pull up was Tim Potter's Pacific Pride. But instead of offloading crab, Potter's crew were picking up gear. Potter said he was taking his boat to Washington.
"The preliminary reports sounded a little bit better," he told the Outpost.
Though he's headed for other waters, Potter wished his fellow fishermen a good season.
"It sounds like it's a tough year," he said. "I hope the guys are able to make a living. It's hard on a lot of people."
---
SHARE →